Texas Suits Alum Marco Lagone
Just Fine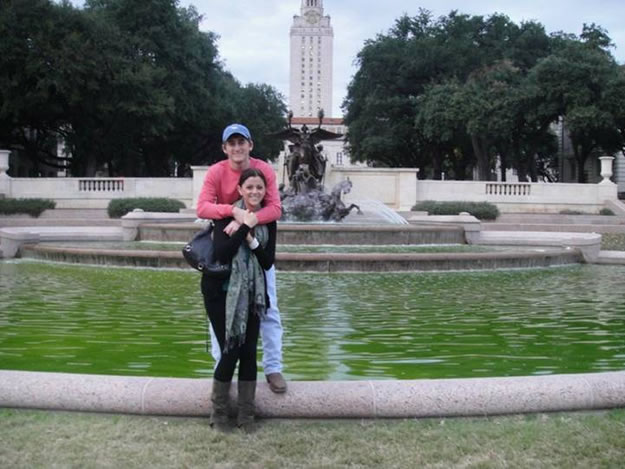 Through thick-and-thin, Marco Lagone always manages to have a good day. He's kept busy since graduating with Huntington High School's Class of 2009 and is now a junior at the University of Texas at Austin. His days and nights are busy and soon he'll be traveling to Europe for further studies.
"This is perhaps my most academically challenging semester yet, as I am enrolled in all upper division business courses," Mr. Lagone said during a recent interview. "This, along with my pursuit of a finance internship in investment banking or trading for the upcoming summer, is truly going to put me to the test."
 At Huntington High School, Mr. Lagone was a member of the National Honor Society, Math Honor Society, Foreign Language Honor Society and English Honor Society. He won the Citizen of Leadership and Carmela Santorsola Provenzano scholarships and the Office of State Comptroller Award. He earned varsity letters with the wrestling and tennis teams, receiving the Coach's Award in the latter as a senior.
At the University of Texas, Mr. Lagone has immersed himself in everything the school has to offer, including wrestling for the Longhorns' club team since his freshman year. "Wrestling was a major component of my high school career and I have enjoyed continuing with this sport throughout college," he said. "My teammates and coaches are great guys and we have a terrific camaraderie."
In his sophomore year of college, Mr. Lagone was inducted into an honorary finance and accounting organization on campus. "We participate in professional, social and service events," he said about the group. "This organization has afforded me a head start in my ultimate pursuit of a career in finance."
Around Huntington High School and the school district, Mr. Lagone is remembered as a happy-go-lucky young man who was a genial, articulate and well-mannered student. From his earliest days at Washington Elementary School, he displayed steely determination and went about his business in an organized fashion.
"I'd say that over the past couple years I've assimilated into Texas culture," Mr. Lagone said. "Freshman year, I pledged Kappa Sigma fraternity. My fraternity brothers, nearly all of whom are from Texas, have been a huge influence on me. Now, I wear cowboy boots, go two-stepping (a southern dance) at the country bars and have had my share of crawfish boil parties."
The most exciting aspect of the fall semester on the Texas campus is the football games, "and we're not too bad at football," Mr. Lagone laughed. "Every game day we have massive tailgate parties and then walk into Darrel K. Royal Stadium to watch our Longhorns beat up on the opposition."
While college life has fun, it's also required plenty of hard work. "These past couple years have truly tested my ability to balance schoolwork with wrestling and a healthy dose of a social life," Mr. Lagone said. "Although academics will always come first for me, I believe this balance has been most important in shaping my amazing college experience thus far."
The spring semester will find Mr. Lagone traveling to Prague in the Czech Republic to study at the University of Economics as part of a business school study abroad program. "From New York to Texas, and now on to the Czech Republic, I will never stop looking for a great adventure," he said.