Remembering Patrick Hannon with a Cherry Tree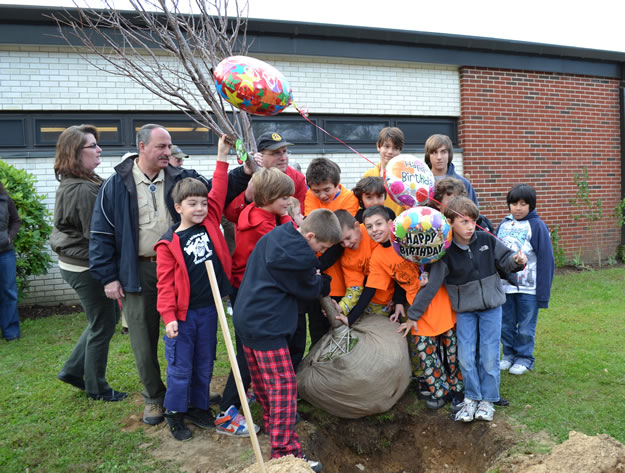 It's hard to think about that terrible day last July when Patrick Hannon died in his sleep at a Boy Scout camp in Rhode Island. The Woodhull Intermediate School student was cherished by his family, friends and teachers and trying to make sense of his passing has been impossible for those who loved him.
Last Friday would have been Mr. Hannon's 11th birthday and the Woodhull School community wanted to make the day special. The youngster, who was so eager to please those around him, was full of energy and enthusiasm. In the aftermath of his passing, an idea to establish a lasting memorial for a remarkable young man took hold. It came to fruition on a brisk afternoon last week.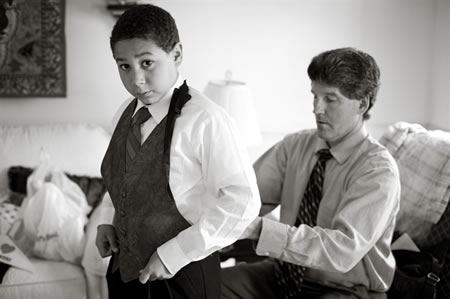 "When Patrick passed away there was an outpouring of support for the family," said Bari Fehrs, president of the district's PTA Council. "Everyone wanted to do 'something,' but it was really a time for just family and close friends to come together and mourn. The PTAs also wanted to do something for the family, but decided to wait a bit and after the passage of some time we would plant a tree at Woodhull in Patrick's honor."
Martin Viette Nurseries in East Norwich donated a Snow Goose flowering cherry tree for planting in front of Woodhull on the northeast side of the cafeteria. The area is framed in the rear by a garden consisting of shrubs and perennials.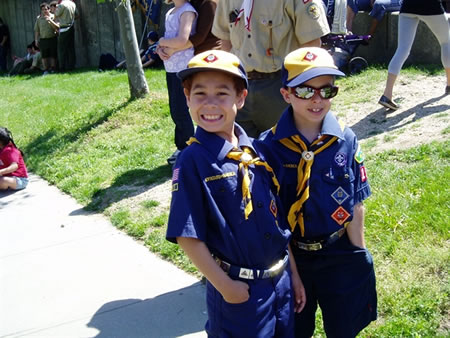 Huntington School District buildings and grounds department workers dug a large hole for the tree, which was dropped off at the site. Last Friday, Mr. Hannon's friends and family helped wheel the tree into place and took turns shoveling dirt around the root ball.
On hand for the event were Mr. Hannon's parents, Jim and Deirdre, siblings Shamus and Brigid and his grandparents, who were beaming. Members of Boy Scout Troops 78 and 181 were there, too. The Boy Scouts are building a bench that will be added to the memorial area at a later date.
A crowd of family, friends and PTA officials turned out for the tree planting and there were balloons wishing Mr. Hannon a 'happy birthday.' In a touching moment, a few of the balloons broke loose and soared high in the air, disappearing in the clouds.
Woodhull School Principal Mary Stokkers and Assistant Principal Jarrett Stein each said Mr. Hannon was a fine young man and a valued member of the school community. He participated in the school play last year and had many good friends around the building.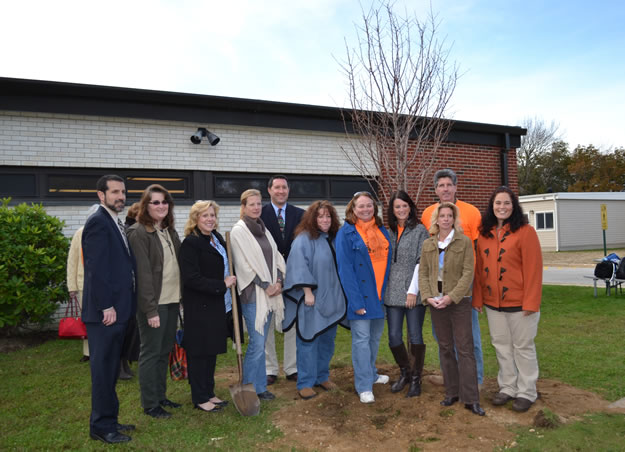 Huntington Superintendent James W. Polansky and Trustee Jennifer Hebert were also in attendance at the tree planting. "Patrick will always be remembered by his classmates and teachers," Mr. Polansky said. "He touched many lives with his kindness and we were fortunate to have him as a member of our school community."
"Although this is a sad time, it is also a celebration of a special little boy who touched so many ways," Mrs. Fehrs said in brief remarks during the ceremony. "We as a PTA wanted to show our love and support to the Hannon family and Patrick's memory."
The new cherry tree is expected to widen in diameter to as much as 20-feet and grow sturdy. It will grace the grounds of Woodhull for decades to come and will feature attractive white flowers, with blooming typically occurring in mid to late spring. The flowers will eventually give way to cherry-like fruit.