Blue Devil Sports News
The Huntington High School girls' soccer alumni game featured "a small but enthusiastic turnout," said Linda Costello-Roth, who organized and played in the game.
Mrs. Costello-Roth is a former Blue Devil player who coaches the girls' soccer team at J. Taylor Finley Middle School. She said that soccer alumni are looking forward to making the reunion game an annual event.
"Some of the girls were also looking to put together an alumni lax game, so we will work on for next year," Mrs. Costello-Roth said.
Blue Devil Lax Stars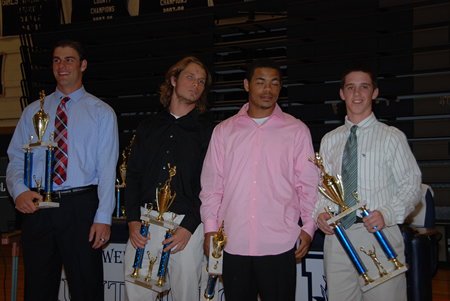 The Huntington High School boys' lacrosse team benefitted from the play of several outstanding seniors last spring. The Blue Devils reached the Suffolk Division II finals.
Four seniors were recognized at the Blue Devil senior athletics awards banquet. The honorees included offensive MVP Nick Saputo defensive MVPs Calvin Bollar and John McGrath and Most Improved Player Award winner Ryan Mulligan.
Bollar to Nassau Community College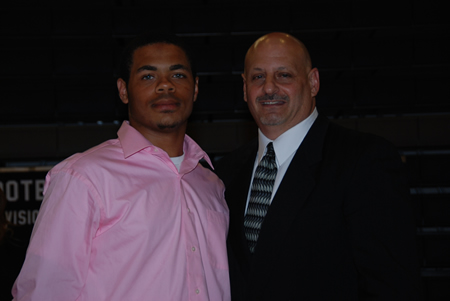 Calvin Bollar was a workhorse for the Huntington High School football team last fall. He'll attempt to be the same type of star player at Nassau Community College this fall. "Calvin can definitely do it at Nassau," Blue Devil assistant coach Ron Wilson said. "He's a hard-nosed kid and is willing to work."
Bollar never said no to the Huntington coaching staff. An explosive running back, he filled in as the team's quarterback during his junior year when sophomore Dan Plant, the expected starter, was forced to the sidelines for the entire season. With Plant calling signals last fall, Bollar returned to the backfield and helped lead the Blue Devils into the post-season.
The University at Albany has shown interest in Bollar, according to Wilson. "If Calvin plays at Nassau like he's capable of then he will have several options for the future."
Huntington Crew Honors Seniors
The Huntington High School crew program honored its top seniors as the group prepares to ship out to colleges across the country.
The Blue Devil coaching staff presented the awards to the beaming teenagers. The boys' team senior honorees included Benjamin Jensen (MVP), John Coffey (Most Improved) and Coach's Award winners Joseph West and John Stahno.
The Huntington girls' team recognized seniors Mia Rienzo (MVP) and Shayne Larkin (Most Improved.)
Jensen is headed to the University of Vermont while Coffey will attend SUNY Maritime College. West will study at Monroe Community College/Rochester Institute of Technology and Stahno is going to Stony Brook University. Rienzo will attend Binghamton University and Larkin will study at the University of Delaware.

Walsh Recognizes Players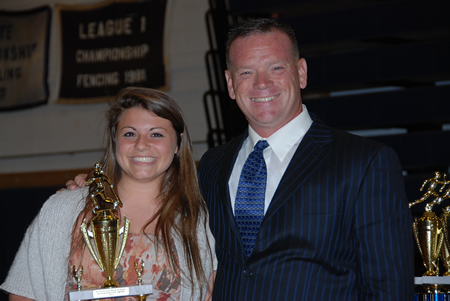 Corina Antonucci was named senior MVP of the Huntington High School softball team. The award was presented by Blue Devil head coach John Walsh, who gave the senior Most Improved Award to Erica Adorno.
Antonucci will attend City University of New York – Queens College in the fall. Adorno will study at St. John's University.
Martinolich Shines on Track
Alexandra Martinolich turned in an excellent season with the Huntington High School girls' track and field team. The 16-year old was the Blue Devils' top hurdler, winning all-league honors in the 400m hurdles. She was also a "valuable" member of Huntington's "4x4" relay and a "great pole vaulter," head coach Debra Cheskes said.