Cortland Lands Blue Devil Mat Stars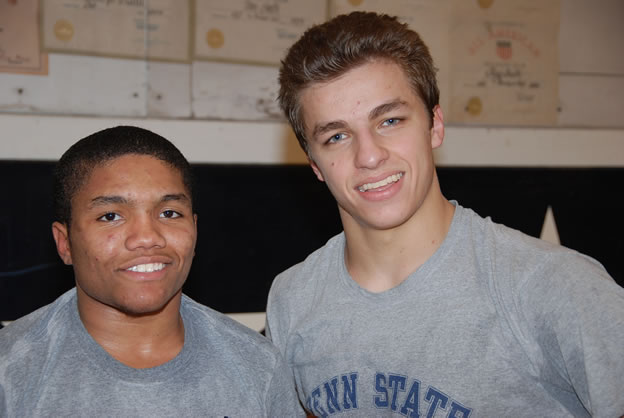 Two Huntington High School wrestling stars are headed to SUNY Cortland. Nigel McNeil and Louis Puca will start classes at the central New York school in a few weeks. Blue Devil head coach Kieran Mock believes both wrestlers have the potential to be national champions for the Red Dragons.
McNeil is one of only five Huntington wrestlers to win two state titles. He finished last season with a 40-0 record and outscored four state tournament opponents, 42-9 en route to the 119 lb. crown. McNeil compiled a 38-0 mark as a junior. He won his last 80 high school matches and rolled to an overall lifetime record of 165-16.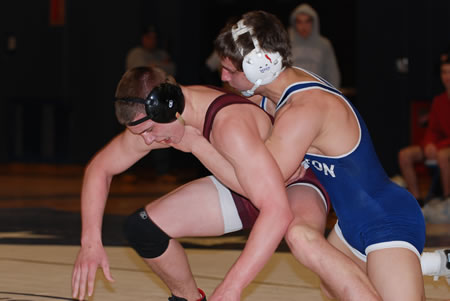 Puca placed second in the county and state tournaments as a junior. He was upset in the Section XI semi-finals last February and denied a return trip to state finals after finishing third in Suffolk. That put a temporary damper on his career, but the teenager has rebounded and said he is looking forward to his future at Cortland.
"I'm excited about going there and can't wait to start wrestling again," Puca said during a break from his summer job at LaCasa Restaurant on Crab Meadow Beach. "It's going to be great having Nigel there with me and some other wrestlers that I know." Puca went 37-5 as a junior and 34-1 as a senior, compiling an overall career mark of 143-34.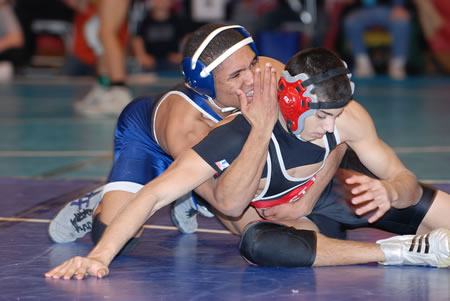 The Huntington wrestling program has sent several of its alumni through Cortland, including Stef Sair, a 2002 Blue Devil state champ who went on to win an NCAA crown for the Red Dragons as a junior and who finished second in the country his senior year.
Sair obviously knows the Cortland program as well as anyone and he feels McNeil, who is his step-brother, can achieve his goals there. "It can be academically demanding, but if Nigel stays on top of everything, he can do it there," Sair said. McNeil has expressed interest in a career as a physical education teacher and coach.
Sair majored in physical education at Cortland and is a teacher in Manhasset, where he also works as a football, wrestler and track coach. "Nigel didn't want to go to D-I," Sair said about McNeil's choice of NCAA divisions. "Cortland can be a good place for him."
Mock feels good about the decisions by McNeil and Puca to continue their education and mat careers at Cortland. When asked what he thinks the pair can accomplish there, Mock said "win several national championships."
In recent years Cortland has become one of the elite teams in NCAA Division III. "Our guys will fit in there and contribute right away," Mock said.