Catching up with Kaari Casey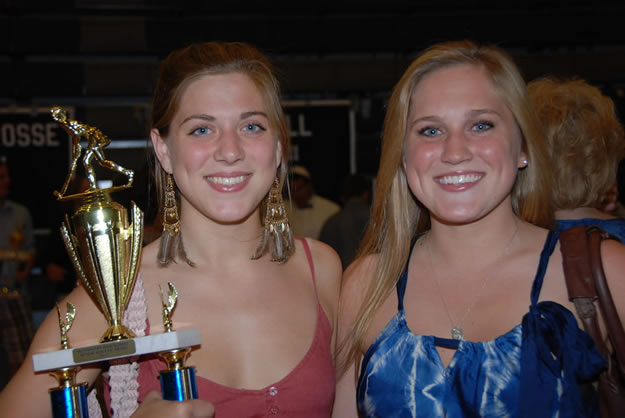 Kaari Casey sat virtually unnoticed in the Huntington High School gym in June. She was there for the Blue Devil senior athletic awards banquet, joining her mother, Rondi and sister, Sarah, who was being honored as one of the school's top field hockey players.
Ms. Casey was back in Huntington after completing her junior year at Penn State University in University Park, Pennsylvania. She's currently a secondary education major with a focus on biology/environmental studies and a minor in marine/general biology.
Ms. Casey is spending the summer at Atlantis Marine World Aquarium in Riverhead as an education intern. She's working with outreach coordinators, school groups and patrons, assisting with lectures about marine animals, ecosystems, environmental sustainability and wildlife protection.
"I also assist with the animals and their enclosures," Ms. Casey said. She's currently focused on four species of stingrays at the aquarium, including cow nose, southern, Atlantic and bat rays. Her responsibilities extend to the touch tanks, reptile/insect exhibits (including handling ball pythons, boa constrictors, hissing cockroaches, tarantulas, etc.), salt marshes, behind the scenes tours and the aquarium's boat.
"The internship is amazing and really applies to what I want to do in the future," Ms. Casey said. "I would like to work as an education coordinator for zoos, aquariums or sustainability organizations, such as the World Wildlife Fund or Blue Ocean Institute."
At Huntington High School, Ms. Casey was president of the Class of 2008, captained and was the senior MVP of the fencing team and was a member of the Nathan Hale Chapter of the National Honor Society. She was a student-teaching internship and enjoyed a very well-rounded four year high school experience.
Exec Board of Sorority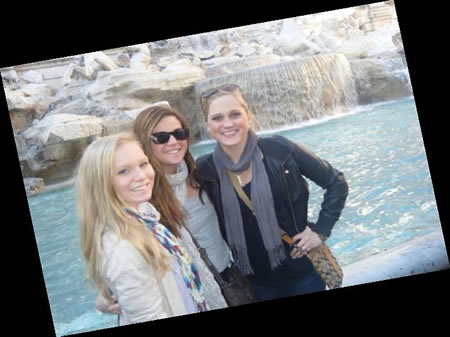 Ms. Casey is engaged in the same type of multi-faceted experience at Penn State, where she is a key executive board official in the Pi Beta Phi sorority, serving as the organization's vice-president of event planning and risk management. "I have been responsible for the programs and events held by our chapter, as well handling aspects of recruitment, bylaws and attended regional conferences," she said.
Another major time commitment for Ms. Casey involves THON, a huge charitable organization. "THON is the largest student run philanthropy in the world and raises millions of dollars each year for the Four Diamonds Fund to help fight pediatric cancer," she said. "My sorority, Pi Beta Phi, and our fraternity partners, Sigma Alpha Epsilon, placed fifth out of all Greek organizations, raising a total of $139,750.15. This amount was just a part of the overall $9,563,016.09 which was raised over the course of just a few months." The primary fundraising event was a 46-year dance marathon on the Penn State campus.
Tutors Underprivileged Youth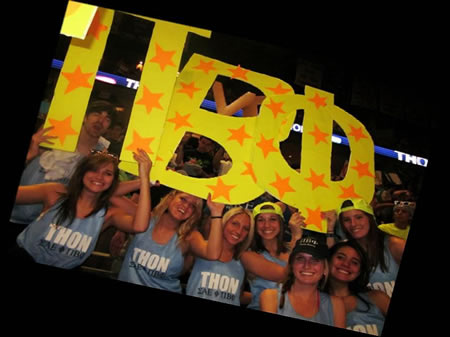 During the past year, Ms. Casey was one of fourteen college students picked to participate in a grant-funded tutoring program in which the group served as online tutors for underprivileged children in inner-city Philadelphia. "We were paired with an individual student for the entire year to help build and maintain a safe and supportive relationship," she said. "We met once per week for 1½ hours during which we used 'video chat' to do homework and mentor students in fifth and sixth grades. We also visited them at their school, Sheppard Elementary, as well as having them come visit us on campus."
During the on-site school visit in Philadelphia, Ms. Casey and her colleagues "met with teachers and administrators to better understand how to help these kids succeed," she said. "We also met with their parents and siblings, many of which were non-English speaking, in order to discuss what improvements they would like to see in their child's education. When they came to visit our campus, I helped to design programs for both students and parents to help encourage pursuing higher education and how to begin setting the foundation to do so. I worked with the students in science workshops, as well as library tours in order to show them the benefits of attending college."
Loved by Coaches and Teammates
During her years at Huntington High School, Ms. Casey was loved by Blue Devil coaches and her teammates. She was a member of the varsity field hockey, fencing and spring track teams. At the 40th Blue Devil Senior Athletic Awards Banquet, she garnered the Most Improved Award in field hockey and Most Valuable Award in fencing, a sport which saw her win all-county honors twice and reach the Suffolk finals. She enjoyed one of the program's best single season records ever in foil with a 32-4 mark.
Ms. Casey has also participated in the student government, first as treasurer of the freshman class, then as a sophomore and junior administrative assistant and finally as president of the Class of 2008.
Her choice of a college major isn't surprising since Ms. Casey notched a perfect score of 5 on the AP Biology exam. One of her trademarks has been impeccable academic work and a thirst for personal growth. Known throughout high school as an enthusiastic researcher who could often be found in the library or on the computer reading the most current scientific journals, Ms. Casey participated in the 2006 National Youth Leadership Forum on Medicine at Villanova University.
"Academically Kaari is outstanding," Huntington college counselor Bernadette Walsh wrote in 2008. "Personally, she is a gem. She has great potential and a tenacity to succeed. However, that is only the beginning. Kaari is a leader, a caring and sensitive individual, and a well-disciplined young woman." Those words seem prophetic now.