Summer Art Fun in Huntington
The OOMPAH summer arts program typically attracts several hundred Huntington School District students each year. Participants are able to register for as many as four daily classes in the month-long session. What began as a program filled with music offerings has fully branched out in the world of fine art, with courses in computer graphics and paint and pixels among the most popular classes.
"I was part of the original committee that proposed adding an art section to the OOMPHA program ten years ago," said Kasmira Mohanty, a Huntington High School art teacher. "There were only about three art classes offered back then. This year we offered ten classes. I've been teaching since the art section was added."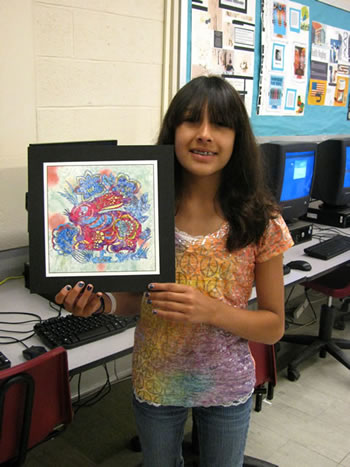 The computer graphics course taught by Ms. Mohanty saw students produce some impressive pieces of work this month. Class participants are taught "how to create graphic images using Illustrator and Photoshop," according to the program guide. "This is a great class for beginners and students repeating as well."
This year's computer graphics course projects included optical art, paper pals, t-shirt design and line art. "The kids super loved the paper pals project because they were able to have a finished 3D product from a 2D graphics generated image," Ms. Mohanty said.
Students also thoroughly enjoyed the "exciting new course" in paint and pixels, Ms. Mohanty said. The class combined easy creative painting and drawing techniques with the computer. Students created painting samples that were scanned into computers and "magically" turned into graphic images, creatures, designs and patterns.The images produced by students were exported onto a variety of materials, such as canvases, t-shirts and water color paper.
The class drew a range of participants, from beginners to those with advanced talents and knowledge. Participants were anxious to share their work with their family and even their friends.
Despite difficult world economic conditions, a large number of Huntington students turned out for this year's summer arts enrichment program, showing once again that it has become an entrenched community tradition.