Jensen and Rowland Win Oliva Scholarships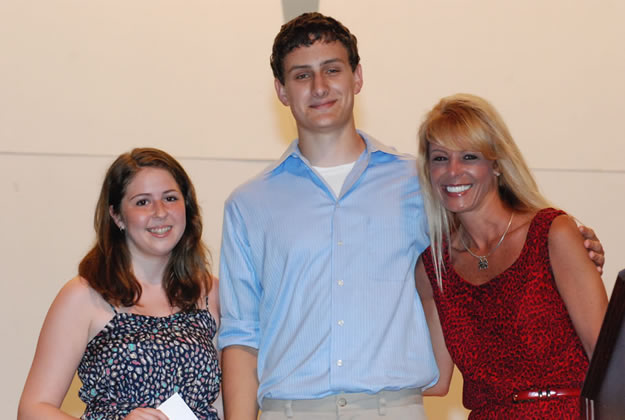 Billy Oliva was a really special guy. His classmates and friends at Huntington High School enjoyed being in his company. He was a kind fellow who like many teenagers was always on the go. Today, nearly three decades after graduating, he is still connected to his alma mater.
Benjamin Jensen and Meghan Rowland, two of the top members of the Class of 2011, were honored as this year's recipients of the Let It Begin with Me – William F. Oliva Memorial Scholarship. The award honors Mr. Oliva, a 1984 Huntington High School grad who perished in a tragic workplace accident. Each of the two teenagers received a $2,500 award that can be applied towards their college tuition.
Mr. Jensen and Ms. Rowland "clearly possess a dedication to overall academics, athletic skills and sportsmanship, serve as a source of encouragement to classmates, exhibit strong character and demonstrate a commitment to the overall good of the community," said Rose Pelle Kitzmiller, founder of the William F. Oliva Foundation, Inc., who presented the scholarship awards to the two seniors.
Oliva Scholarship is Prized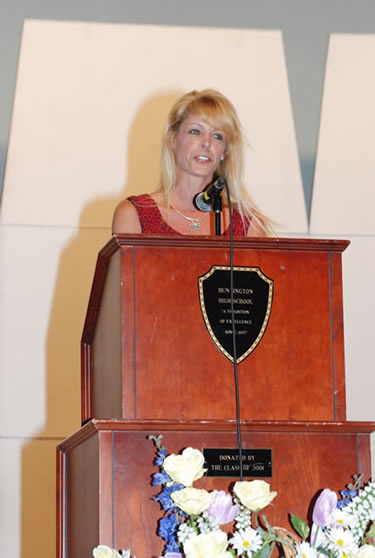 The Oliva scholarship has become a prized award at the school. "Billy was very well liked and was always kind to all around him," recalled Chris Lauro, a fellow 1984 alum who was best friends with Mr. Oliva. "His untimely death was very much felt in our community. He did have a passion for sport and was a natural athlete. He played on the football and baseball teams. He loved basketball, hockey and golf, as well. He really liked them all but I think his best talent was in baseball."
Mr. Oliva was just 38 years old when he suffered the fatal accident in 2004. The Oliva scholarship is expected to be awarded this spring for the first time. "We are hoping the student chosen as the recipient will possess many of the character traits Billy was known for in his life: A commitment to the overall good of the community, dedication to academics, great athletic skills and sportsmanship and a source of encouragement to other classmates," said Ms. Kitzmiller, who now resides in Sandy Hook, Connecticut but returns to Huntington for the annual kickball tournament at the high school that serves as the funding mechanism for the scholarship.
Two Top Seniors
Mr. Jensen will attend the University of Vermont to study captive wildlife care and education. He earned a reputation as a top scholar and a fierce competitor with the Blue Devil crew team. A member of a variety of extracurricular clubs, he made several trips to New Orleans with Huntington's Habitat for Humanity chapter to help rebuild the southern city devastated by Hurricane Katrina.
Ms. Rowland is headed to the University of Delaware where she will participate in the honors program. She was an integral part of the Blue Devil marching band. A member of the National, English, Science, Mathematics and Spanish honor societies, the teenager was a constant presence on the school's high honor roll and received a variety of academic awards." She also volunteered as a counselor in training with the town's playground program, participated in various charitable community fundraisers and was a key organizer of events for various honor society activities.
The annual round robin kickball tournament that funds the Oliva scholarship is open to anyone who attended elementary school in the Huntington School District. The games have drawn alumni from all the Huntington elementary schools, including some buildings that have since been closed such as Lincoln, Woodbury Avenue, Village Green, Nathan Hale and Roosevelt.
"All in all Billy loved all sports and games," Mr. Lauro said. "He just enjoyed it like no one else."