U.S. Soldier Visits Washington School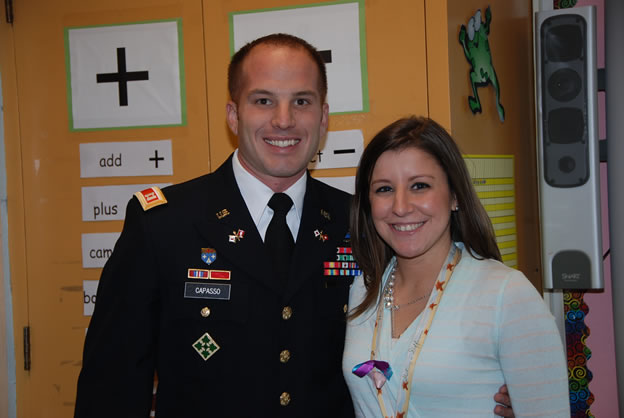 U.S. Army Captain Christopher Capasso visited Washington Primary School this week, speaking with students about the time he spent as a platoon leader in Afghanistan and thanking them for their efforts back home in Huntington.
The Army officer is the husband of Bobbi Capasso, a close friend of Washington special education teacher Tina Balducci. The soldier was deployed to Afghanistan in June 2009.
"During the holiday season, Bobbi approached me about having the kindergarteners over at Southdown (where Ms. Balducci was working at the time) send personalized holiday cards to each of the soldiers in his platoon," the teacher said.
Once the cards were created they were placed in each soldier's individual package and were brought to the post office to start their journey to a far off land. "While helping Bobbi mail the packages out, I realized the students did not know what happened to their cards once they left the classroom, so I decided to document each step of the mailing process," Ms. Balducci said.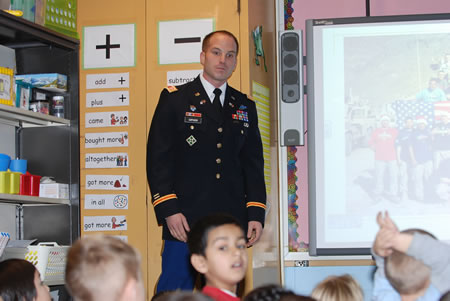 The teacher said she created a presentation so her students could to see their cards on their journey from Huntington to Afghanistan, "ultimately culminating with a group picture of each soldier holding up their personalized card," Ms. Balducci said.
Fast forward two years and Captain Capasso's brother, Lt. Alex Capasso is now serving with an Army platoon in Afghanistan. So, it's time for more cards and another presentation by Ms. Balducci.
Ms. Balducci and Washington teachers Debbie Lawrence and Melissa Lang worked with their students, who produced personalized holiday cards for the American soldiers. Principal Marsha Neville participated in the initiative, too.
During his visit, Captain Capasso answered questions galore and tried to help students understand what it was like to serve in a distant land that is still little understood by many Americans.
"It was a great visit," Mrs. Neville said. "All of us salute Captain Capasso for his service to our country and all the other brave men and women who help keep America safe."