Woodhull School Cafeteria VIPs
Keeping youngsters well behaved in the cafeteria is a goal of teachers, aides and administrators in every school in the country. At Woodhull Intermediate School, students are held to high standards. A VIP program recognizes those who have been most exceptional.
"It's working out great," said Principal Mary Stokkers about the VIP program. "Students enjoy the recognition and are made to feel special. More and more students want to earn a seat at the VIP table."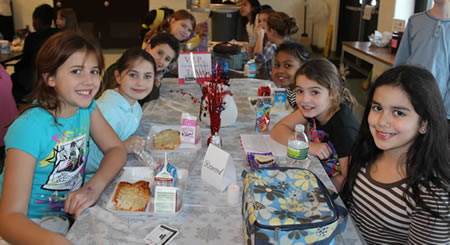 An otherwise ordinary cafeteria table is set aside for VIPs and covered with a colorful cloth. Centerpieces are added to enhance the atmosphere. The table overlooks a wall of windows, flooding the area with natural light.
VIPs are selected based upon meeting the following criteria:
• Be safe: Walk at all times in the cafeteria. Sit and eat with your class.
• Be respectful: Speak kindly to your peers. Respect your aide and the cafeteria staff.
• Be responsible: Throw out your own trash. Keep the table and floor area clean for others.
Almost every student enjoys a challenge, so Woodhull youngsters are doing their best to meet the VIP criteria. The names of VIPs are displayed on a special cafeteria bulletin board.
"It's a wonderful incentive program," said Debbie Roday, a monitor at Woodhull.