Fante Has Amazing Semester at Penn
Did anyone have even the slightest bit of doubt that Carolyn Fante would find success at the University of Pennsylvania? Huntington High School's Class of 2011 valedictorian has seamlessly blended into a campus filled with high-performing students from all over the world.
"My first semester at Penn has been amazing and I can't believe that it's basically over," Ms. Fante said last week. "We're in reading days right now and there's just one final and a Spanish essay between me and coming home for the semester."
Ms. Fante was enrolled in four classes this fall: Intro to International Relations, a writing seminar on social norms and game theory, Spanish 202, which at Penn is the first level of Spanish after a student has fulfilled the foreign language requirement and Superstition and Erudition, a freshman seminar on medieval learning and medicine.
"I was very happy to place into Spanish 202 with my AP score from taking AP Spanish," Ms. Fante said. "I found Intro to IR interesting and I am still considering a major in either international relations or an interdisciplinary major that is unique to Penn and called Philosophy, Politics and Economics."
Middle Ages Course a Favorite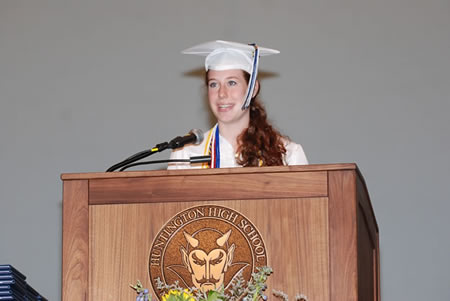 All things considered, the course on the Middle Ages was Ms. Frante's favorite. "It was a freshman seminar, which means that it was a very small class (12 students) and was taught by an amazing professor," the Huntington grad said. "It was actually his last semester teaching at Penn and he wrote a lot of the articles that we read in class. My whole class also had the opportunity to have dinner with him outside of class and hear more of his very interesting stories."
Ms. Fante's scheduled for the spring semester includes calculus (the level after is Calc BC in high school), intro to macroeconomics, a political science class on international security, the next level of Spanish and an anthropology class. "Basically, I'm still taking a little bit of everything and trying to figure out what is most interesting to me," the teenager said.
The Huntington alum has also had some "amazing opportunities" outside of class, too. "Before the semester started, I went on a three day camping trip that was part of a pre-orientation program at Penn called PennQuest," Ms. Fante said. "That was super fun and I got to meet a group of really great people before orientation even started. I'm a member of the women's club ultimate Frisbee team here at Penn, which is a lot of fun and a new experience for me."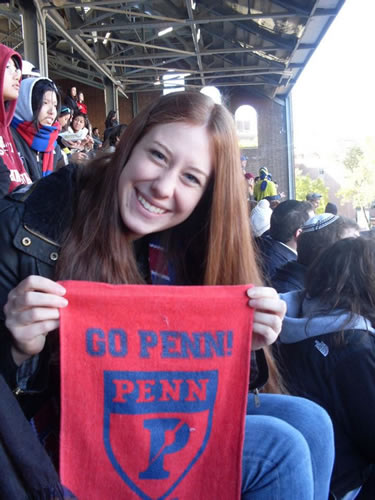 At Huntington High School, Ms. Fante was president of the Nathan Hale chapter of the National Honor Society, vice-president of the Spanish Honor Society and a member of the English, Math and Science honor societies. She also participated in AWOD (A World of Difference) and Grandfriends, among other activities.
Trained as Tour Guide
This fall Ms. Fante completed training to be a tour guide with the admissions office and she sometimes hosts perspective students that are visiting Penn. "This semester I also tutored at a local elementary school once a week," she said. "I've become involved in Penn's International Affairs Association since I started college. Among other things the IAA hosts and attends model UN conferences. They taught me how to compete and I got to travel to Boston for my first conference at Boston University."
The Huntington alum also had an opportunity to assist staff at the University of Pennsylvania's own model United Nations conference, "which was really fun," Ms. Fante said. "UPMUNC is one of the largest college model UN conferences in the world, so it was really exciting."
During her high school years, Ms. Fante was involved with The Dispatch, the school newspaper since taking a journalism elective course as a freshman. She spent two years as a managing editor before serving as co-editor-in-chief as a senior.
Penn a Perfect Fit
Penn appears to be a perfect fit for the Huntington grad. "I've made some really great friends," Ms. Fante said. "Philly has really cool sites to explore, which we've done, as well as going to a Phillies game, the Penn homecoming game or just hanging out. There were also really cool events during orientation like a night where they throw the freshman a catered party at the Philadelphia Museum of Art."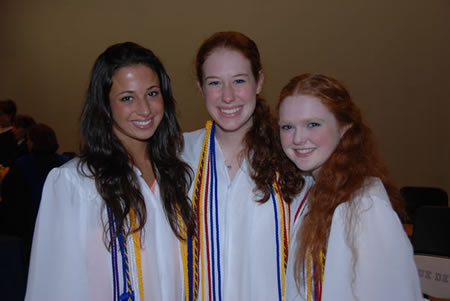 Ms. Fante came to the Huntington School District as a ninth grader after moving here from Brooklyn. Her parents encouraged her to get involved in school activities, which led to many lasting friendships. She has pursued the same philosophy at Penn, diving into her classes and a host of interesting activities.
While she has enjoyed life at the Philadelphia school, there's no place like home for the Class of 2011 valedictorian. "It has all been so much fun, but I'm looking forward to being back in Huntington for winter break and having time to relax and see all of my friends," Ms. Fante said.