Huntington Choirs to Perform
Tuesday Night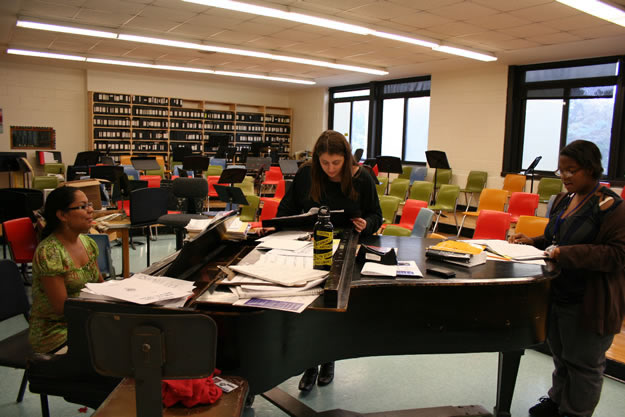 The Huntington High School auditorium is the place to be Tuesday night if a person wants to catch the holiday spirit. In addition to stirring orchestra performances, Huntington's chamber and concert choirs will sing a selection of all-time favorites.
"The chamber choir is made up of 37 of the top students in the choir program," said teacher Veronica Mainville, who directs the choir. "We will be opening with Gloria, an exciting piece with African percussion and rhythms. Next is Winter Song by recording artists Sara Bareilles and Ingrid Michaelson, which is a beautiful piece about winter and the hope for summer to come. Lux Aurumque by Eric Whitacre follows, a beautiful piece with a lot of warmth and intensity, and also their most difficult piece. Rounding out the program is Music Down in My Soul, a rousing spiritual by Moses Hogan that is sure to lift the audience's spirits!"
The concert choir will perform a variety of holiday favorites. "We will start with Siyahamba, our traditional which we always start each winter concert with," Mrs. Mainville said. "We also invite our choir alumni to sing this piece with us. Next is Ose Shalom, a beautiful song about peace in Hebrew. We are putting a twist on the traditional carol Angels We Have Heard on High and singing it in Spanish."
The concert choir will also sing Baby it's Cold Outside, "a wintry standard that's been around for a long time, and we are excited to perform a fun new version of it," Mrs. Mainville said. "Our finale will be a wonderful arrangement of Like a Prayer by Madonna, featuring several student soloists. Of course, we will be performing Handel's Hallelujah Chorus with the symphony orchestra as the final number in the entire program."
As might be expected, both the chamber and concert choirs are excited to perform their programs Tuesday evening. "The audience is in for a real treat," Huntington Superintendent James W. Polansky said.