Fiordelisi a National Football Foundation Scholar Athlete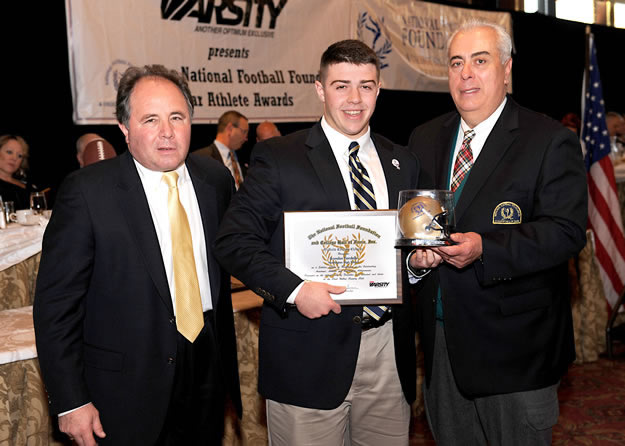 Brandon Fiordelisi is a big guy. The Huntington High School senior was a key player for the Blue Devil football team. He's one of the Class of 2012's best students, too. The combination of brains and brawn earned the teenager a National Football Foundation Scholar Athlete Award.
Fiordelisi picked up the honor last weekend at the NFF's annual brunch at the Crest Hollow Country Club in Woodbury. Presented by MSG Varsity television network, the event recognized the accomplishments of exceptional Suffolk players who have excelled on the athletic field, in the classroom and in their communities and who have displayed strong leadership qualities throughout high school.
"Brandon is a warrior," said Steve Muller, Huntington's head football coach. "He gave his heart and soul to our program. He's a great player and a fine person."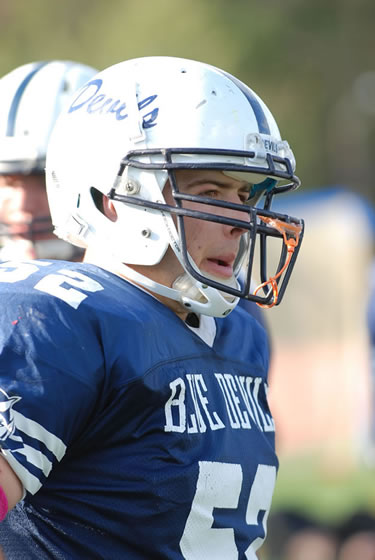 Fiordelisi has enjoyed a distinguished career at Huntington High School. He was a three-year starter for the Blue Devils football team, playing on both offensive and defensive lines. The senior had a reputation of being very strong, intense and smart on the gridiron while anchoring the offensive line.
The teenager served as a captain of Huntington's 2011 squad while simultaneously maintaining a 94 academic average. His coursework includes many Advanced Placement classes.
"Brandon Fiordelisi is an outstanding young man that I've come to respect for his uncanny ability to get people to follow his lead," said Ron Wilson, Huntington's assistant coach who was the NFF brunch. "He has truly been an asset to the Huntington community and I, for one, am going to miss him."
A member of the National Honor Society and the foreign language honor society, Fiordelisi is very active in the community. While earning several team and scholar athlete awards along the way, he has remained committed to helping kids of all ages. Fiordelisi serves as vice president of the Young Leader's Foundation and is a board member at Tri-Community Youth Agency, where he also spends time tutoring during the off-season. He has also been involved with Habitat for Humanity for the past four years.
"Football is in my blood," Fiordelisi said. "It's a team sport that relies on every single team member, including the coaches in order to be successful. I have grown to love and respect every player and every coach. I will remember being part of a great program at Huntington and have developed a special bond with my teammates that will last for the rest of my life."
A highlight of the awards brunch was guest speaker, Rudy Ruettiger, who carved his name into the history books as one of the most famous Notre Dame graduates. Ruettiger overcame tremendous obstacles and criticism to achieve his dream of playing football for the Fighting Irish. His story was popularized by the 1993 movie, "Rudy."
Fiordelisi has been recruited by several college football programs but his heart is set on attending the United States Naval Academy at Annapolis, Maryland. "Becoming a naval officer is truly what I was meant to do in life," he said.