Laurelle Byrne-Cody Keeps Busy
Laurelle Byrne-Cody likes to keep busy. The Huntington High School senior is tireless, taking challenging Advanced Placement courses, playing on three sports teams, holding down memberships in four honor society and serving as a math tutoring coordinator.
The teenager is a sensational student and is eyeing Notre Dame as her No. 1 choice for college. "But, schools like Boston College and the University of Virginia hold a close second," Ms. Byrne-Cody said.
A member of the National Honor Society and English, math and science honor societies, Ms. Byrne-Cody is the tutoring coordinator for the math honor society.
The senior has played volleyball, basketball and softball for the Blue Devils, winning Academic All-County honors in volleyball. She's been on the varsity softball team since her freshman year and was All-League as a sophomore, but disaster struck last spring.
"I tore my MCL, PCL, meniscus and ACL in the second scrimmage so I was out for the year," Ms. Byrne-Cody said about her junior softball season. "I had hopes of playing softball in college, but ever since the injury, I've just been considering walking on to a team. I can't imagine not playing a sport."
The reconstruction of her knee has slowed the teenager on the basketball court this winter, "but I'm hanging in there," Ms. Byrne-Cody said. She's captained all three teams she's played on and the teenager's goal has always been the same: To be a leader on and off the field.
Deep Political Involvement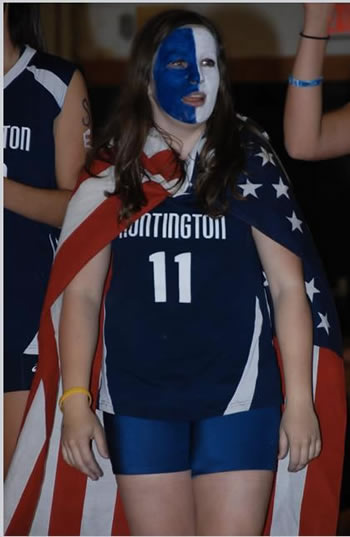 After school and on weekends, Ms. Byrne-Cody has become deeply involved in politics and is a regular attendee at town board and school board meetings. "It is so great that we live in a country where we have the opportunity to participate and know what goes on in the government and it's disappointing that some of my peers don't recognize this."
The Huntington senior had an opportunity to volunteer on local political campaigns this past election cycle and she worked in party headquarters during the summer and fall. "I even got to tally votes on election night," Ms. Byrne-Cody said. "I was out until 2 a.m., but it was worth it."
Her exposure to the world of politics has led to a variety of interesting experiences. "I've been able to meet a tremendous number of people, each with something to offer, from last year's congressional candidate to a man on the street concerned with his taxes," Ms. Byrne-Cody said. "I love meeting people and I am outgoing for sure. My friends often get embarrassed when I engage random strangers, but I enjoy it."
Those same friends also find it "weird" that Ms. Byrne-Cody makes a habit of reading The Wall Street Journal every day. However, she does know how to laugh and was voted the "class clown" by fellow seniors.
Favorite Classes and Teachers
Does she have any favorite subjects or teachers? Of course, Ms. Byrne-Cody does. The senior has especially enjoyed AP US History with teacher James Graber and AP Language and Composition with teacher Roy Dumar, who has since left Huntington High School and moved upstate where he currently teaches.
"Mr. Graber's probably been my favorite teacher and I'm excited that I have him again this year for AP Microeconomics because he makes everything so interesting and relatable," Ms. Byrne-Cody said. Teacher Camille Tedeschi is another favorite "as she to make AP World History fun and enjoyable," the teenager said.
Lost Beloved Uncle on 9/11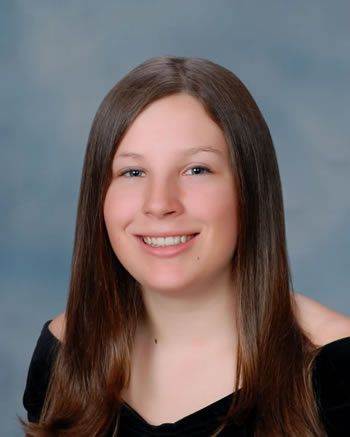 "I hope to pursue a major in either political science or economics and become a lawyer and eventually a politician some day," Ms. Byrne-Cody said. "I simply want to make the world a better, safer place. This is an ambition I've had since a young age when I lost my uncle Timothy Byrne on 9/11/2001. He was and continues to be the greatest man I'll ever know."
The 36 year old Mr. Byrne was working on the 104th floor of the World Trade Center's Tower Two at Sandler O'Neill & Partners as a bond salesman when terrorists flew a plane into the building causing unimaginable death and destruction.
"This year I've challenged myself to be in the best position to excel in life and I've enjoyed the heavy course load so far," Ms. Byrne-Cody said.
Mr. Graber's AP Microeconomics class and teacher Debbie Mellon's AP Government course are especially tough. "I love what these teachers have to offer me and the subject matter is so interesting that, as weird as it sounds, I enjoy doing my homework," the senior said.
Over the past four years she's learned so much and generously offered younger students some words of wisdom. "My advice for incoming freshmen is to get involved and take advantage of all the wonderful opportunities that the school has to offer, especially the athletics," Ms. Byrne-Cody said. "There's so much to gain from these programs and they've taught me just as much as any class I've taken. Also, the fun events like dodgeball tournaments, homecoming activities and the annual faculty hockey game are a must for all students although I was a little disappointed the high school teachers didn't win this past year."
As the countdown toward graduation begins in earnest, Ms. Byrne-Cody has grown whimsical. "I would tell freshmen to do what they can and enjoy the resources around them because it will all be over before they know it," she said.