Ammirati Earns All-Division
Tennis Honors
Olivia Ammirati earned All-League and All-Division honors to help pace the Huntington High School varsity girls' tennis team to an 8-2 league record under head coach Jamie Fishlow.
The Blue Devils finished second in league play. "We had a fine league season with an improved record," Fishlow said. "We faced strong non-league teams and we competed well against them." Unfortunately for Huntington, it dropped all three non-league contests to give the team an overall mark of 8-5.
Ammirati, a talented junior, went 10-4 (including the Suffolk Division I tournament) at No. 1 singles. Fishlow called his best player "solid." Juniors Kym Curley, Samantha Dever and Jamie Brown each reaped All-League recognition.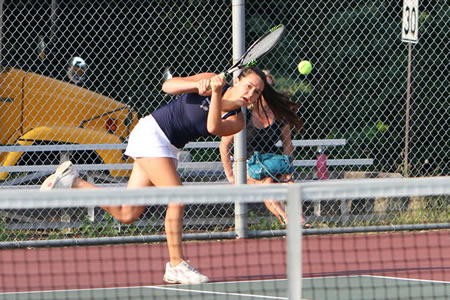 Corley went 7-6 in No. 2 singles. Brown and Dever were also 7-6 as Huntington's No. 1 doubles team. "They came close in many matches and showed much improvement over last year," Fishlow said about his top doubles duo.
Senior Samantha Bindrim went 10-2 in No. 3 singles. Juniors Rebecca Palladino and Pauline McGlone played No. 2 and No. 3 doubles "and worked hard on their game," Fishlow said.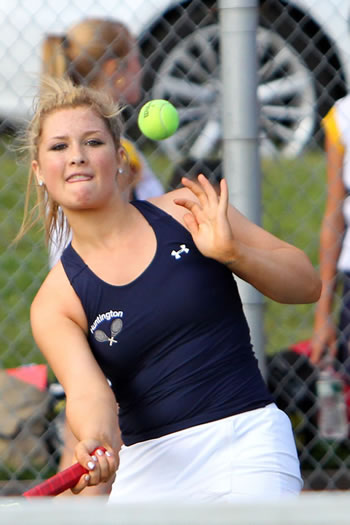 Post-season honorees also included senior Kristin Hartmann, who compiled a 5-4 record with her partner, junior Melanie Grossman and earned the Sportsmanship Award.
"It was a great team to work with," Fishlow said. "They were very cohesive and I enjoyed being their coach."
The Blue Devils will return most of the current team next fall. "I expect big things," Fishlow said. "We need to work on skills at the net and competitiveness."