Washington School Honors its Best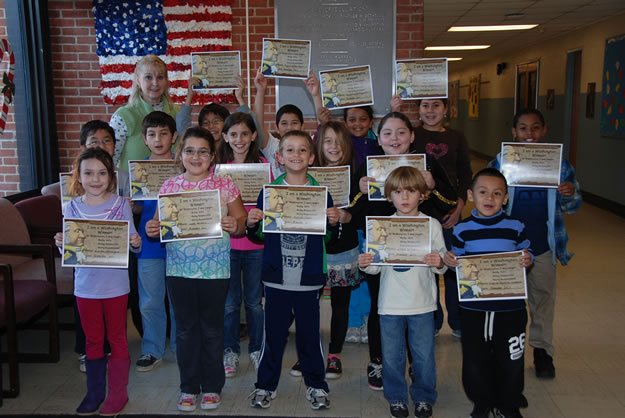 Their names were announced one-by-one by Principal Marsha Neville as more than 400 students assembled outside their respective room and cheered as classmates made their way through hallways. This month's honorees in Washington Primary School's student recognition program were a proud group as they marched individually to the main lobby to receive a special certificate.
As part of the Washington Ways program, students are given various colored tickets by teachers and support staff members for exemplary behavior. The tickets can be presented to the youngsters throughout the day.
November red ticket honorees included Harry Baliber, Chase Williams, Gabriella Gamel, Clemente Alvarez, Roberto Moreira-Lucana, Kieran Husselbeck, Seima Taniguchi, Emma Hannigan, Leda Roldan, Nicholas Grover, Stephanie Reyes, Nick Smalling, Arnold Alfaro, Emma DeGennaro, Kathryn Renkewitz, Kohki Taniguchi, Jaiden Motley, Miguel Alfaro-Reyes, Kaylynn Carrasquillo and Caitlyn Palermo.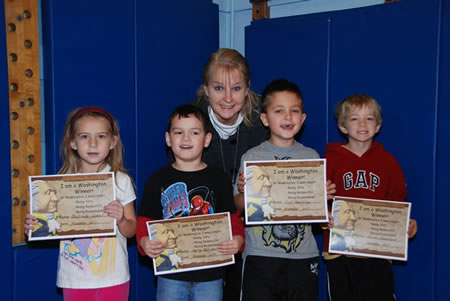 Washington's "Blue Ticket" classes for November included those of second grade teacher Maria Lanzot and the afternoon kindergarten class of teacher Debbie Quiles.
White tickets are awarded weekly for good behaviors and actions in the classroom. White ticket winners are honored with special recognition in their classroom at the end of each week and their names are announced every Monday morning.
Red tickets are presented to individuals for notable good behavior outside of classrooms, including hallways, buses, the playground and cafeteria, etc. At the end of the month, the student in each class with the greatest number of red tickets is recognized with a special certificate.
Entire classes can earn blue tickets for positive group behavior out-of-the-classroom. Blue tickets are also awarded to the two classes within the building with the most tickets overall. Students enjoy being cited and collecting the colorful tickets.
"It was delightful to recognize these hardworking and conscientious students and classes," Mrs. Neville said.