Huntington School Briefs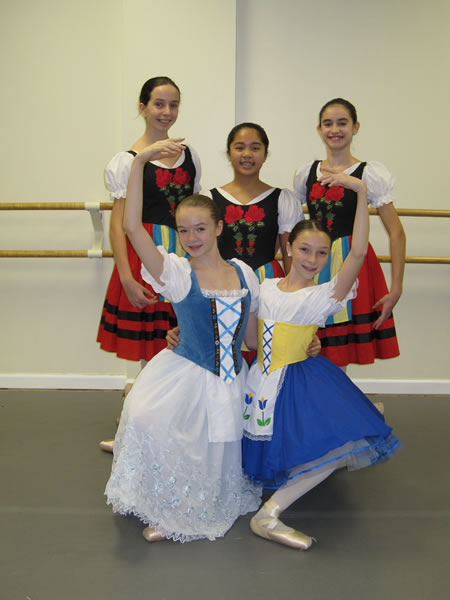 Five students from J. Taylor Finley Middle School will be performing in the Lynch Ballet Company's production of The Nutcracker on December 17 (2p.m. and 6 p.m.) and December 18 (12 noon and 4 p.m.) at Huntington High School. Tickets will be available at the door.
The group includes Finley seventh graders Caroline Tonks, Alexandra Smith, Katya Danziger Ashleigh Katigbak and eighth grader Olivia Stamatatos. The students are dedicated ballerinas who spend a minimum of 15 hours per week engaged in classes and rehearsals.
"Many talented and highly trained local students are dancing in this production of The Nutcracker, which is professional quality with spectacular sets and beautiful costumes," Huntington parent Catriona Tonks said.

Pastel Back to Work in Trumansburg
Former Huntington School District Superintendent Dr. Judith Pastel is out of retirement after agreeing to serve as interim superintendent of the Trumansburg Central School District in Tompkins County, New York.
Dr. Pastel served in Huntington for three years. She left for the Ithaca City School District after the school year ended in June 1996. She was replaced in Huntington on an interim basis by David Nydick for the 1996/97 school year.
Dr. Pastel retired from Ithaca last December after 15 years there. She starts work in Trumansburg on January 2, 2012 when the current superintendent retires. Tompkins-Seneca-Tioga BOCES conducted the interim superintendent search for Trumansburg. Dr. Pastel's appointment is contingent upon receiving a waiver from the State Education Department.

District Accepts Donations
Huntington School Board members accepted a variety of donations to the district this past Monday evening. The Special Education PTA donated $2,000 toward the purchase of a SMART Board. SEPTA also contributed $100 for the purchase of special education related equipment.
Several parents with children in the first grade dual language class at Washington Primary School joined together to donate a Mitsubishi office projector for use in the school's dual language program.
Huntington High School nurse Connie DeGrassi donated a HP Photosmart all-in-one printer for use in the nurse's office.

Budget Transfers Approved
Huntington School Board members approved several budget transfers from one account code to another during their meeting this past Monday evening. The transfers covered costs associated with the Huntington High School guidance department ($10,500), special education department postage and supplies ($2,500), team registration for the J. Taylor Finley Middle School Mathcounts ($140), non-instructional salaries (aides, clerical) for the Saturday Academy program ($6,500) and Saturday Academy materials and supplies ($10,000).

Finley Electric Service
A project to replace the electric service at J. Taylor Finley Middle School has begun. "Over the Thanksgiving holiday, the electrical contractor started the process of excavating for the new electric service at Finley," said David H. Grackin, assistant superintendent for finance and management services.
The work is expected to cost $84,000, which will be covered by monies transferred within the current year's budget. Need for the project was evident after Finley experienced a major electrical service interruption last spring.
"At this point, the project is progressing well," Mr. Grackin said. "We anticipate final connection to LIPA service sometime before the new year."