HHS Open Houses Termed Successful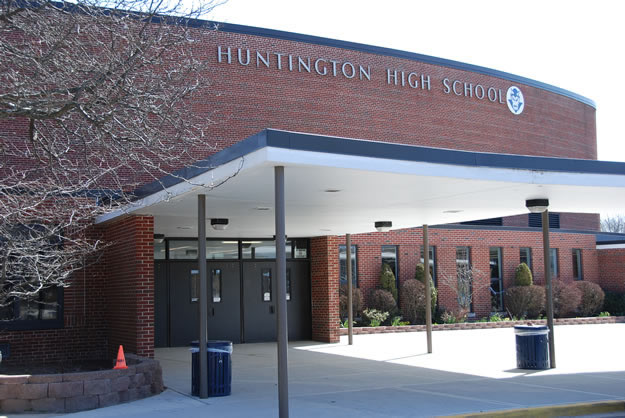 A series of three 90-minute long open houses at Huntington High School for parents of students currently enrolled in kindergarten through eighth grade have been completed and officials termed the new initiative a success.
The open house program was a collaboration of building and district level administrators, PTA officials, current high school students and teachers. Separate open houses were held for parents of students in grades K-4, 5-6 and 7-8 over the past month. The sessions ran from 10-11:30 a.m.
"I am very pleased with the feedback I've received in response to the open house events," Mr. Polansky said. "I am confident that our guests left the building with a genuine sense of the positive climate, as well as the range of offerings and support provided at Huntington High School."
Participants in the open house sessions met in the School Heritage Museum for introductory remarks and then split into smaller units for tours of the building and a sampling of various academic and co-curricular programs. Stops included classrooms, the library, cafeteria and other locations. The groups later reassembled in the School Heritage Museum for a final question and answer session with high school students.
The final open house in the series was aimed at K-4 parents. "The last open house was a great success," Dr. Leonardi said. "The students that were part of the tours and the Q & A session really did a fabulous job of presenting an accurate picture of what they experience daily at Huntington High School. "Parents asked questions about the rigor in courses, the ability to advance even if the students do not start in accelerated classes and the kinds of activities they take part in that extend their learning."
Huntington PTA Council President Bari Fehrs said the idea for the open houses evolved after officials realized many K-8 parents lacked a clear and accurate understanding of the high school's "wonderful" social and academic environment.
"It's the fear of the unknown that we wanted to clear up," Mrs. Fehrs said. "We felt that by showing parents what a typical day in the high school looks like they can make accurate and informed decisions when their child is ready to enter high school. We have an amazing student body and the group of students who helped with the open houses was proof of that. They were so excited and happy to convey a positive message to the parents."
For more information about Huntington High School contact Dr. Leonardi at cleonardi@hufsd.edu.