All-American Zach Howell
Takes Up Banking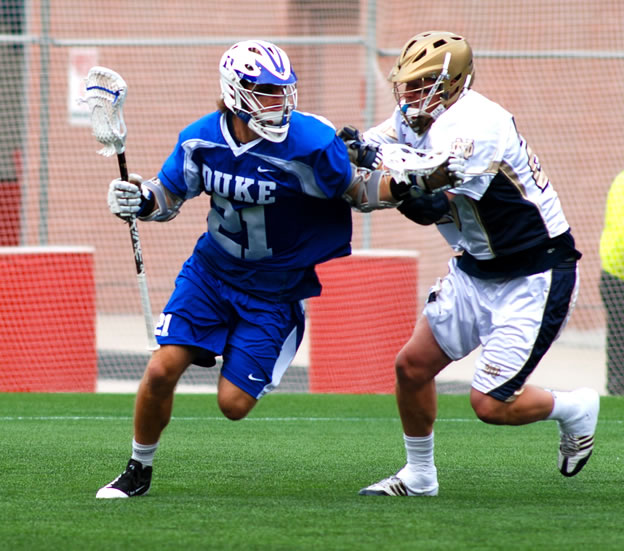 Zach Howell was one of the most electrifying Huntington High School athletes ever. He thrilled crowds, exuded pure class and earned a permanent place in the hearts of Blue Devil fans.
Duke University landed the Huntington star and he enjoyed four great years in North Carolina, becoming a prolific scorer and team leader and winning numerous honors.
Howell led Duke in scoring last spring, tallying 43 goals and 16 assists and amassing 59 points, the third most in the Atlantic Coast Conference. He scored at least one point in 18 games and had three points or more in 10 games. Against Siena, the Huntington grad turned in a career day, scoring seven goals and adding two assists for nine points.
After a star-studded college career that saw Duke win the 2011 NCAA title and reach the national tournament semi-finals three other times, Howell today is employed by HSBC in New York City. "I currently don't have long term plans because with learning new tasks at my job, I only look as far as the next day or the next week," he said.
As a high school senior, Howell captured numerous awards, including the Ray Deren Memorial Scholarship, the American Legion Citizenship Award, the Frank Carino Award of the Huntington Fire Department and the T. Christopher Pettit Memorial Scholarship.
Howell's college career included 135 goals (seventh in Duke history) and 58 assists. His 193 points are 11th all-time at the school. He tallied 22 career hat tricks.
"College lacrosse was special for me because of the success my team had," Howell said. "Duke is such an elite program now that it has been to five consecutive Final Fours with great coaches."
Howell won multiple All-American awards as well as All-ACC honors. A fine student, he received All-American Scholar Athlete recognition last spring. Howell scored 22 goals and notched 30 points in NCAA tournament play.
An All-State football player as a high school senior, Howell completed 146 of 211 passes for 2,368 yards and 20 touchdowns–the most on Long Island. In three years as the Blue Devil varsity quarterback, he compiled a 73 percent completion rate, connecting on 367 of 501 passes for 5,337 yards and 50 touchdowns. He was picked off only 17 times.
Howell's best game ever came as a senior in the Suffolk Division III semi-finals against Kings Park when he threw for 472 yards on 10-for-17 passing.
He was even better on the lacrosse field leading Huntington to three straight Suffolk and Long Island crowns and a pair of state titles. He earned All-American honors and was recruited by the top college programs in the nation. Howell led Huntington's 2007 lacrosse team with 98 points (54 goals, 44 assists). Over his career, he tallied 146 goals and 123 assists, for an all-time school record 269 points. He was one of the key players that helped the program win 63 consecutive games and grab the top ranking in the nation for two months.
Ironically, both Huntington and Duke are known as the Blue Devils.