Class of 2011's Courtney O'Bryan
Dies in Accident
When news reached her hometown early Saturday morning that Huntington High School Class of 2011 member Courtney O'Bryan had been killed in a car accident, a sense of grief engulfed former classmates, teachers, athletes and coaches.
Ms. O'Bryan, who was a freshman at Penn State University, was a passenger in a car on its way to Buffalo on Friday at about 8:30 p.m. when it reportedly hit an icy patch of roadway in Lewis Run in northern Pennsylvania, careening out of control, flipping over, sliding down a highway embankment and crashing into a tree.
The Huntington alum, who was riding in the backseat of the 2011 Nissan Pathfinder was fatally injured and four other students in the car were hospitalized. The accident occurred on State Road 219, about one mile south of State Route 59 according to the Pennsylvania State Police.
The news stunned and saddened the Huntington community, sinking the hearts of all those who knew Ms. O'Bryan and considered her a friend. Known around Huntington as "OB," the 18 year old was very well-liked by everyone and adored by her Blue Devil soccer and basketball teammates.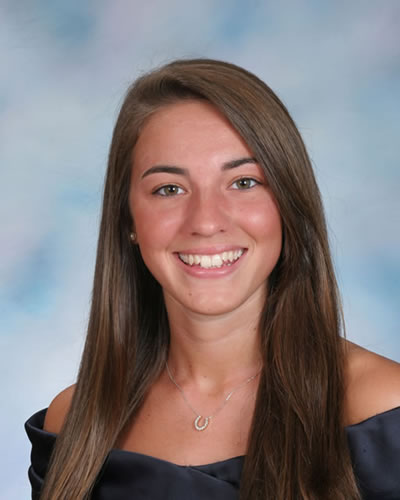 Ms. O'Bryan and her traveling companions were on their way to Buffalo for a "canning weekend" as part of the Penn State IFC/Panhellenic Dance Marathon, better known as THON, which raises funds to battle pediatric cancer. Over the past 35 years, THON has raised nearly $80 million for The Four Diamonds Fund at Penn State Hershey Children's Hospital. "Canning" weekends see Penn State students fanning out into other cities and states to solicit donations for the THON initiative.
More than 200 former classmates and teammates turned out for a candlelight vigil Saturday night in honor of Ms. O'Bryan at The Rock at Huntington High School. Tears flowed openly as the teenager was remembered by her parents and friends for her wit and wisdom, brilliant smile and happy-go-lucky personality. Many Huntington alums returned from out of town colleges when they learned of the tragedy.
Alum's No. 11 Retired by BB Team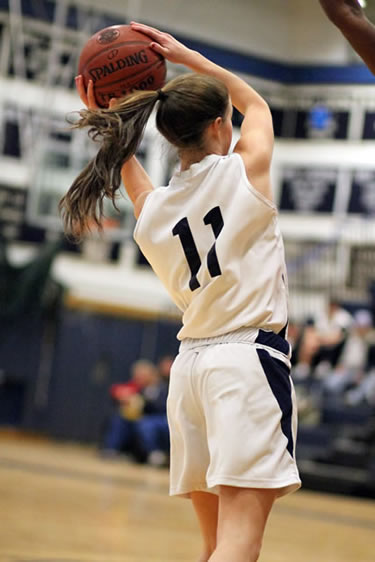 Visiting will be held at M.A. Connell Funeral Home on Monday and Tuesday, December 5-6 from 2-4 p.m. and 7-9 p.m. A funeral Mass will be offered on Wednesday, December 7 at 9:45 a.m. at St. Patrick's Church on Main Street in Huntington village.
"This news is horrible," said Mike Kaplan, who coached Ms. O'Bryan as a senior on the Huntington girls' basketball team. "The team decided that we will retire No. 11 in honor of her. OB was a special type of kid. She was different than any kid that I have coached before. She never complained about anything and was so easygoing. In the short period of time I got to know her, she made a lasting impression. She made everyone feel comfortable and was able to connect with every one of her teammates. I feel honored to have shared in some great memories with her and our team last season. She is a member of our Huntington basketball family and will be remembered forever."
In an interview last June, Ms. O'Bryan said she was planning to enter Penn State University without declaring a major. "I have not yet quite figured out exactly what I want to do with my life, but I think I want to go into the medical field and possibly work with children," she said. "I am so excited to go to Penn State. Although it is a little scary to be living away from home and to start all over making new friends, I know that it will be a great time."
A Coach's Dream
"I had the honor and privilege of coaching Courtney for the past three years," said Marissa Bergmann, who has worked with the Blue Devil basketball program since graduating from Purdue University and returning to her alma mater. "Courtney was a coach's dream. She was dedicated, caring and supportive and a true role model for others. She was the type of player that made all of her teammates feel important in some way or another. She was someone her teammates relied on for support. Her positive attitude and upbeat personality made her a true joy to be around. Through out my coaching, I have never had a player such as Courtney."
Born in Rockville Centre on April 13, 1993, Courtney L. O'Bryan moved to Huntington from Lynbrook as a fifth grader and the town quickly became a real home to her. "I cannot believe that my years at Huntington High School are actually coming to a close," Ms. O'Bryan said last June. "Bittersweet is the exact way to describe how I feel about leaving this place. I am unbelievably excited to start my adventure in college at Penn State and I know it will be some of the best times of my life, but at the same time I really do not want to leave quite yet."
Strong Relationships with Teachers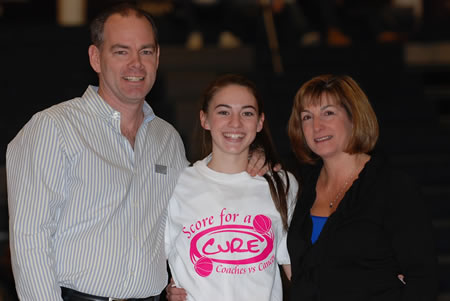 During her time at Huntington High School, Ms. O'Bryan built strong relationships with a variety of faculty members and said she had some "amazing teachers," pointing to Edward Florea, Lauren Thomas Desiderio, Ken Krummenacker and math teacher Michael Graziano.
"I think I've had the best relationship with Mr. Graziano out of all my teachers," Ms. O'Bryan said last June. "He really is one of the kindest people I've ever met and a great teacher. He made me feel so much more comfortable and at ease when I was a nervous little freshman."
The Huntington grad was a member of the Blue Devil varsity soccer team that reached the Suffolk finals in her junior year and then started on the team at midfield and defense as a senior. "Courtney was a great kid and a real fine leader," said John Walsh, the team's head coach. "It was awful to hear about the accident. She was really popular with her teammates. It's a real tragedy."
"Courtney O'Bryan's don't come around often," Ms. Bergmann said. "She was so unique. I saw Courtney the day after Thanksgiving. She came up to practice with a few alumni to shoot around and catch up. She mentioned how much she loved college and Penn State. She was truly enjoying her time there. I could tell she was extremely happy and had a smile from ear to ear. OB and I have kept in contact with one another quite often since she left for college in August. We shared a common bond of both attending Big Ten colleges. She would joke with me about how much better Penn State was than Purdue. I am truly devastated and saddened by her loss. She is going to be dearly missed."
Positive Blue Devil Experiences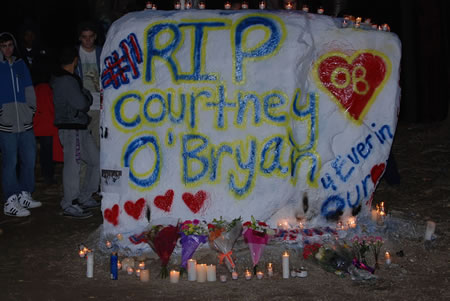 Many of Ms. O'Bryan's most memorable experiences involved the Blue Devil athletic program. "Mr. [John] Walsh, our soccer coach, was a great coach," she said. "He always coached with so much emotion and pushed me to my fullest potential. I've never seen a coach with a greater desire to win than Walsh. Making it to the county championship game junior year was one of my greatest memories. I will never forget the unbelievable feeling of rushing onto the field to celebrate with the girls after beating the 'unbeatable' Islip to go to the championship."
Ms. O'Bryan came into-her-own on the basketball court last winter and became a key member of the team. "Mike Kaplan, our basketball coach and assistant coaches Jim McCabe and Marissa Bergmann were really great to me," the teenager said last June. "During basketball season they really brought everyone on the team together and it was an amazing season. I have a lot of respect for them and I am going to miss them very much. I know that I always have them to go to whenever I need them."
Ms. O'Bryan was two-year member of Huntington's Natural Helpers club. The organization helps classmates who request intervention and assistance to help solve their problems. "I met some amazing people and made long lasting friendships through this club and I am so thankful to have been a part of it," she said last June. "Rob Gilmor (a high school dean of students) has also been amazing to me since joining Natural Helpers. He is one of the most caring people I have ever met and I really respect him."
It wasn't surprising that Ms. O'Bryan was already deeply involved in the Penn State community. She was the type of person who couldn't just sit on her hands when there was work to be done.
The teenager was all smiles at last June's commencement exercises. "I have had such a great experience at Huntington High School and some amazing times," she said. "It's hard to think it could get any better."