Blue Devil Duo Starring at Cortland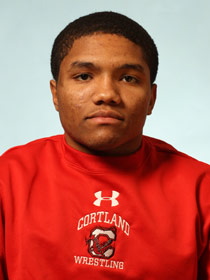 If Nigel McNeil and Louis Puca keep wrestling like this the duo will be All-Americans sooner rather than later. Both Huntington High School alums are off to strong starts on the SUNY Cortland wrestling team.
The two former and current teammates made their college debut at the University of Buffalo Open. McNeil captured two bouts at 125 lbs. to finish in eighth place. Puca also won a pair of matches en route to a sixth place finish at 174 lbs.
At the Wilkes University – John Reese Duals, McNeil went 4-0 at 125 lbs. with two major decisions. The two-time Blue Devil state champion won matches by11-4, 9-3, 9-1 and 15-2 scores. Puca, who finished second in the state for Huntington as a junior, won both of his matches, picking up a pin in 1:38 and battling to a major decision, 8-0.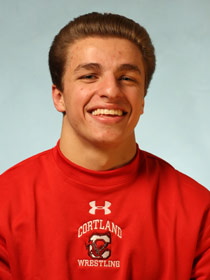 Most recently, McNeil and Puca both captured weight class championships at the Oneonta Red Dragon Invitational. Seeded No. 2 at 125 lbs., McNeil won two major decisions and a technical fall before pinning No. 4 Shin Wakabayashi of Rochester Institute of Technology in the finals in 2:20.
Puca entered the tournament seeded No. 4. He pinned two early round foes and took a 7-5 semi-final decision before pinning No. 2 Jared Leon of Gettysburg in the finals in 4:13.