Flower Hill's Encouraging Principal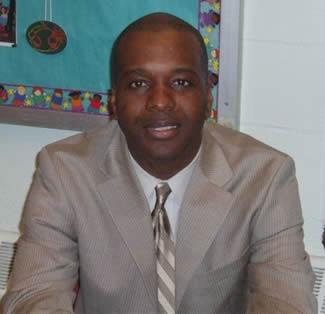 Flower Hill Primary School Principal Marlon C. Small knows the power of a pat on the back. He circulates through his building each day encouraging students, recognizing them for a job well done and gently nurturing those who need it at just the right time.
Mr. Small began his career in the district in September 1999 as a fourth grade teacher at Huntington Intermediate School. Three years later he was named dean of students at the school, a position he held for a year before moving with his family to Georgia. He went to work in the Peach State as a sixth grade social studies teacher in DeKalb County, Georgia and the following year was named assistant principal at Margaret Winn Holt Elementary School in the Gwinnett County Public Schools.
Returning to Long Island in July 2005, Mr. Small was hired as assistant principal of Birchwood Intermediate School in the South Huntington school district. He was named Flower Hill principal in July 2006 and has guided the school with a steady and strong hand ever since.
"Flower Hill is a wonderful school with dedicated and caring teachers and staff members and a very supportive group of parents," Mr. Small said. "Our students are bright, energetic and excited about coming to school each day. It's a great combination to maximize learning.
A 1992 graduate of SUNY College at Old Westbury with a bachelor's degree in American studies, Mr. Small earned a master's degree in elementary and special education at Adelphi University in 1999. He later obtained a professional diploma and state administrative certification at Dowling College in 2002. He has been studying at Dowling for a doctorate in education.
Prior to coming to the district, Mr. Small was a case worker at Berkshire Farm Center and Services for Youth in Melville, where he assessed and matched foster children with appropriate homes, completed assessments of youth and family and developed goals and objectives for treatment and provided group, family and individual support to foster children and families.
"At Flower Hill we are always looking to improve what we do," Mr. Small said. "We never just sit back and rest on our reputation. The school has given the young people of this community an excellent elementary grade level education since 1954 and we are very happy to be able to continue that tradition today."