Huntington Seniors Participate in Community Mural Project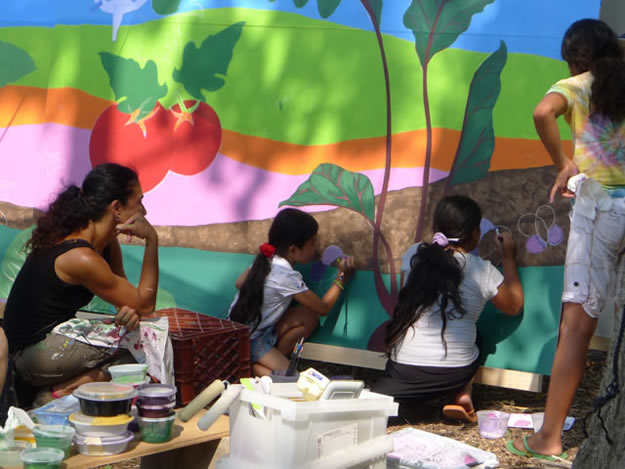 Huntington High School seniors Marie Clifford and Alexandra Martinolich are among the volunteers who worked to create a mural at the Gateway Park community garden located on the southwest corner of Lowndes Avenue and New York Avenue.
"We had 73 participants from two years-old to 78, and all levels of painting skills," said Lucienne Pereira, a Brazilian muralist who headed the project. The work was largely funded by a grant from the New York State Council on the Arts decentralization program. The goal of the initiative was simple: Create a series of narrative, educational murals focusing on garden themes.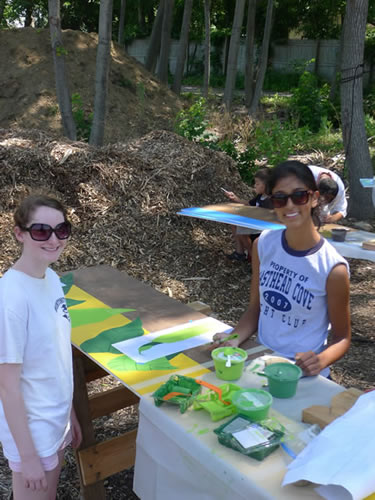 Ms. Clifford and Ms. Martinolich are among Huntington High School art teacher Amy Worth's best students. The creative teenagers proved to be hard workers and fit in perfectly with the other volunteers. Ms. Pereira said the talented duo "came and gave a great contribution. Others (from Huntington High School) called saying that they would like to come, but couldn't."
Ms. Pereira was assisted in her work by Susan Gaber, a children's book illustrator. Volunteers turned out weekdays at the site from 10 a.m. to 5 p.m. from July 11-29. The result their work is impressive, and colorful, too.
The Town of Huntington kicked in some funding for the project, which was also underwritten by Kleet Lumber, Value Drugs and Sherwin Williams. The project came about in collaboration with Long Island Community Agriculture Network and was under the sponsorship umbrella of Story Arts Inc. of Huntington.
The murals are expected to "go up" early next month with an official opening set for September 24. The two-sided work features garden images on one side, including insects, flowers, birds and vegetables. The other side of the mural is of a planting calendar.