Remembering Huntington's
Fearsome Foursome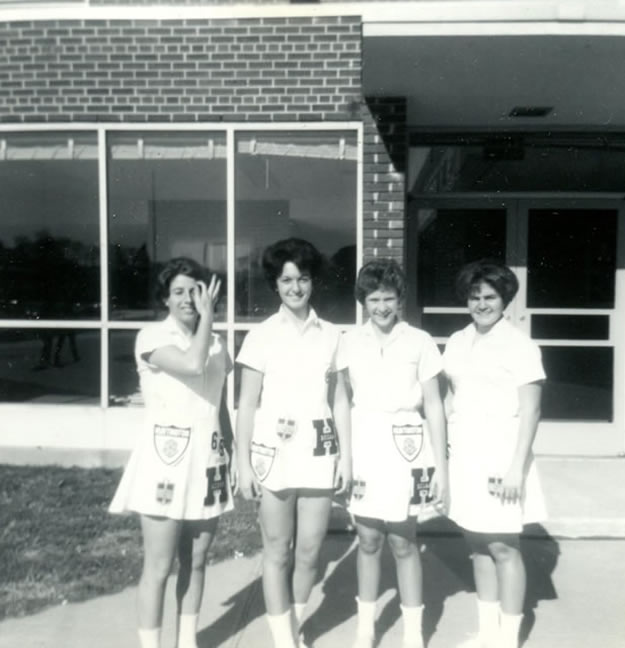 A few years after the new Huntington High School building opened on the corner of Oakwood and McKay Roads, a unique group of students began studying there. It wasn't long before the four friends were dubbed the "Fearsome Foursome" by the upperclassmen that played with them on the school's "honor teams" for girls.
Between 1962 and 1965, Dee Morrone, Arlene Falco, Pat Van Arsdall, and Barbara (Bobbi) Franco were selected for every "honor team" during their sophomore, junior and senior years. Ms. Morrone and Ms. Franco also competed and won ribbons and medals in archery. This was an era prior to enactment of Title IX, which in 1972 ushered in a comprehensive program of varsity, junior varsity and junior high school teams for girls.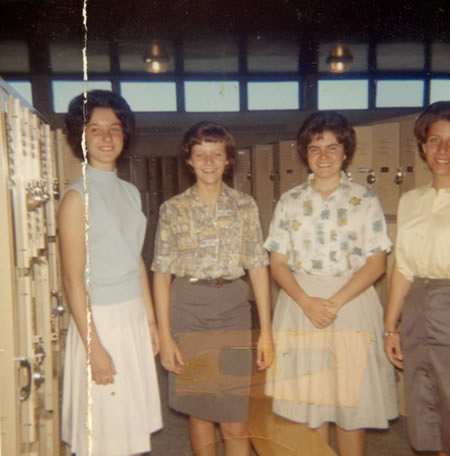 As well-rounded athletes, the Fearsome Foursome led Huntington's field hockey, volleyball, basketball and softball teams to victory. Achieving a goal that few school districts could claim, the four exceptional teenage athletes, along with their teammates, won all four coveted Suffolk County Girls' Athletic Assn. banners: softball in 1964 and field hockey, volleyball and basketball in 1965, the group's senior year. It's a feat that has never been repeated in the history of Huntington's athletic program.
The Foursome was guided to dizzying heights by Huntington High School physical education teachers Doris Line and Lynne Knippler. "Our accomplishments could not have been possible without their dedication and expertise," Barb Franco Adams said.
The Foursome played softball during the summers of 1963-65 for legendary Huntington grad Mickey Norton on the famed Norton Athletic Club's women's softball team. The rigorous schedule included double and even tripleheaders among its 82 game summer slate in 1963. The Norton AC softball team topped the New Jersey state champions, 3-0 in a game played before 14,000 at the original Yankee Stadium (pre-1973 renovation).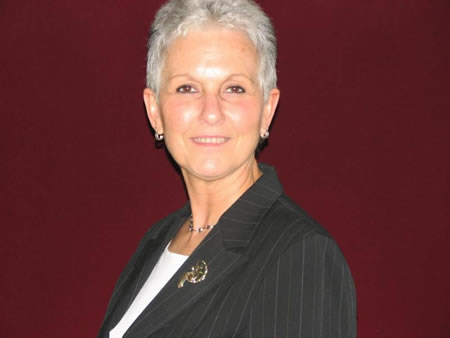 As the team's starting second baseman, Ms. Morrone had quick hands and could turn a double play with the best of them. "Little Pat," as Mr. Norton called Ms. Van Arsdall was fast around the bases and played a solid outfield. Ms. Falco and Ms. Franco roamed the outfield for the team.
After earning their Huntington High School diplomas in June 1965, members of the Foursome went on to achieve distinction in a variety of pursuits:
Dee Morrone majored in health and physical education at SUNY College at Brockport. She competed on the field hockey, basketball and softball teams there and also played club field hockey in Rochester. After graduating, she taught physical education on the elementary level in Spencerport.
After completing 30 credits of graduate study, Ms. Morrone moved back to Long Island and finished out her teaching career in the Middle Country Central School District, where she also served as a coach. Now retired from teaching, Ms. Morrone continues to live in Huntington Station, where she is active in volunteer work.
Arlene Falco was awarded a Regent's scholarship upon her high school graduation. She attended SUNY Buffalo, graduating with a bachelor's degree in elementary education. Her entire teaching career was spent in the Huntington School District. After completing a master's degree, Ms. Falco married Michael Ricco. Together with their two sons, Christopher and Jonathan, the Ricco's have lived in Huntington Village for over 40 years. Mrs. Ricco retired from teaching in 2009.
Ms. Van Arsdall attended Transylvania College in Kentucky for two years. She transferred to Cal State Northridge and after graduation was a physical education teacher for two years. She met her future husband, John Eger while in college.
After marrying, the Eger's moved to Tucson, Arizona, where they still reside. Mrs. Eger taught for a short time and became a full-time mom. The Eger's have a son and a daughter and four grandchildren. "I continued my love for teaching by volunteering at their schools and coaching numerous soccer and softball teams," she said.
Mrs. Eger is a full-time disaster services volunteer for the American Red Cross, an organization she has been with for more than 13 years. She has crisscrossed the country responding to more than 30 disasters, including 9/11. Mrs. Eger is a national disaster preparedness instructor for the Red Cross.
Bobbi Franco majored in health and physical Education at SUNY College at Brockport. She and Ms. Morrone were roommates during the second semester of their freshman year and often got together with Ms. Ricco, whose campus was about an hour away to the west.
Ms. Franco played on the Brockport field hockey, volleyball and softball teams. After two years of teaching high school health and physical education in the Middle Country Central School District, she returned to Rochester to complete her master's degree.
Married to Carl Adams in 1972, she taught physical education at Niskayuna High School in Schenectady. After being a stay-at-home mom to her two children, Becky and Lucas for five years, Ms. Adams returned to teaching health in the East Irondequoit Central School district in Rochester and coached teams from the modified (junior high/middle school) to varsity levels.
Ms. Adams finished out the last six years of her career at a house administrator and interim director of health and physical education before retiring in 2006. She continues to live in the Rochester area with her partner Roz, and has her own educational consulting business, called "Teachers...Good to Great!"
The Fearsome Foursome was among a select group of just seven members of Huntington's 550-plus student strong Class of 1965 that received Gold Key Awards. The honor was based on achievement in athletics, intramurals and leadership. Seniors Jana Johnson, Judy Fusaro and Lindsay Schoefield were also recognized.