Finley Duo Speaks to Co-Founder of Ben & Jerry's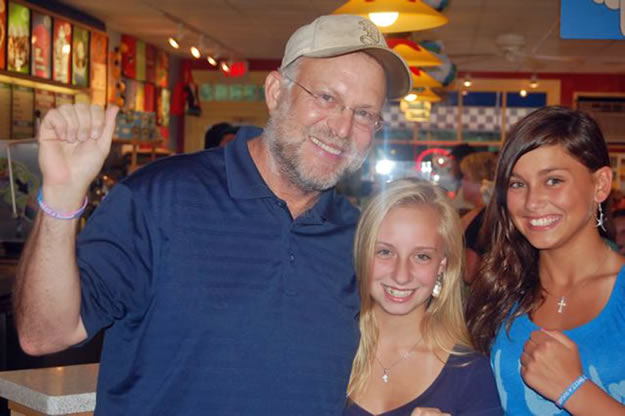 You have to give Annalise Mozer credit. The soon-to-be eighth grader doesn't know the word "quit." Once she sets her sights on something, the blinders go on and off she gallops. No matter where she happens to be at any given time, this is one determined young lady.
Ms. Mozer is the driving force behind the J. Taylor Finley Middle School "Diabetes Divas," a group friends and classmates who are raising awareness and funds to fight back against the scourge of an insidious disease.
This summer Ms. Mozer found herself vacationing on Cape Cod with fellow Diabetes Diva, Kaiya Idler. The energetic duo found their way into a Ben & Jerry's scoop shop in North Eastham, Massachusetts and was surprised to find Jerry Greenfield, one of the company's co-founders, inside the store. Naturally, the Finley friends couldn't let this unique opportunity to push their agenda forward pass them by.
"The girls presented Jerry with one of their '2 Sweet 4 Sugar' wristbands, which he proudly placed immediately on his wrist," said Liz Mozer, Annalise's mother.  The divas then told Mr. Greenfield about their website (http://2sweet4sugar.webs.com). He promised he'd log on as soon as he had an opportunity to do so.
"The main topic of discussion was asking Jerry to please have his company consider creating a low-carb ice cream option, so that Type 1 diabetics could also enjoy some delicious Ben & Jerry's ice cream, as everyone else does," Mrs. Mozer said.
The two Finley students had another suggestion, too. They asked Mr. Greenfield about the possibility of creating a low-carb ice cream flavor that incorporates cinnamon. The pair said it's widely believed that this spice could aid in lowering blood sugar levels. "Jerry seemed to really like the idea," Mrs. Mozer said.
When the new school year rolls around in a couple of weeks, the Finley Diabetes Divas will be back at full strength and ready to pursue their mission with renewed vigor.