Huntington Grad is
UCONN Soccer Coach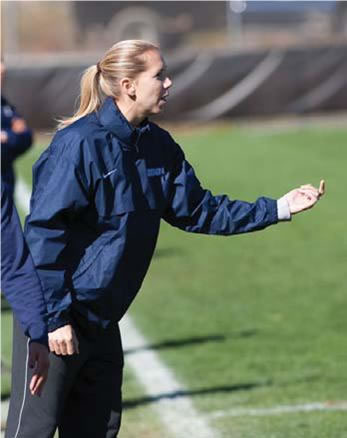 Margaret Tietjen is recorded in the annals of Huntington High School as one of the greatest women soccer players in Blue Devil history. She led Huntington to the 1994 state girls' soccer title and was named an All-American and the New York State Co-Player of the Year along with her twin sister, Jennifer.
Today the Huntington alum is in her fourth year as the University of Connecticut's full-time assistant women's soccer coach. Now known as Margaret Rodriquez after her marriage to Casey Rodriquez, she starred on the UCONN team from 1995-98 and is tied for fourth on the all-time Husky scoring list with 128 (43 goals, 42 assists.) Mrs. Tietjen- Rodriquez is one of only four UCONN alumni to be part of the NCAA's "40-40" club.
"Margaret understands what it takes to play at this level since she comes from our program and has also played at the highest level," said Len Tsantiris, UCONN's head soccer coach, who coached Tietjen in college. "She does a great job teaching in the field and in recruiting. She is a very strong and valuable addition to our program."
At Huntington High School, Ms. Tietjen was an exceptional athlete, starring on the volleyball, basketball and soccer teams.
During her storied career with the Huskies, Mrs. Tietjen-Rodriquez started 91 of the 99 games she played in and helped lead the team to an 85-12-4 record in those contests. While playing for UCONN, the team made three appearances in the NCAA Division I quarterfinals and reached the NCAA finals in 1997. She was named to the All-Big East second team in 1998 and was Connecticut's Outstanding Senior Athlete that same year.
The Huntington alum graduated UCONN with a degree in kinesiology and fitness management. She played professional soccer in the WUSA. Drafted in the eighth round by the San Diego Spirit, she played two seasons (2001-02) for that team and then changed coasts, closing out her career with the New York Power during 2003/04.
Once her playing days were over, Mrs. Tietjen-Rodriquez served as the assistant coach at the University of Hartford for four seasons, helping to lead the team to the 2006 America East conference regular season and tournament championships and a berth in the NCAA tournament.
The seasoned college coach kicked off her career on the sidelines as a grad assistant at UCONN. She was the head coach at Santana High School in Santee, California during the 2003-04 seasons. She has also coached in the Olympic development program, most recently heading up the Girls' Under-15 Connecticut UDP team. She holds an NSCAA National Soccer Coaches license.
The Huntington grad and her husband and daughter, Lucy Jane reside in Glastonbury, Connecticut.