Coffey Follows Passion for Sea
to Maritime
John Coffey has always had a thing for the sea. The teenager is following that passion to SUNY Maritime College, where he will begin studies this month for a bachelor of engineering degree in naval architecture.
Mr. Coffey is a member of Huntington High School's Class of 2011. While graduation is usually a happy time for seniors and their families, Mr. Coffey's joy was subdued by the loss of his dad just days earlier. Brian Coffey passed away after a short illness.
"It's a really tough time for us, but something that we have to get ourselves through nonetheless," the teenager said. "Right now, my main objective is to continue making him proud."
"Character" is a word that carries deep meaning for Mr. Coffey. He leads his life according to a strict code. The practice has provided him with many happy days. He is always working to improve his already sterling character and he provides motivation and inspiration for others by just going about his daily business in a selfless way.
"The past four years at Huntington High School have been nothing short of rewarding and were full of unforgettable experiences," Mr. Coffey. "I became close with some of the most amazing friends a person could ask for and interacted with the most professional and fun teachers, coaches, and administrators."
Two Favorite Teachers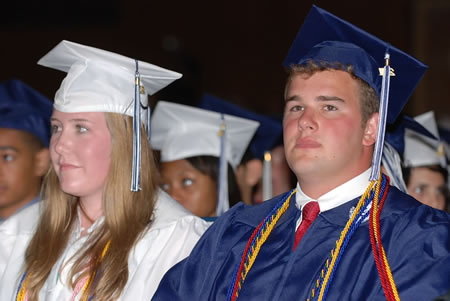 Some of Mr. Coffey's favorite teachers have been Michael Graziano and Ken Krummenacker, members of the math and English departments, respectively. "In ninth grade, amidst all the stress and anxiety of starting high school, Mr. Graziano opened his classroom up to his students in a warm and welcoming manner," Mr. Coffey said. "He wasn't afraid to crack the occasional joke and have some fun. When we were working, he was clear and easy to understand - a fine educator. I stayed close with 'Mr. G' through my four years of high school. When our class elected him as the most distinguished teacher from Huntington High School, I wasn't the least bit surprised."
Some of Mr. Coffey's fondest high school memories originated from Mr. Krummenacker's classroom. "He would always have a 'country music song of the day' written up on the chalkboard," recalled the teenager. "I remember walking into his class on the first day of my junior year, seeing 'She Thinks My Tractor's Sexy' written on the board, and thinking to myself 'I am definitely going to enjoy my time in this class.'"
The English teacher reached Mr. Coffey in a unique way. "Mr. Krummenacker taught poetry in a way that no other teacher before him had," the teenager said. "He broke even the most confusing poetry down to a level that everyone in the classroom could understand. Instead of simply analyzing literature, he found creative ways to turn the analysis into an interactive activity with the class. Above all, Mr. Krummenacker is a great friend to his students. He is always willing to assist with any favor and is always ready to lend an ear to anybody who needs an audience or just somebody to talk to. Definitely one of the greatest English teachers I've ever had the privilege of being taught by."
A fine student, Mr. Coffey also participated in the high school sports and club programs. He was inducted into the Nathan Hale chapter of the National Honor Society as well as the science, English and Italian honor societies and participated in a variety of charitable fundraising activities with the organizations. He also devoted time to PlayFest and the Science Olympiad.
Blue Devil Crew
The Blue Devil crew team "has been a major part of my life over the past four years," Mr. Coffey said. "I love the sport. The camaraderie amongst the team members, and the coaching was awesome. Crew also fulfills my love for the water. I have a boat of my own and being on the water and maintaining the boat are some of my most satisfying hobbies."
Mr. Coffey found it rewarding to bring new crew team members into the fold and mentor them as captain over the past year. "Taking on the role as a leader for my peers and teammates was truly gratifying," he said. "If the opportunity were ever to present itself again in the future, I would embrace it. I am also very grateful for the manner in which the people of the crew team, coaches and parents included, look out for their own in difficult situations. We are truly a close-knit family."
That same "close-knit family" encompasses the good friends Mr. Coffey has made during high school. "We've traveled together through many of the same classes over the four years and we have supported each other throughout," he said. "My friends are not only great fun to be with but are really accomplished and bound to be a successful in life. I'm so proud of them."
Heads to Maritime College
Mr. Coffey left Huntington for SUNY Maritime College this week to begin indoctrination. "As with crew and my other activities outside of school, Maritime caters to my passion for, and love of the water and all things nautical," he said. "I was thrilled to hear that I had received a four-year full tuition scholarship to Maritime."
Mr. Coffey applied for the scholarship, officially known as the cadet appointment program, through state Senator Carl Marcellino's office. "When I learned that I had received the scholarship, my parents and I were so thrilled," he said. "I'm especially happy with my decision to attend Maritime in light of my father's recent passing. I'm happy to be attending such a great engineering school, while at the same time being close to home for my mother, Carol and my sisters, Annie and Caroline." Annie will begin her senior year at Huntington High School in September while Caroline will be a junior.
"I'm anxious to start college and this new phase of life," Mr. Coffey said. "However, I know my ties to Huntington and Huntington High School will never be broken."