Finley Divas Present Check to
Juvenile Diabetes Foundation
Diabetes is striking victims at a disturbingly younger age. It's a fact that hasn't been lost on a group of young women that bill themselves as the "Diabetes Divas." The impressive teenagers recently delivered a $1,600 check to the Long Island Chapter of the Juvenile Diabetes Research Foundation in Melville.
Six of the divas were able to make the trip to Melville for the formal presentation, including Kaiya Idler, Hailey Bengston, Sydney Jean-Baptiste, Melany Lanham-Ciancia, Kristina Abt and Annalise Mozer, who led the fundraising and awareness efforts during a spring campaign at Finley.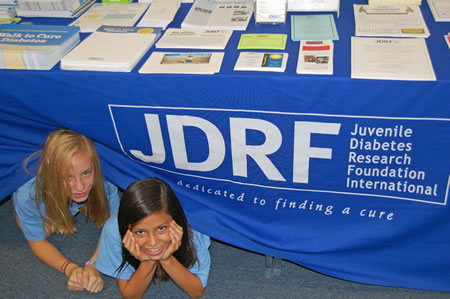 Divas Shannon Contino, Giorgi Phelon, Holly LoTurco, Kelly Palladino and Ally Wohl were not able to join the rest of the group that day, but all played key roles in the initiative, which captured the imagination of Finley students, faculty and staff members.
The charity-minded Finley students raised $800, surpassing their goal by $50. The amount was then matched by The Home Depot, located in the Big H Shopping Center, allowing the divas to present a $1,600 check to the JDRF.
"My friends are so amazing because they are so supportive to me," Ms. Mozer said. "I loved seeing the reaction of the people at the Juvenile Diabetes Research Foundation when we presented them with the check. They looked so happy!"
"The Diabetes Divas for the Cure" organizing group at Finley made posters and t-shirts, sold "2 Sweet 4 Sugar/Cure Diabetes" wristbands, created a diabetes warning signs "rap" song and released diabetes-blue balloons in front of the school to raise awareness.
The students sold the special wristbands and asked classmates to wear blue to demonstrate support for diabetes research. Public service announcements were developed and read over the Finley public address system each morning to educate students and teachers about diabetes, including its symptoms, which are often ignored.