Jack Castelli has no Regrets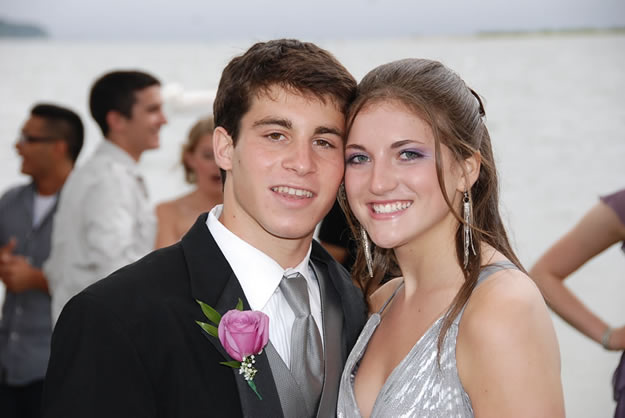 Four years ago Jack Castelli had a big decision to make, one that would impact his immediate prospects and could eventually change the course of his life. The soft-spoken teenager has never looked back and has no regrets today.
As Mr. Castelli was completing eighth grade at J. Taylor Finley Middle School he was faced with a choice: Continue on to Huntington High School or enroll at Chaminade High School in Mineola. It wasn't an easy decision to make and many considerations had to be weighed and taken into account.

When Huntington's Class of 2011 stepped up to receive its diplomas this past June, Mr. Castelli was among counted among the top seniors. Teachers and coaches consider it unthinkable that the teenager could have gone to any other high school since he fit in so perfectly with his classmates and teammates.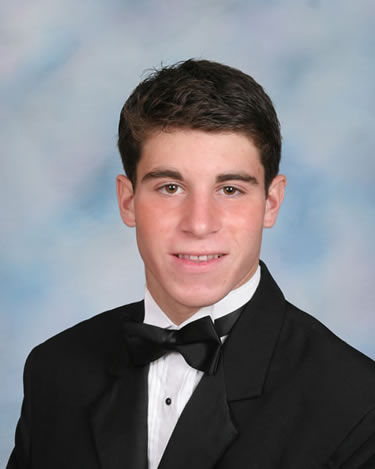 "It was a choice that I definitely do not regret whatsoever," Mr. Castelli said late last week. "Huntington is like our world. It encompasses varied people and styles and displays diversity that is analogous to the real-world."
Never one to shy away from a challenging course, Mr. Castelli compiled an enviable academic record. He was also fully engaged in Huntington's extracurricular club and sports programs and cut a happy figure around the school.
"Huntington High School was a place that provided me with many opportunities," Mr. Castelli said. "I really enjoyed it because of the various activities, challenges and loads of fun that I had." 
Once Mr. Castelli reached his decision to forego Chaminade and continue on to Huntington High School, he dived into a full slate of honors and Advanced Placement courses, which he said "kept me on track. They challenged me, kept me going, and despite their sometimes rigorous workload, were interesting and fun to me."
Headed to Trinity College
Mr. Castelli is headed to Trinity College in Connecticut in the fall. He intends to study liberal arts, history and political science. He is walking away from his home of the past four years with very definite opinions and many positive tales to tell.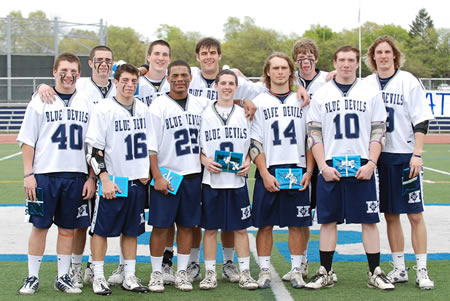 "Along with academics and sports, my fondest memories are of all the friends I've made," Mr. Castelli said. "It was great making new friendships and continuing others. As an AP student, I made friends that had similar skills and academic goals."
A hard worker who comes from a family that places a premium on education, Mr. Castelli is quick to give credit to those who guided and inspired him along the way.
"I had great teachers," Mr. Castelli said. "Whether it was Mrs. [Deborah] Beck in AP Biology explaining DNA replication my sophomore year or my favorite teacher, Ms. [Camille] Tedeschi in AP World History, classes were always full of enrichment."
The teenager made an especially strong connection with Ms. Tedeschi. "As a freshman, I walked into her ninth grade honors global class with a nervous smile on," Mr. Castelli said. "I knew her since I was six years old. (Ms. Tedeschi was one of his summer camp counselors). As soon as I stepped through the door into room 206, I was whipped into academic shape. One of the many things she taught me was organization, a skill which is constantly needed for a young high school student."
Analyzes Everything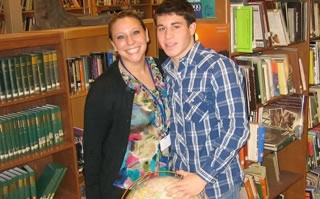 Mr. Castelli learned another important lesson from Ms. Tedeschi. "She taught me another skill which carries on through to the adult world: analysis," he said. "I learned to analyze everything. Whether it was a DBQ (document based question) or a biased news report, it is always important to analyze facts."
After three years of high school classes, Mr. Castelli decided that he wanted to be an intern in a 9H Global History class with Ms. Tedeschi during his senior year. "It was awesome," he said. "I learned how to instruct and deliver information to students. It was a great behind the scenes look at teaching."
Mr. Castelli is many things, but he's definitely not a chatterbox. He's a good conversationalist, but he also knows how to listen. "One of the many things a young student learns in high school is what they are interested in," Mr. Castelli said. "Maybe it's Shakespeare or maybe it's algebra. Well, I learned that I had a lot of interests."
It's not a stretch to say that Mr. Castelli never walked into a classroom unprepared for a day's lesson. What teacher wouldn't love to have a student like that?
Appetite Fed by Huntington
"I learned that Huntington could feed my appetite," Mr. Castelli said. "Well, the cafeteria food was okay, but I mean an appetite for learning and fun. I figured out that I could have fun in sculpting class with one of the best men I've known, Mr. [Robert] Potter and I could learn about ancient Rome with Ms. Tedeschi." 
An AP Scholar with honors, Mr. Castelli participated in the Blue Devil wrestling program for several years, but he really made his mark with the Huntington lacrosse team.
"I learned to appreciate Huntington High School," Mr. Castelli said. "After school, I could go to lacrosse practice with coach [Paul] McDermott and train for the Suffolk County championship. Lacrosse is my favorite sport. No surprise there. Huntington is on Long Island, arguably the nation's most fertile area for top players. I've played all my life and I can't wait to play in college."
Mr. Castelli scored 24 goals and added five assists from his attack position last spring, helping the Blue Devils reach the county lacrosse finals. "Since second grade, it was always games, camps and tournaments," he said. "In high school, my friends and I played at a high level. Coach [Eric] Triolo really helped me develop on varsity. He showed me the ins-and-outs of attack. We all worked hard and won many games this past season."
Huntington dropped a 13-8 verdict to Shoreham-Wading River in the Suffolk Division II title game last June. Mr. Castelli scored in the contest, which was played at Stony Brook University before a crowd of 2,000. "We didn't win, but it was a great experience," he said.
College Lax on Horizon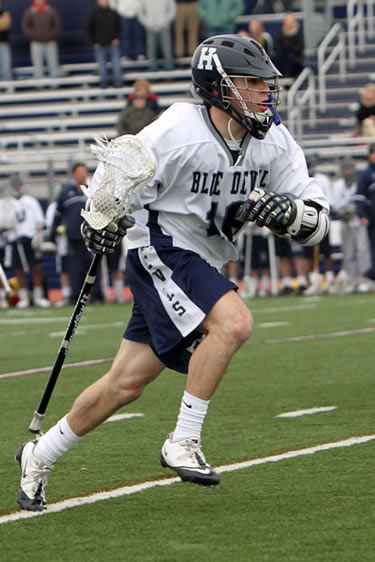 Not every high school athlete is able to continue playing on the college level, but Mr. Castelli isn't finished suiting up just yet. "Luckily, I was fortunate enough to be recruited and I'm able to continue my career at Trinity College," said. "It's a great place to study and I'm excited for my freshman year. Trinity is a great liberal arts school so I know I'll get a well-rounded education."
There doesn't seem to be the slightest bit of doubt that Mr. Castelli will duplicate his wildly successful high school run on the college level. But, regardless of where he goes or what he ultimately accomplishes, the Huntington grad will always remember his roots.
"Huntington provided me with knowledge, great memories and friendships that will last all my life," Mr. Castelli said. "I know that it will always have a special place inside me and I know that I'll always enjoy coming back. But then again, the things we love never really leave us."