Kiley and Deegan Win Samodi Theatre Arts Award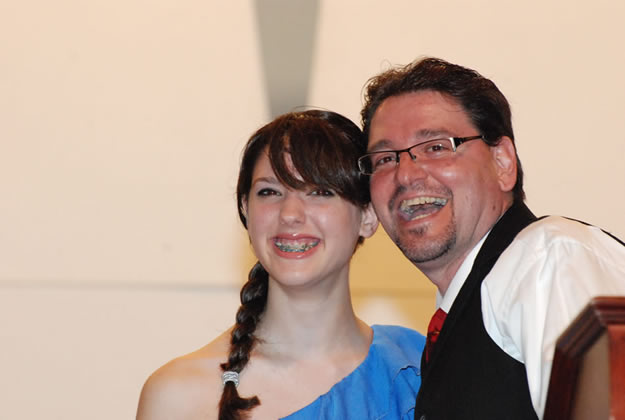 Officially it's labeled a club, but the Huntington High School theatre arts program better resembles a big family, with drama director Michael Schwendemann nurturing its members and coaxing a "best performance" from each of them.
The Huntington program is regarded as one of the strongest on Long Island. It's filled with teenagers who put in an enormous amount of time to perfect their craft. Two of the finest actors in recent memory have been Alexandra Kiley and Rebecca Deegan, members of the Class of 2011 who shared this year's Samodi Theatre Arts Award.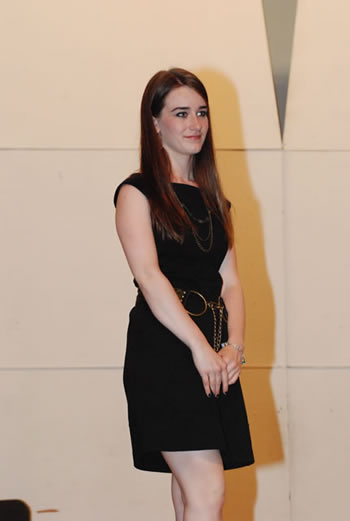 As is tradition, Mr. Schwendemann personalized the award presentation in a way that only he can do. He crafted descriptive statements that encompassed the roles and productions that each of the honorees participated in over the last four years.
While most of the audience members didn't have a clue as to what Mr. Schwendemann was saying, Ms. Kiley and Ms. Deegan did and so did their family members.
Here's what Mr. Schwendemann had to say about Ms. Kiley, who is headed to Harvard College in the fall:
"Yes – 'Tonight's the Night' – for four years this 'Einstein' has been 'Bidin' her Time.' Whether hanging on by 'the skin of her teeth' or waiting to enter the 'Stage Door,' she has always been 'open' and honest with the audience in 'St. Louis,' 'a cabana' or at Harvard, which on more than one occasion has caused her to be 'spanked' – giving her the reputation as the drama club's 'Naughty Baby.' She has always had 'a touch of the blarney,' be it in 'Carousel' or 'Auntie Mame.' 'Faugh – that's the worst line I've ever had to say onstage.' So remember Ally Kiley – 'my advice to you is to not inquire why or whither, but just enjoy your ice cream while it's on your plate.'"
Here are Mr. Schwendemann's presentation comments about Ms. Deegan, who will attend the University of Delaware in the fall:
"When I first met our last award recipient she 'oozed' that certain something – I knew this young lady would know how to 'floor it.' She seemed 'like a tomboy, just a tomboy' and now four years later she's a 'madcap maiden' ready for 'Broadway.' She worked her way up from the chorus – very often an unsung hero – ready, willing and able to do all that was asked of her. In time she had her 'once a year day' surviving the ice age – the great flood and war – hanging on by "'he skin of her teeth' – never once 'letting the fire go out.' In her time with the drama club she learned that 'it's cold' from a dinosaur and a mammoth – how 'firemen carry people' and that 'stonecutters cut it on stone and woodpeckers peck it on wood.' Rebeeca Deegan, know that as your director, I was 'crazy fer you' and to work with you again I would 'swim through beer with my mouth closed.'"