Director's Page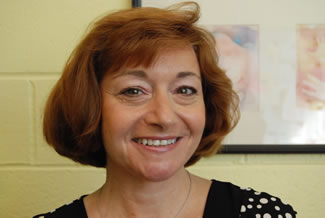 Joan Fretz is Huntington's Director of Fine and Performing Arts.  A veteran member of the district's administrative team, she is well known in her field and through the years has been a tireless advocate for the arts. Her guidance and inspiration have helped Huntington develop a national reputation for excellence in music and arts-in-education.
Mrs. Fretz earned her undergraduate degree in music education at Hofstra University. She obtained a Master of Science degree in music education and a Professional Diploma in educational administration at Long Island University. She holds a Master Level Certificate in the Orff-Schulwerk approach to music education from Memphis State University.
Prior to coming to Huntington, Mrs. Fretz served as director of fine arts in the Elwood school district. She has also worked as an adjunct professor at Hofstra University and has presented music education workshops at national and state music conferences throughout the United States and Canada. Mrs. Fretz is well-known for developing interdisciplinary projects that use music and movement to teach all areas of the school curriculum. She began her career as a vocal music teacher in the Manhasset school district where she developed a sequential music literacy program and completed her administrative internship.
Under Mrs. Fretz' leadership, Huntington's art and music students and district programs have earned numerous local, regional, state and national awards. She takes delight in working with an outstanding group of teachers and supporting creative and talented young artists and musicians. She also enjoys working with the many active parent groups in Huntington's OOMPAH organization. Together they develop many exciting arts in education programs, an extensive summer arts program and provide support for our busy music and theater arts programs.
Mrs. Fretz has a passion for learning about how teachers can influence their students' self-concept, help them discover their unique talents and realize their full potential. She has presented many teacher training sessions on growth mindsets, invitational education and optimal learning experiences in Huntington, as well as local and international conferences.
Mrs. Fretz has devoted many years of volunteer service to educational associations. She is a past-President of the Long Island American Orff-Schulwerk Association, served for seven years as the State Chairperson for Elementary Music for New York State, and is currently on the executive board of the Long Island Social Emotional Literacy Forum, which she helped to establish.  
Recently she was named a trustee of the International Alliance of Invitational Education. In her spare time she enjoys writing articles for educational journals, developing educational workshops and conferences and she still tries to find time to play her flute.