January 3, 2020
The Huntington golf team is looking ahead to next fall after compiling a 9-1 record and winning the league title in 2019. Coached by Michael Marinello and captained by Patrick Sclafani, the Blue Devils went on to capture third place in the Section XI Conference I tournament.
Sclafani won the individual player conference tournament championship and was named All-League. Jack Giamo and Joe Sclafani also claimed All-League honors.
"We had a great group of golfers who had a memorable season," Marinello said. "Next year we will be young."
The Blue Devils will be graduating Billy Burton, Matthew Girimonti, John Lourenso, Jack Monahan and Patrick Sclafani.
The team returns Kyle Colleluori, Robert Eriksen, Joe Sclafani, Jack Giamo, Carl Pulizzotto, Nicholas Sclafani and Jake Severine.
Interested in joining the program? Huntington students who will be in grades 7-12 are eligible. Send Coach Marinello a message at mmarinello@hufsd.edu.
The Huntington High School boys' varsity lacrosse team is seeded No. 9 in Suffolk Division I. Ward Melville, Smithtown West, Smithtown East, Northport and Sachem East are the top five seeded teams in order.
H-ton Boys' Lax Seeded No. 9
Huntington is coached by Julian Watts, Andy Gutierrez and Patrick Reilly. Last year's team went 9-6 in league play and 10-7 overall. The Blue Devils reached the Section XI playoffs.
Huntington's top returnees this spring are All-Division players Robbie Smith Jack Krisch and Billy Burton.
Smith notched a team leading 37 goals as a ninth grader, but he also proved his worth by dominating in the faceoff circle. Krisch had 20 goals and two assists and Burton contributed 24 goals and six assists.
Blue Devil Boys' Cross Country Strengthens
The Blue Devil boys' cross country team took a few steps forward last fall. Huntington expects to continue advancing when the 2020 season begins late next August.
Mark Jackson took over as the Blue Devils' head coach after previously coaching Finley Middle School's co-ed team. The varsity position opened when Bob Nill retired after several seasons with the program.
The 2019 squad consisted of 17 runners. It was captained by juniors Andrew McKenzie and Aidan Heller and seniors John Segreti and Jason Verville. The Blue Devils completed the year with a 3-3 mark and a fourth place league finish.
Heller and McKenzie both claimed first team All-League honors. The two juniors turned in Huntington's fastest times over a 5K distance with Heller being clocked in 17:30 and McKenzie going wire to wire in 18:04.
"Aidan is the top runner on the team," Jackson said. "His work ethic and leadership are his two strongest features and what got him to where he is now. Andrew is our No. 2 guy. But even at No. 2 he works hard and is outspoken. Many of the kids on the team look to him for almost anything. Any time I am not around they know he will tell them what the right thing to do is."
Verville enjoyed a wonderful senior season, posting a 5K time of 18:25. "Even though Jason's time does not reflect his love for the sport, his desire to win has driven this team to a place where every coach would want it to be at," Jackson said.
The highlight of the season came at a meet at Six Flags in New Jersey. "We had multiple kids earn medals in events out of thousands of runners," Jackson said.
Huntington's roster also included freshmen Matthew Armstrong, Ryan Curran, Ian Rotunno, Nicholas Seitz and Charlie Siepel; juniors Isaiah James, Carlos Martinez, Harrison McKenna and Bryan Wong and seniors Robert Caputi, Rory Dara and Craig Haas.
"The team had to get used to a new coach who only had limited knowledge of everyone," Jackson said. "But that didn't change how much the kids wanted to run. The team made it easy to adapt on the fly and gave ideas on how they liked some things and didn't like other things as much. Overall, the team will keep changing for the best as the times keep moving forward."
Looking ahead to next fall, Huntington's top two runners are returning in Heller and McKenzie. Armstrong is expected to join the top three. League competition is expected to remain strong.
Girls' Cross Country Losing Just One Senior
The Huntington girls' cross country team is losing only one senior to graduation; Diya Rai-Gersappe. With Talia Addeo, Sophie Bradford, Taylor Case, Kaylee Dammers, Noelle Henderson, Brianna Isaza, Anna Koulakova, Valerie Rogel, Ella Siepel and Erin Ye set to return next fall, head coach Beth Vogelsang is optimistic.
"This year our team chemistry was strong and the girls developed a family-like culture," Vogelsang said. "The girls pushed themselves at each practice and meet and managed to crush PRs from last year or achieve season bests."
Siepel and Rogel, who served as the team's co-captains, raced to second team All-League honors. "Ella stepped up tremendously this year and was our No. 1 runner," Vogelsang said. "She was reliable and such a strong captain and leader for our team. She medaled in almost every race and even PR'd in the divisional meet."
Rogel was sidelined for several weeks early in the season, but when she returned to the lineup she dominated. "Each race she progressively got better with her times," Vogelsang said. "Although not beating her personal best record from last year, Valerie managed to crush her season best one after the other. Val is such a positive force on our team and her love and dedication for running never goes unnoticed."
Vogelsang is expecting all 10 underclassmen to return and for several current J. Taylor Finley Middle School eighth graders who will be incoming high school freshmen to join the squad.
"Our top seven are returning next season in Ella, Val, Anna, Erin, Taylor, Kaylee and Talia," Vogelsang said. The coach believes the other returning veterans will be coming back stronger than ever, too.
Interested in the Huntington girls' cross country program, contact Vogelsang at evogelsang@hufsd.edu.
Alum Jared Leake Named to All-East Football Team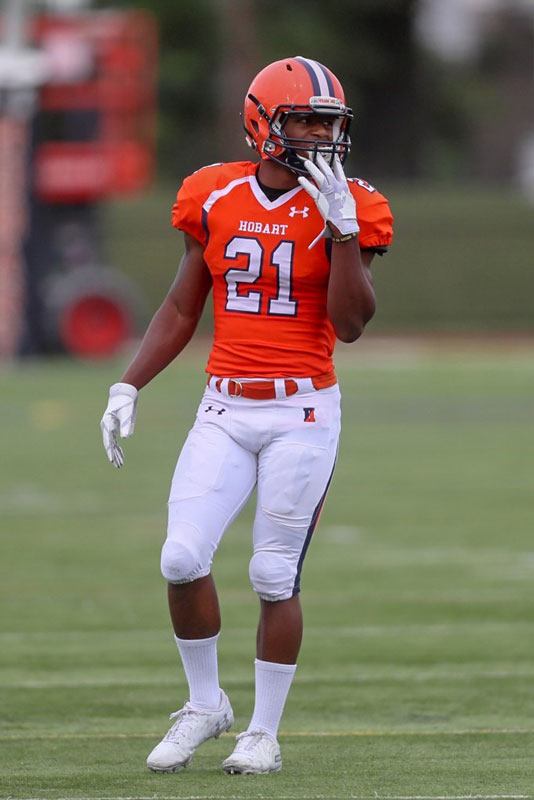 Huntington alum Jared Leake was named All-East after a great season with the Hobart College football team
Huntington High School 2017 alum Jared Leake has been splendid for the Hobart College football team. The former Blue Devil great has been named to the All-East second team by D3football.com.
Leake started all 11 games this season, producing 55 tackles, six pass breakups, three interceptions and two forced fumbles. The first team All-Liberty League selection made a season-high 10 tackles and an interception in a Hobart win at Morrisville State. He made five solo tackles and notched a pair of interceptions against Montclair State.
A second team all-conference selection last year, Leake has played in 28 career games, making 96 tackles, 15 pass breakups, four interceptions, two forced fumbles and two fumble recoveries.
At Huntington High School, Leake played on the football and lacrosse teams, earned varsity letters with the wrestling ran and also ran on the indoor track and field team.
Hobart was 9-2 overall this season, the program's best record since 2016. The Statesmen were 4-2 in Liberty League play, tying for second place in the standings.
Girls' Track 4x4 Relay No. 3 in NYS
The Huntington indoor girls' track team turned in a fine set of performances at the Ocean Breeze Holiday Festival at Staten Island this week.
The Blue Devils' 4x200m relay team consisting of Alicia Brooks, Analisse Batista, Hope Bilkey and Brianna Halbeisen swept to victory in a time of 1:43.62, which is the third fastest in the state this winter.
Huntington's 4x400m relay, which featured Alicia Brooks, Analisse Batista, Caroline O'Rourke and Brianna Halbeisen finished third in a time of 4:11.04.
Olivia Conte shook off a fierce cold to place sixth in the 55m hurdles in a time of 8.87 seconds.
Sophie Bradford, Lizzy James, Hope Bilkey and Talia Addeo took fourth place in the freshman 4x400m relay in a time of 4:52.35.
"It was a pretty impressive outing for the girls," head coach Mark Jackson said. "The younger girls seem to be stepping up trying to catch up with the older girls."
Blue Devils Fall in Tournament Finals
The Huntington girls' basketball team took an early lead against Bayport-Blue Point in the championship game of the Anthony Parlato "Help Someone Today" Tournament at Center Moriches, but the Blue Devils were outscored in the second half, 34-20 and fell, 56-42.
Huntington went ahead 11-7 by the end of the first quarter before Bayport-Blue Point rallied to tie the game by halftime, 22-22. The Blue Devils had fallen behind by seven points after three quarters and were unable to make it up over the final eight minutes.
Emily Plachta led Huntington with 18 points. Abby Maichin had 12 points and Meg Byrnes added six. Jordan Forte and Junie Nosile scored two points each. Katie Browne and Gianna Forte each had a point from the free throw line.
Fencers Shine at Brentwood Invitational
The Huntington boys' and girls' fencing teams turned in a series of great performances at the recent Brentwood Invitational. The Blue Devils looked good in epee, sabre and foil. Senior Josie Fasolino especially shined, placing seventh overall in foil.
Huntington's top performers included:
Epee: Aileen Lopez, Michelle Lopez, Emily Roberts, Sasha Koulakova, James Kretschmer, Liam Tucker and Riley Tucker
Sabre: Alexandra Kustera, Adora Colay, Haileigh Smith, Matthew Mead, Paul Katigbak, Gabe Medina-Jaudes and Nicholas Kretschmer
Foil: Josie Fasolino, Maddy Bavaro, Uma Shtrom, Fiona Brosnan, Diego Torres, Miles Tierney and Luca D'Anna.
"All fencers improved from last year and those competing for the first time did terrific," head coach Michelle O'Brien said. "All three coaches are very proud."
The Huntington indoor girls' track and field team was sensational at the North Shore Invitational at the Armory in Manhattan on Thursday.
Alicia Brooks Paces Blue Devils at Armory
Blue Devil senior Alicia Brooks captured gold medals in the 55m dash and long jump and finished fourth in the triple jump. It was a remarkable performance by the teenager.
Brooks easily won the 55m dash in 7:36 seconds, flying past a field of 131 runners. (There were more than 15 separate heats in the event."
In long jump, Brooks outleaped a field of 48 competitors, with a distance that measured 16-10.00 feet. Brooks was fourth among 24 athletes in triple jump with an effort of 35-03.75 feet.
Sophomore Olivia Conte was also splendid, finishing second in a field of 76 in the 55m hurdles in a time of 8.84 seconds.
Conte was also second out of 27 competitors in high jump with a leap of 4-10.00 feet
Sophomore Brianna Halbeisen was fourth in a field of 190 in the 300m dash, finishing in 42.59 seconds.
In shot put, sophomore Kiana Nosile (34-09.25 feet) and senior Mya Davis (30-03.25 feet) placed third and fourth, respectively in a field of 50 athletes.
The Blue Devils were among 53 teams from across the Tri-State area competing in the invitational at the New Balance Track & Field Center at the Armory in Manhattan.
Huntington is coached by Mark Jackson and Eddie Santos.
Newsday Names Blue Devil Trio All-Long Island
Three Huntington High School seniors have been named All-Long Island by Newsday after starring on Blue Devil varsity athletic teams this past fall.
Jasson Garay (soccer), Cat Jamison (volleyball) and Anna Wickey (field hockey) were all tapped by Newsday for its All-Long Island team.
Mr. Garay was Huntington's top scorer, tallying 15 goals and six assists. He has drawn interest from many NCAA Division I colleges and in the midst of sifting through the possibilities and making a final decision. He was also named to the All-State team.
Ms. Jamison is headed to Bucknell University where she was recruited to play volleyball on the college's NCAA Division I team. She was pursued by more than 50 colleges during the recruiting period.
Ms. Wickey will be moving on to play field hockey at Temple University in Philadelphia. One of the best Blue Devil players ever, she has been a prolific scorer and overall splendid offensive force for Huntington over the years.
Young Fencers Impress at Ward Melville
A group of ten Huntington High School fencers shined at the Ward Melville Underclass Challenge on Thursday in East Setauket.
The Blue Devil contingent was exceptional. Huntington head coach Michelle O'Brien and assistant coaches Vin O'Garra and Burke Tomaselli are excited to know that there are such outstanding athletes in the pipeline to the varsity team.
The seventh, eighth and ninth graders from Huntington that vied in the competition were simply splendid, winning honors on their respective grade level.
The results include:
Brandon Cohen: 7 th grade; Foil; 1 st place
Thomas Davis: 7 th grade; Sabre; 1 st place
Thomas Galicia-Martinez: 7 th grade; Sabre; 3 rd place
Benjamin Edgar-McNerney: 8th grade; Sabre; 1 st place
Chase Williams: 8 th grade; Foil; 1 st place
Jake Amend: 8 th grade; Foil; 2 nd place
Jeffrey Garcia-Cabrera: 9 th grade; Epee; 3 rd place
Aislyn Franciscovich: 9 th grade; Foil; 1 st place
Emely Cruz: 9 th grade; Foil; 2 nd place
Lilianna LaVertu: 9 th grade; Sabre; 3 rd place
Blue Devils Cruise in Tournament
The Huntington varsity girls' basketball team turned back Comsewogue in the Anthony Parlato Tournament at Center Moriches, 54-35. The win improved the Blue Devils' record to 7-2 this winter.
Huntington outscored the Warriors in all four quarters of the game, taking a 9-7 lead after eight minutes and going into halftime with a 24-15 advantage. The Blue Devils widened the spread with a 19-10 third quarter run.
Emily Plachta led the Blue Devils with 12 points, 12 rebounds and four steals. Abby Maichin also dropped 12 points and Charlotte Maggio added 11 points and 10 rebounds.
Huntington's well-balanced offense included six points from Jordan Forte and five points from Gianna Forte. Junie Nosile had four points and Katie Browne and Makaylah Frazier scored two points each. Maichin had the Blue Devils only three point basket.
H-ton Matmen Win Locust Valley Invitational
The Blue Devil wrestling team defeated Locust Valley, North Babylon and Benjamin N. Cardozo to win the title at the Locust Valley Invitational on Saturday.
The three victories improved Huntington's record to 8-3 this winter. The Blue Devils are fielding a young team. Eighth graders Sam Nicotra and Max Casiano combined to go 5-1 in the tournament for the Blue Devil varsity.
Also on Saturday, a group of JV wrestlers participated in the Friar Bash at St. Anthony's High School. Eighth grader Christian St. John led the Blue Devils with a 3-0 record.
Huntington will take the mat again this Saturday for the New Year's Tournament at Herricks in Nassau County.
Huntington JV Girls' Basketball Wins Tournament
The Huntington junior varsity girls' basketball team topped Comsewogue on Friday and Bayport-Blue Point on Saturday to win the Center Moriches tournament and improve its record to 8-2.
The Blue Devils bested Comsewogue, 43-22 before moving on to topple Bayport-Blue Point, 47-41 in the championship game. Shaneek Shand had 21 points and Asyria Rios added 13 points. Regan Sansiviero dropped seven points. Abby Baade and Ashley Genoa had two points each and Kenya Baker and Theresa Rivera both had a point from the free throw line.
"The girls played tough," Huntington JV head coach John Romano said. "Bayport pushed us around all game, but in the end we closed it out. We had to grind this game out and grind out every possession."
Shand connected on a pair of three-pointers in the final minutes to propel Huntington. "Great players hit big shots in big moments and that's exactly what Shaneek did," Romano said.
Rios also enjoyed a great day, scoring, grabbing rebounds and giving Huntington "second chance" points. Baade hit two free throws with 45 seconds left to seal the victory for the Blue Devils.
With some starters getting into foul trouble early in the game, Baker and Rivera provided a spark off the bench when they came into the game. "They played very good defense and helping the offense flow as normal," Romano said. "Their high energy play rejuvenated us at point in the game when we needed it the most."
The Huntington JV takes the court again at home against league foe Smithtown West on Friday, January 3 at 4 p.m.
Blue Devil Boys' Track in National Rankings
Another string of magnificent performances has the Huntington boys' track and field team making its presence felt nationally.
The Blue Devils were simply splendid at the Rhode Island Classic. Huntington captured a horde of medals as the events played out at the Providence Career and Technical School.
Huntington is nationally ranked in several events, including No. 2 in the 4x55m shuttle hurdle relay, No. 3 in the 4x400m relay and No. 7 in the 1600m sprint medley relay.
At the Rhode Island Classic, the Blue Devils grabbed gold medals in the 4x55m shuttle hurdle relay, 4x400m relay and 1600m sprint medley relay. Huntington placed second in the 4x200m relay.
The Blue Devils also medaled in a pair of freshman/sophomore races. In the 4x400m relay, Huntington's underclassmen took the top two spots in the race with the eight runners all exceling.
The Blue Devils also won the 1600m freshman/sophomore sprint medley relay.
In other action:
Jaylen Bush finished second in the 55m hurdles in a time of 8.09 seconds; just 3/100 th of a second off the winning mark.
Isaiah James won placed second in the 800m run in a time of 2:07.18.
Anthony Joseph finished sixth in the 55m dash in a time of 6.82 seconds. Nasir Youngblood placed eighth in 6.90.
Jason Turner placed fourth in the 300m run in a time of 38.33 seconds. Chad Rowe finished 10 th in 39.72.
Matt Armstrong placed fourth in the 3000m run in a time of 10:17.81.
Rahliek Thomason finished second in high jump with a leap of 5-10.00 feet. Chad Rowe was fourth with a jump of 5-02.00.
Gary Barash (45-03.00 feet) and Mekai Butts (42.11.75) placed fifth and sixth, respectively in shot put.
Gary Barash also placed 11 th in weight throw with a distance measuring 48-05.00 feet.
H-ton Shuttle Hurdle Relay Wins Gold Medals
Huntington High School's boys' indoor track team's 4x55m shuttle hurdle relay continues to be one of the fastest in the country. The Blue Devils won gold medals in the event at the Ocean Breeze Holiday Festival in Staten Island today. Seniors Justin Stevens, Rahliek Thomason and Jaylen Bush and sophomore Quincy Chery swept past the field in a time of 32.01 seconds.
Finley Eighth Graders Win Bronze Medal in Relay
A talented group of Finley Middle School eighth graders won bronze medals today running for the Huntington varsity boys' indoor track team at the Ocean Breeze Holiday Classic in Staten Island. Christian Delgado, Gabe Abreu, Jahmar Francis and Ramon Lyons were exceptional in placing third in a time of 4:05.21 in the freshman 4x400m relay race.
Blue Devil Sophomores Set New Record
The Huntington boys' indoor track team's sophomore 4x400m relay is a record-setting group of four spectacular athletes. Bryce Robinson, Tyriek Mays-McKoy, Julio Martinez and Josiah Melendez set a new Ocean Breeze Holiday Festival mark of 3:41.00 in the event en route to winning gold medals today at Staten Island. The Blue Devils broke the previous record time of 3:41.85.
Huntington Throwers Impress at Festival
Junior Mekai Butts and senior Gary Barash placed second and third, respectively in shot put at the Ocean Breeze Holiday Festival to lead the Huntington boys' track team on Monday. Butts tossed the 12 pound ball 47-04.25 feet and Barash hurled it 46-08.75.
Barash also launched a personal best throw of 53-01.00 feet in the weight throw to claim a bronze medal.
Anthony Joseph Wins 400m Gold Medal
Huntington junior Anthony Joseph's star just keeps rising. The teenager won a gold medal in the invitational 400m dash at the Ocean Breeze Holiday Festival on Monday. The Blue Devil track star circled the oval twice in 50.75 seconds. Junior CJ Kiviat raced to a third place finish in 51.33 to earn a bronze medal.
Blue Devils Qualify for National Championship
The Huntington boys' indoor track team's 4x400m relay has qualified for the national championships. The relay comprised of senior Justin Stevens and juniors Isaiah James, Anthony Joseph and CJ Kiviat won a gold medal at the Ocean Breeze Holiday Festival in Staten Island on Monday. The Blue Devils' time of 3:25.00 met on the dot the national qualifying standard.
Frosh/Soph Relay Earns Silver Medals
The Huntington indoor boys' track team's freshman/sophomore 4x800m relay consisting of eighth grader Jackson Stollmack, ninth graders Matteo Armstrong and Charlie Siepel and tenth grader Skyler James finished second in 10:02 at the Ocean Breeze Holiday Festival to earn the team silver medals.
Huntington Keeps Pace in Tough Relay
The 4x800m relay is a grueling race by any measure. It was even tougher than usual at Monday's Ocean Breeze Holiday Festival as the event drew 35 teams, including many with premier runners. Huntington freshman Matthew Armstrong, junior Aidan Heller and seniors Craig Haas and Cole Pillion were up to the challenge, finishing the race in 8:49.47 to place ninth in the talented field.