November 26, 2019
Kathryn Montefusco was spectacular at last weekend's state championships in Ithaca as the Huntington High School freshman swam to All-State honors in two events.
The Blue Devil star placed ninth out of 49 competitors in the 100 breaststroke in a time of 1:06.26 and 13th in a field of 61 in the 100 freestyle in 52.49 seconds. No New York State freshman placed higher in either event.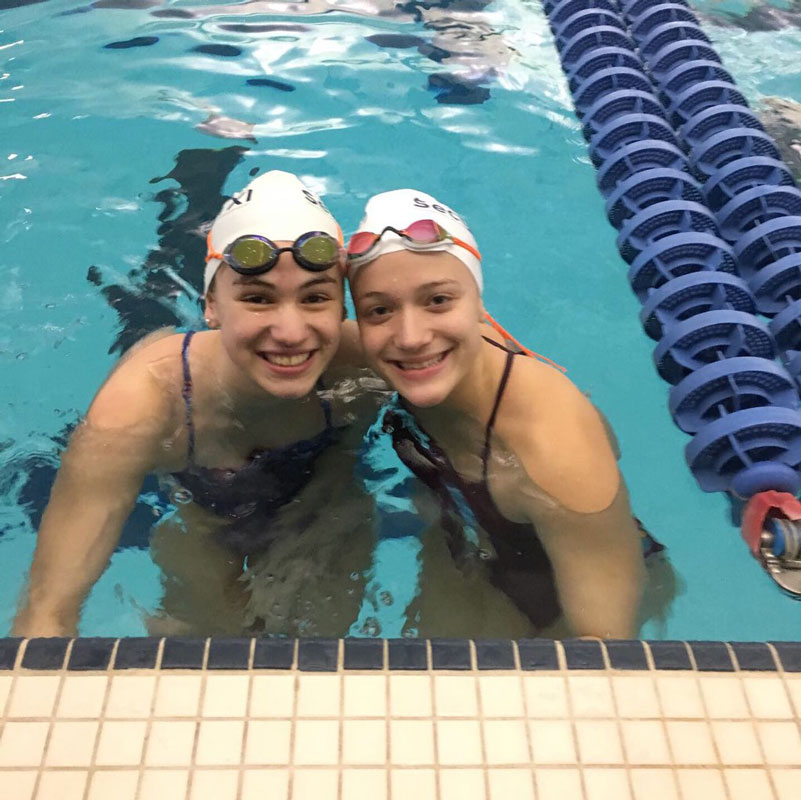 Huntington freshman Kathryn Montefusco (right) is all smiles in the water.
"It was a great experience," Montefusco said "It was a very fast and competitive meet and I was happy to make finals in both of my events. "It's a privilege to be included among the best swimmers in the state. I plan to work hard in the off-season so I can continue to improve and come back stronger next season."
Montefusco's splendid performance at the state championships capped off another good year for the Huntington/Walt Whitman swimming and diving team. (Like most Suffolk high schools, Huntington has chosen to combine its team with a nearby high school.)
"Kathryn was unrattled by the competition," said head coach Christopher Helmke, who was assisted by Meg McConnell and Rufus Shepard. "She swam like lightening in the preliminary and final rounds, achieving All-State honors. It was truly an awesome job."
By finishing higher than any other New York freshman in either event, Montefusco's has positioned herself well for next year. With three seasons of eligibility remaining, the teenager has her eyes set on the top step of the state victory platform.