November 15, 2019
It's been her dream ever since she was a young girl and it's about to come true. Huntington High School senior Abby Maichin has signed an NCAA Division I letter of intent to play lacrosse at Notre Dame University outside of South Bend, Indiana.
The teenager has wanted to play at Notre Dame for a long time and Ms. Maichin has worked very hard to make it possible. She's earned top grades and starred in lacrosse and basketball for the Blue Devils.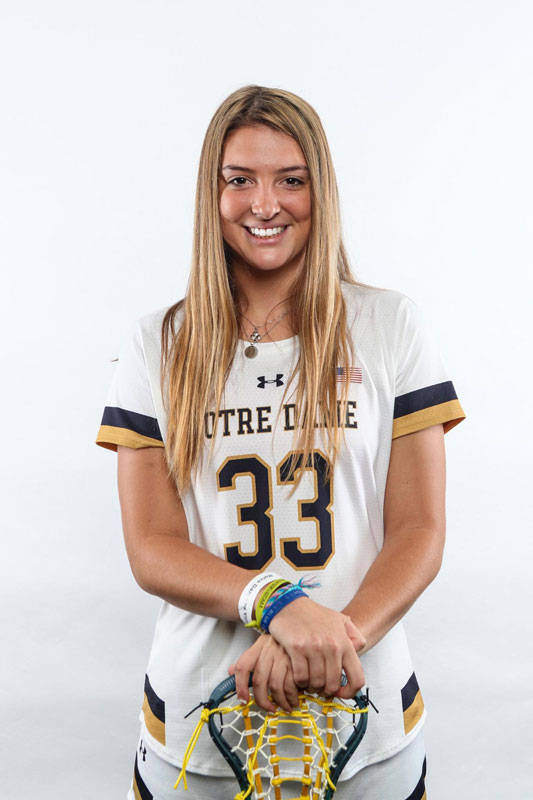 Huntington senior Abby Maichin signed an NCAA Division I letter of intent to play lacrosse at Notre Dame
"I've wanted to go to Notre Dame since I was a little girl," Ms. Maichin said. "I never knew that it would even be a possibility, but I did everything in my power to make it happen. The tradition and sense of family there is insane and is like no other."
The teenager "seriously considered" playing lacrosse at Stony Brook University, Boston University, James Madison University and the University of Michigan, but Notre Dame's aura won out.
Ms. Maichin inked the letter of intent in the Huntington High School athletic office as her parents, Jennifer and Robert and brother, Christopher looked on with pride and excitement.
Named All-Division as a freshman and All-County as a sophomore and junior, the senior has scored 150 goals and added 53 assists over the past three seasons on the Blue Devil varsity girls' lacrosse team. She was recognized as All-Conference in basketball last winter.
While all Notre Dame freshmen are required to begin college as "undecided" on an academic major, Ms. Maichin is interested in studying in the field of psychology with a focus on neuroscience and behavior, "but that is all subject to change," she said.
A member of Huntington's National Honor Society, Spanish, Math, English and Science Honor Society chapters, Ms. Maichin has compiled an enviable academic record. Her favorite subject is math. She is in the Yearbook Club, helping to create the 2020 edition of "The Huntingtonian."
Ms. Maichin urges all incoming Huntington High School freshmen to "get involved and be a part of absolutely everything that you can," she said. "These will be the quickest four years of your life. It goes by in the blink of an eye and you will want to leave Huntington with absolutely no regrets. Take risks, try new things, meet new people and make memories that you will cherish forever."
The Huntington lacrosse star played for the USA Under-17 select national team earlier this fall against Canada. She's been on the radar of college coaches for many years.
"You can ask anyone; I am still in shock that I am leaving Huntington in less than eight months," Ms. Maichin said. "I don't even like to talk about it! Huntington has given me so many opportunities and has made me the person that I am today. I couldn't see myself growing up anywhere else or even ever living somewhere else in the future. I will always remember the feeling of joy while walking through the halls, seeing all of the people and faces that have had such a great influence on me. And I will reminisce with the memories made here and with everyone for forever."