May 31, 2019
Huntington High School fashion design students recently showed off their work at two public shows in Louis D. Giani Gymnasium that coincided with the district's annual art show.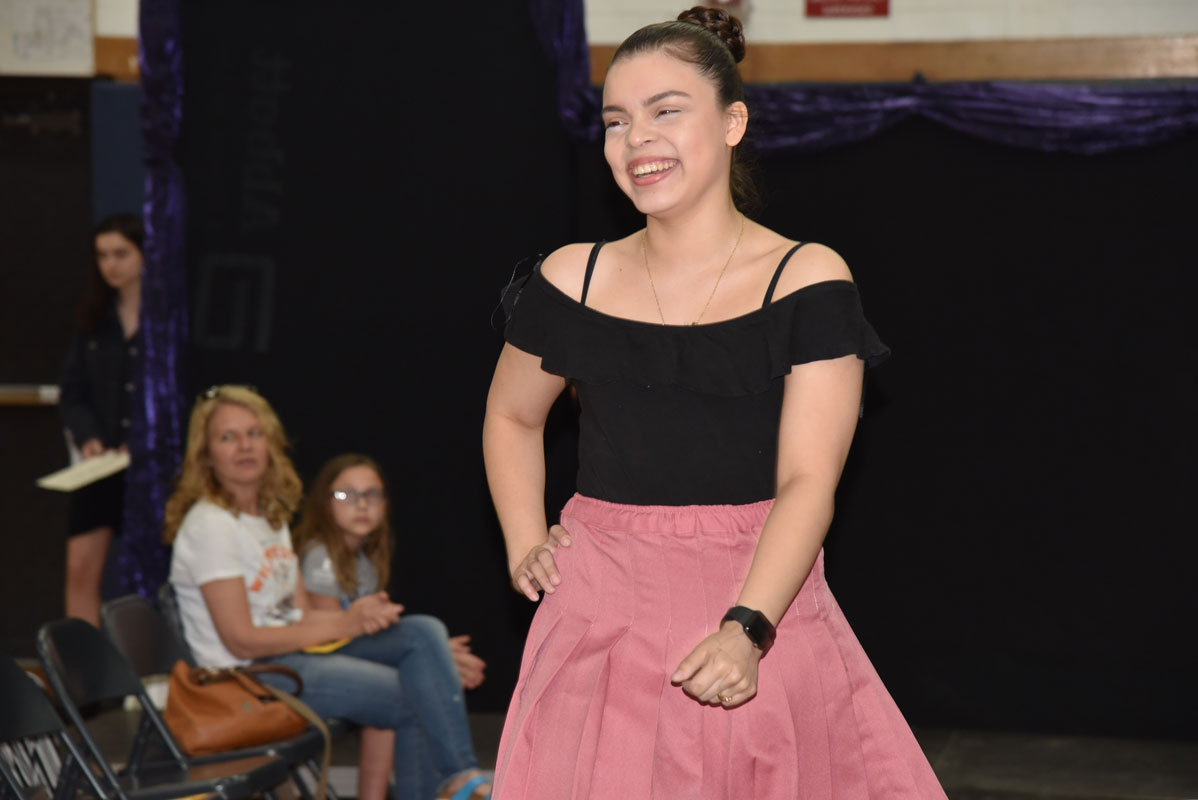 Huntington students looked great in the hip designs at the fashion show.
The show consisted of Fashion I, II and III students plus several guest models. The students made a variety of garments, including dresses, tops, skirts, pants and aprons. In addition, students in Fashion II and III up-cycled garments into new fashions.
Art teacher Kim Valerio heads the high school fashion design program and she smiled broadly throughout the afternoon and evening shows. Fashion III student Jeraine Nieves-Morales served as master of ceremonies, introducing each of the students' designs as the models entered the runway.
This marks Ms. Valerio's fourth year heading the high school's fashion program. She also teaches Creative Crafts.
The student designers showing their work included:
Fashion I: Annalise Alleyne, Taraina Augustin, Analisse Batista, Morgan Colleluori, Olivia Conte, Rachel Deegan, Finley Dunn, Keira Francis, Madeline Flores, Lauren Holly, Shannon Kehoe, Brendan Lyons, Ella Naima, Margo Nitekman, Austin Silberstein, Frantazhia Ward, Hallie Armengau, Emma Brendel, Rimshah Ehsan Ullah, Asly Flores, Maria Fuertes LaRotta, Kayla Galdamez, Yoselin Garcia, Milianette Gonzalez-Cortes, Jean Marie Maleszewski, Victoria Mangan, Greysi Martinez Pleitez, Ashley Mendez, Gianna Prosseda, Daniela Ramos Campos, David Rivas, Araseli Romero-Benitez, Mary Grace Rorke, Katelin Smith, Zaria Smith, Devlin Starr, Chloe Wheeler and Justien Williams.
Fashion II: Samantha Argueta, Maikol Arreaga, Keziah Baker, Johanna Campos-Moreira, Jhosselyn Gomez-Hernandez, Arianna Guerrero, Paige Mangan, Jackeline Ramirez-Tzoy, Rashiem Sexton, Kate Sheran, Natalie St. Ours, Cori Thomason, Gabrielle Trimboli and Ivania Velasquez-Rodriquez.
Fashion III: Baylie Larsen, Jeraine Nieves-Morales, Natalia Stamatatos and Jeni Vilorio.
Some of the show's highlights included:
Sophomore Fashion II student Johanna Campos walked the runway twice. Her first look was a pair of patched pants that she made by thrifting some flannels, cutting them into squares, and sewing them onto a pant pattern she created. She also wore a matching patch tube top. For her second look, she designed and created a gown using a burgundy lace and sequin fabric for the top and a sheer beige fabric for the skirt. She added a removable matching burgundy lace and sequin trim. The talented teenager also created a skirt and top made from a Venezuelan flag and money, which was on display at the district art show.
Junior Fashion III student Baylie Larsen created two looks for the fashion show. The first was a long skirt and t-shirt embroidered with a quote. The second look was a matching gingham top and shorts. Ms. Larsen will be interning with Ms. Valerio next year.
Junior Fashion II student Cori Thomason walked the runway twice. Her first piece was a pink floral dress that she upcycled into a hoodie, adding a hood with animal ears and a colorful zipper. For her second look she made a white peasant blouse and a two-layered plaid and floral skirt.
Sophomore Fashion II student Gaby Trimboli walked the runway two times, wearing a top and skirt that she created by upcycling a black wool coat and wearing a dress and coat ensemble that she created using a vintage 1960s pattern.
Junior Fashion II student Paige Mangan created two outfits for the runway. She also created a yellow gown on display at the art show.
Sophomore Fashion II student Jhosselyn Gomez-Hernandez created three outfits for the runway. An applique corduroy jumper, a leaf patterned sun dress and a silver and turquoise skirt worn by her friend, Angie Mata.
Freshman Fashion I student Jean Marie Maleszewski created a red plaid dress with black leather trim, a leather collar and buttons She also modeled a black cotton high low dress with a white lace border, created by senior Fashion I student Rimshah Ehsan Ullah, who could not be there for the fashion show.
Sophomore Fashion I students Devlin Starr and Chloe Wheeler each wore garments that they spray painted with several layers of paint. "Chloe embellished her shirt with safety pins and chains," Ms. Valerio said. "Devlin painted his shoes to match his garment. At the 7 p.m. show they both entered the runway with masks they created."
Junior Fashion I student David Rivas named his garment "The Butterfly Effect." He created a lavender satin t-shirt embellished with navy blue and butterfly print patches. The teenager also added patches to his jeans.
Art teacher Kim Valerio
A graduate of Harborfields High School, Ms. Valerio holds an undergraduate degree from Parsons School of Design. After working for many years in graphic arts, mostly in New York City, she returned to college and obtained a master's degree in art education at Long Island University-CW Post.
Ms. Valerio completed her student teaching requirements in Huntington. She then worked as a substitute teacher in Huntington and in several other surrounding districts. She was hired as a part-time art teacher in Huntington in 2010 and became full-time in 2015. Throughout the years she has worked in all eight buildings in the district in some capacity. Ms. Valerio teaches courses in Creative Crafts and Fashion at Huntington High School and directs the student fashion shows at the annual district-wide art show.