May 23, 2019
Katherine DeGennaro is a sensitive, soft-spoken and low key teenager who is comfortable being in or out of the spotlight. One of the most exceptionally talented musicians and performers in Huntington High School's Class of 2019, she is headed to The New School's Eugene Lang College of Liberal Arts in Manhattan.
Prior to committing to The New School, Ms. DeGennaro considered Bard College, Skidmore College, SUNY New Paltz, Fordham University and a few colleges in the CUNY system.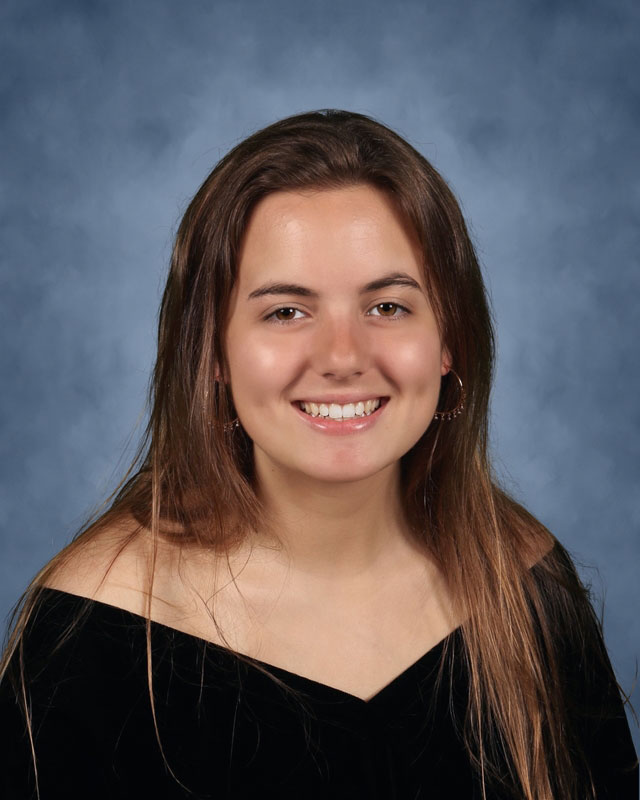 Huntington High School senior Katherine DeGennaro.
There were several reasons that Ms. DeGennaro has decided to attend The New School's Eugene Lang College of Liberal Arts. "For one thing, I am particularly drawn to the prevalence of seminar-style learning and the commitment to an interdisciplinary curriculum at the school," she said. "Eugene Lang also offers some of the most interesting courses I've seen. Another aspect of The New School that made me want to attend was the focus on social justice that I observed when I originally visited campus and learned more about the community's ideals. Hearing the way faculty and students discussed this assured me that I'd find many others at school who are passionate about social justice."
Living in Manhattan and attending college there will suit Ms. DeGennaro just fine. "I have always been fascinated by the artistic nature of New York City and I know that it will provide me with great opportunities," she said.
Ms. DeGennaro has participated in the high school jazz and wind ensembles, pit orchestra, and performed in the front ensemble of the Blue Devil marching band. She has also tutored younger bass clarinet students in the district and has been an officer of the GSA, Women's Empowerment Group and yearbook club.
While the senior has a wide social circle, her closest friends at Huntington High School are Christiana DeLuca and Noah Morris.
"Katherine has always been a person who cares about others," Mr. Morris said. "She is passionate about standing up for her beliefs and will do most everything to ensure other people are heard. She also has a unique sense of humor that never fails to lighten up the lives of the people around her."
Ms. DeGennaro is a good listener and a caring and compassionate soul. It's not surprising that friends turn to her for advice and comfort during trying times.
"I have had the privilege of knowing Katherine since we were in kindergarten together," Ms. DeLuca said. "As we have remained best friends since, I have seen her grow into a beautiful person and I cannot wait to see her continue to thrive in college and in her future career."
Ms. DeGennaro plans to study contemporary music and possibly pursue a minor in culture and media. "I am interested in becoming involved with student organizations like the Women in Music Collective and Eugene Lang's literary journal Eleven and a Half and playing music with other students," she said. "I am also hoping to play intramural basketball in the city."
Honored as a Distinguished Senior earlier this spring, Ms. DeGennaro has been inducted into Huntington High School's National Honor Society chapter as well as the Tri-M Music and English Honor Societies.
"I do not have a very concrete career idea yet, but one thing I am interested in is developing soundtracks for film and television," Ms. DeGennaro said. "I definitely want to work with music in some capacity, whether it be involving media, recording, music journalism or something else."
The teenager likes to focus on what brings her joy. That, along with a healthy work ethic and an ability to find a balance and keep things in perspective has helped Ms. DeGennaro find success as she pursues her passions.
Ms. DeGennaro can play multiple musical instruments. At one time she considered becoming a music teacher, but her interests have since evolved. She participated in a credit-bearing internship this year with high school music teacher Jason Giachetti.
"I will always remember how supportive the Huntington faculty and administration were of students expressing their ideas and talents and how supportive the students were of each other," Ms. DeGennaro said. "I will also remember how lucky I have been to learn in a school district that values the arts and has such an incredible music program."