March 25, 2019
The colorful pageantry and awesome sights and sounds of the Huntington High School Blue Devil marching band are set to impress once again during next fall's competitive season. If the student-musician's enthusiasm is an accurate measure the band will most certainly challenge for the New York State Field Band Conference championship.
While the band's professional staff has not yet been publicly named, the Blue Devils' student leadership has been put in place. It includes many of the top musicians in the high school.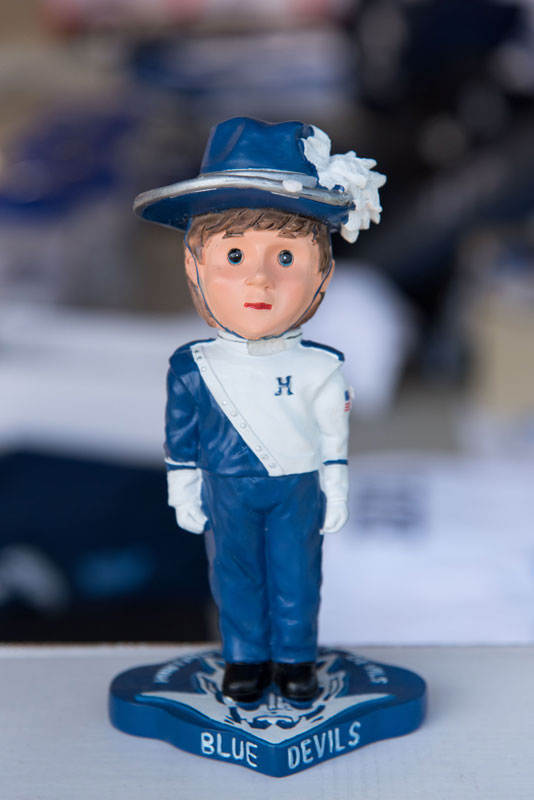 The Blue Devil marching band was organized in 1934. (Darin Reed photo.)
Jennifer Low, Michael Reed and Robert Jean-Gilles will serve as the Blue Devils' drum majors. Andrew Knowles is set to be the field major. It's a group of incredibly talented teenagers.
"I'm so excited about this upcoming season," Ms. Low said. "We have a really incredible leadership team. I'm confident that together we're going to have another really successful year."
Huntington High School music teacher James Cloyd Doty organized the first marching band in 1934. It was open to boys and girls in all four classes, according to the 1936 edition of The Huntingtonian, the high school yearbook. "Although newly organized, this group has worked very hard and with the cooperation of the student body, the band members have received blue and white uniforms," states the yearbook. "They gave a new feeling of school spirit to all of the occasions at which they appeared this year."
More than 80 years after its founding, the Blue Devil band is still a force to be reckoned with and the new set of student leaders intend to keep Huntington's incredible tradition going strong.
"I feel great and truly honored to be given this opportunity," Mr. Jean-Gilles said. "Being part of the band means so much to me. This year's show and season is going to be a great one."
Band members are already working on the music associated with next fall's field show. "I am incredibly excited and ready to have an outstanding season," Mr. Reed said.
The band's student leadership also includes flute section leaders Molly Kessler and Natalie Ciccone; clarinet section leaders Neil Jean-Baptiste and Catherine McCooey; alto sax section leader Carrie Kilgour; low brass section leaders Zubair Ali and Michael Mathews; mello section leader Aileen Lopez; trumpet section leaders Nathan Musso and Jose Suarez and tenor sax/baritone sax leader Miles Tierney.
Nathan Musso will serve as the brass captain with Neil Jean-Baptiste as the woodwind captain. Oskar Kilgour has been named the battery captain. Peyton Kalb and Natalie Furman will lead the pit section. Kyra DeSalvo and Jasmine Clark will be the color guard captains.
"It's an honor to have been chosen as field major and I'm super excited about working with the other majors and being able to represent and lead the band," Mr. Knowles said. "I'm looking forward to an amazing season."
Blue Devil Band Open House
The Huntington Blue Devil marching band will hold an open house, including a rehearsal and parent informational meeting on Tuesday, April 30 from 6-9 p.m. at the high school. Current seventh and eighth graders interested in joining the band for its 2019 season. A parent meeting will be held at 7:45 p.m.