March 15, 2019
Queen is one of the greatest rock bands the world has ever seen and its performance at the 1985 Live Aid concert in Wembly Stadium is the stuff legends are made of so when a group of J. Taylor Finley Middle School students decided to recreate a portion of the band's 20 minute set list during a recent talent show everyone sat up and took notice.
The late Freddie Mercury was Queen's legendary front man and an incredible musician in his own right. The rest of the band is famous, too. Some of them are still performing. The band has sold hundreds of millions of record albums.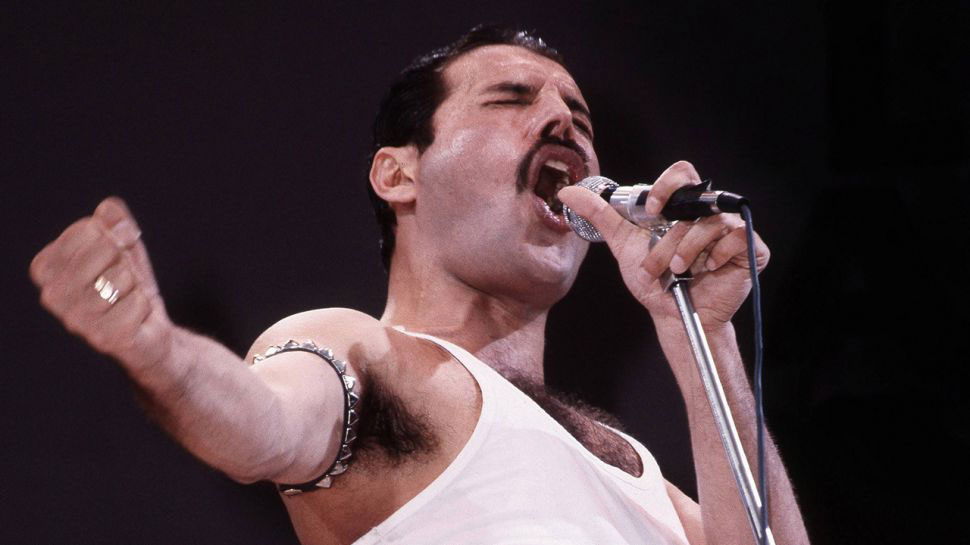 Freddie Mercury was Queen's legendary front man.
Coordinated by teachers Kimberly Finneran and Keith Miller, the Finley Talent Show featured an incredible array of talented students. Among these performers was a group of young men from a Life Skills class taught by Lisa Caporusso.
"These students have a general music class with me every other day during first period," Finley music teacher Frank Battista said. "Each year the class puts together a performance for the Finley Talent Show. This year, we decided to perform a part of Queen's 1985 Live Aid Performance at Wembley Stadium outside of London."
The band consisted of Jake Cordes (playing the role of Freddie Mercury), Jack Morreale (Brian May), Sebastian Romero (Roger Taylor) and Avante Williams-Samuel (John Deacon). Benjamin Weissmann handled lighting and the spotlight. The bass drum head was painted by eighth graders Fiona Brosnan and Erin Purcell.
"We couldn't be prouder of this group," Mr. Battista said. "They nailed all three of their performances and received well deserved standing ovations."
Teacher aides Yvonne DaCosta, Ann Donegan and Ysrael Gonzalez "were a huge help putting this together," Mr. Battista said. "We could not have done it without them."
"I couldn't be more proud of these kids and Frank Battista, whose talent show ideas are masterful," Ms. Caporusso said. The crowd in the Finley LGI went wild over the performance.
"Frank Battista's love and dedication to the students is remarkable," Finley Principal John Amato said.