June 5, 2019
Aaron Feltman is one of the finest artists ever to come out of Huntington High School. The Class of 2016 member just completed his junior year at the Pennsylvania Academy of Fine Arts, where he recently participated in the college's 118th annual student exhibition in Philadelphia.
"My husband and I drove down to Philly to see the show and take a few photos of Aaron and his work," said Huntington art teacher Kristin Singer, who worked closely throughout high school with Mr. Feltman and who remains in contact with him today.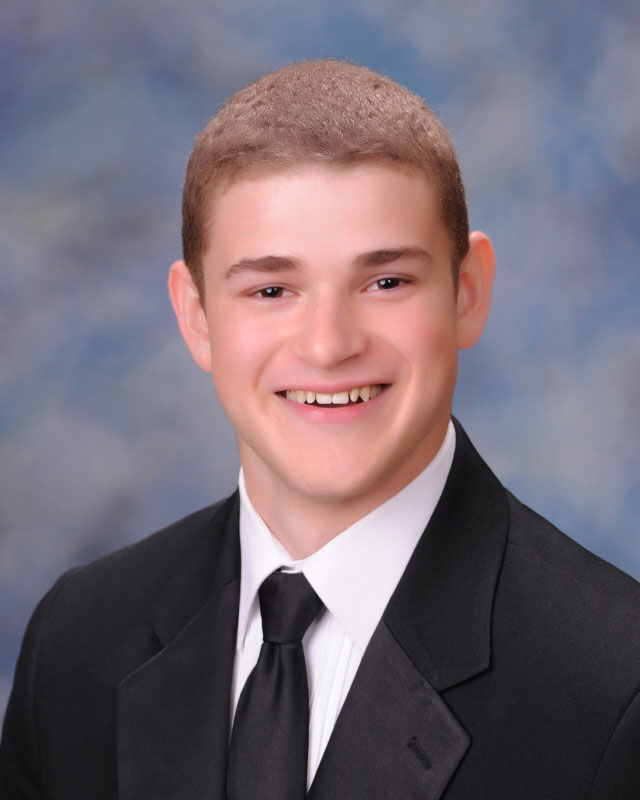 Aaron Feltman as a Huntington High School junior.
The Huntington alum is an exceptional artist by any measure and he is shining brightly even at a college filled with remarkably talented students. The recent exhibit provided a glimpse of the respect the art world has for Mr. Feltman.
"It's a very well attended exhibit where art collectors view and purchase artwork from the school's emerging artists," said Mrs. Singer about last week's show. "Aaron sold multiple works of art including one painting that was purchased by Philadelphia's Woodmere Art Museum."
Pennsylvania Academy of Fine Arts nominated Mr. Feltman for Yale's Norfolk School of Art summer program in Connecticut. "It's an extremely prestigious residency in the art world," Mrs. Singer said. "He was one of 26 rising senior students accepted into the program from around the world."
Mr. Feltman works very hard at his craft and the results have been simply stunning. "This kid is so amazing," Mrs. Singer said. "I am so proud of all his accomplishments!"
Pennsylvania Academy of Fine Arts in Philadelphia is a specialized and unique art school that attracts many of the most committed and promising art students across the United States and the world to study painting, drawing, printmaking, sculpture and illustration with a distinguished faculty of working artists.
Established in 1948, the Yale Norfolk School of Art is an intensive six week undergraduate summer residency program. It seeks to bring together a diverse group of students who have demonstrated a passion in artmaking and are exemplary community members to participate in a rigorous environment of artistic practice, learning and growth. The school is located on the picturesque Ellen Battell Stoeckel Estate in Norfolk, Connecticut and is supported by the Ellen Battell Stoeckel Trust.
"So many of Yale Norfolk's alumni go on to make significant contributions to the field of art and credit the Yale Norfolk School of Art with a profound impact on their lives and art," according to a program description.
Mr. Feltman enjoyable a wonderful experience at Huntington High School. He notched a perfect score on the Advanced Placement Studio Art drawing portfolio exam and designed the cover of the 2016 Huntingtonian yearbook. He captured the Joan Alberti Memorial Fine Art Scholarship presented by the Huntington Arts Council.
President of Huntington High School's Art Honor Society during his senior year, Mr. Feltman played a leading role in many of the organization's initiatives and earned a variety of awards at shows across Long Island.
A 2016 Long Island Arts Alliance Scholar Artist, Mr. Feltman compiled a very strong academic record and was honored as a Distinguished Senior. He even served as president of Huntington's French Honor Society chapter.