July 5, 2019
A magnificent class of sixth graders was honored at the Woodhull Intermediate School moving up ceremony on the lower athletic field. Parents, grandparents and siblings turned out for the affair, which saluted the Class of 2019.
Woodhull Student Council Vice President Nicholas Plachta kicked off the ceremony by leading the crowd in the Pledge of Allegiance. The sixth grade chorus sang the "Star Spangled Banner." The group later performed Charlie Puth's "One Call Away."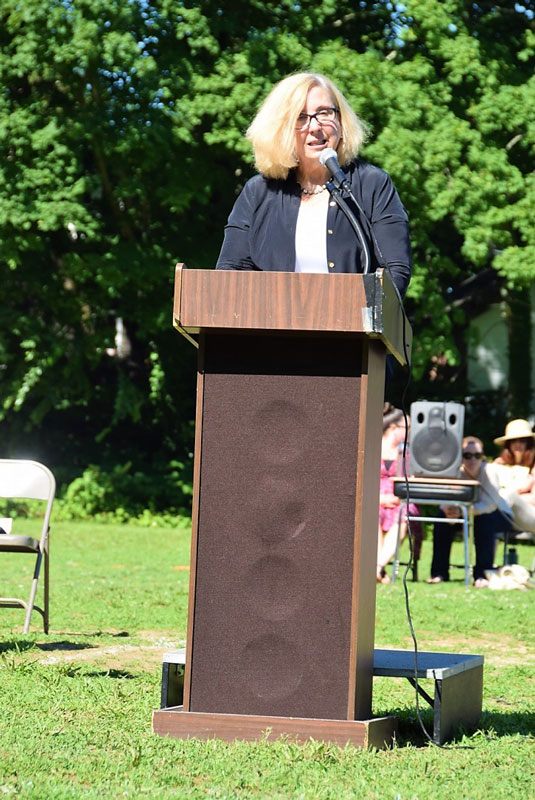 Retiring Woodhull teacher Diane Grassi at her final moving up ceremony.
Nina Fascilla, Woodhull's student council president, deftly handled the welcome presentation. The ceremony was presided over by Principal Traci Roethel, who was in her final days at the school. The veteran educator became J. Taylor Finley Middle School's principal on Monday, July 1.
Woodhull teachers Scott Armyn, Heather Flaherty, Carol Anne Kinane, Diane Grassi, Mark Helstrom, Keith Meyers, Hildi Stanford, Jason Suarez, Danielle Walsh, Janet Myers and Ashley Williams presented the sixth graders by name to the crowd.
Woodhull's sixth grade class includes Anthony Addeo, Jordin Aguilar Chavez, Ashley Alay, Julia Aldas, Kiana Alfaro-Hernandez, Henry Alvarez-Zelaya, Gabriela Amaya, Ruth Amaya Rivera, Saira Amaya Siguenza, Xavier-A'saun Anderson, Logan Apelsinov, Rosie Arner, Estyven Arreaga Merida, Alisa Arvelo, Jordan Battinelli, Kimberly Bermudez Gomez, Aadi Bhardhwaj, Brianna Borenstein, Michael Brandine, James Buffa, Karla Calix Sanchez, Noel Campos Moreno, Yareli Campos Valencia, NeVaeh Cantave, Sophie Carlson, Ronald Carrillo, Antonio Carusone, Andrew Case, Geovanny Castillo, Kimberly Castro Perdomo, Alexandra Centrone, Kelvin Chavez Campos, Jose Chavez-Parada, Genesis Chrinos Ferrera, Aiden Clarke, Brandon Cohen, Jerson Contreras-Moreira, Nitziel Cortes Morales, Bladimir Cruz Serrano, Jasmin Cuaresma, Charlotte Curtin, Jose Davila Chitay, Aylin Davila Chitay, Malachi Davis, Katy DeBellis and Gavin Deegan.
The Class of 2019 also includes Justin D'Eloia, Diana Diaz Mejia, Luca DiPietro, Lauren Donaghy, DeAndre Elvir, Matthew Emmanuele, Madeline Eriksen, Alyssa Evans, Nina Fascilla, Anibella Fazin, Bryan Fernandez-Molina, Gustavo Flores Canales, Madeline Francis, Brian Fuentes Velasquez, Chase Gadaire, George Garcia, Jamie Garcia Sorto, Katerin Garcia-Maldonado, Felicity George, Sindi Gomez Chavez, Janelee Gomez-Hernandez, Ashley Granados Ramirez, Isabelle Gregorio, Rafaella Gregorio, Kimberly Guardado, Ana Guevara, Johnathan Hart, Thomas Hart, Amalia Heinz, Parker Hepworth, Erid Hernandez Benitez, Brian Hernandez Jimenez, Jhordan Hernandez Moreira, Jack Hotine, Lily Hotine, Geovanny Iglesias-Soriano, Jenna Italiano, Mario Jaime-Guzman, Emily Jimenez, Sajithan Kamalendran, Griffin Kanzer, Thomas Kline, Jonathan Kraft, Emily Kustera and Rosalinda Lemus.
Woodhull's sixth grade class also includes Henry Lemus Nieto, Antonio Leotta, Ariana Lepera, Yecica Licona Cruz, Christopher Lopez Ramirez, Brian Lynch, Caitlin Maher Dubnau, Nevin Maldonado, Keegan Malone, Angelina Marceliano-LaQua, Tess Markotsis, Carlos Marroquin, Aylin Martinez-Lopez, Robert McCallion, Daniel McClellan, Timothy McDonald, Henry Mendez-Martinez, Iverson Menjivar Quintanilla, Amber Miles, Evan Mittelman, Raygelyne Morales Feliciano, Melanie Moreira, Alexander Morris, Ethan Mortensen, George Mueger, Christian Mugno, Jibreel Murtaza, Marwan Muslim, Taylor Nappi, Delaney O'Brien, Molly O'Brien, Chelsey Olivo, Taishawn Olton, Ruth Orellana Carballo, Raul Ortega Salgado, Jeffrey Palacios Maldonado, Steven Palma Carcamo, Charlotte Panza, Dominic Parides, Lucas Pecci, Tyler Peck, Erline Pharius, Nicholas Plachta, Cristela Portillo and Dylan Proctor.
Woodhull's Class of 2019 also includes Tatiana Quintanilla, Ryan Ramirez, Anthony Retamal Vidal, Yaslin Reyes-Alvarado, Jose Reyes-Benitez, Jason Reyes-Galdamez, Marta Reyes-Zamora, Tatianna Rivera, Faith Robertson, Sofia Rodriquez, Gricelle Rojas, Jayden Roman, Austin Romero Villegas, Britney Romero-Jaramillo, Michelle Saloma Erazo, Karen Saloma Erazo, Gabriel Samuel, Amaya Santiago, Marcus Santiago, Zachary Schnitzer, Abby Schueller, Kyra Scott, Estiven Segovia Ticas, Jake Severine, Sebastien Simon, Kaylee Smalling, John Song, Benjamin Soric, Samuel Soric, Stephen Spina, Olivia Stone, Josephine Sullivan, Xiomara Ticas-Chavez, Jonathan Toribio, Anne Tyrrell, Angie Uceda-Enamorado, Mainor Ulloa Ulloa, Harrison Uvena, Hannah Valenzuela-Ayala, Jonathan Vasquez-Mendez, Joel Vazquez-Cruz, Brianna Velasquez Vasquez, Edgar Vidal-Villalba, Jonathan Vigil-Campos, Nahomy Villanueva, Justin Villatoro, Keisha Vilma, Gabriela Vilorio, Christian Yanes Avila, Christopher Yanes Avila, Jerson Yanez Yanes, Jonah Yoder, Madeline Zelaya Yanes and Luka Zivkovic.
As the new graduates use the summer to prepare for seventh grade at J. Taylor Finley Middle School, Woodhull teachers are convinced that the departing sixth graders possess the "right stuff" for success on the secondary level.