July 5, 2019
The October Dawn scholarship is a very special award presented annually to a graduating Huntington High School senior. This year, the scholarship's generous stipend of $2,000 was captured by Jeraine Nieves-Morales, a member of the Class of 2019.
The scholarship is presented in memory of Kathryn A. DeGelleke, a special education teacher and Centerport resident who passed away September 22, 2009 after a two-year battle with cancer. She was only 53 years old.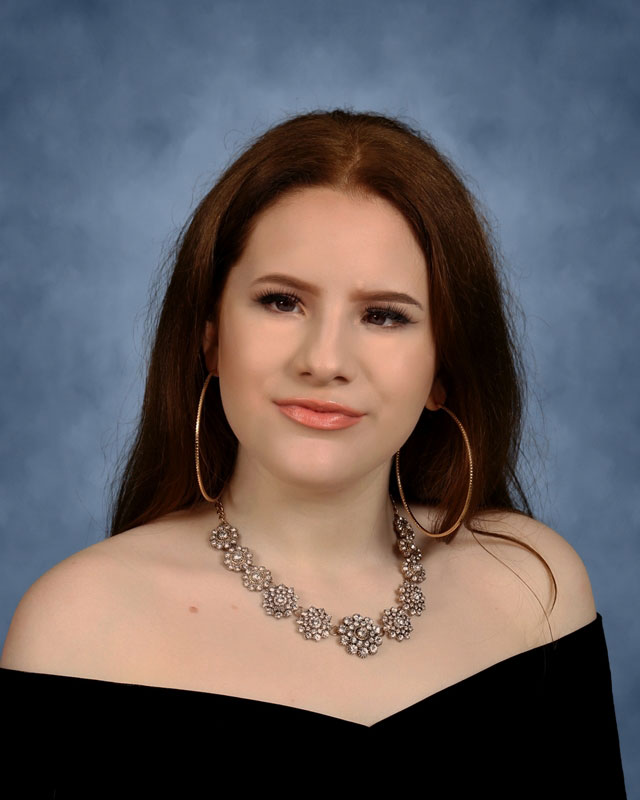 October Dawn Scholarship Award recipient Jeraine Nieves-Morales.
Mrs. DeGelleke worked in the district as a home tutor and provided instructional support services. Her husband, Scott presented Ms. Nieves-Morales with the scholarship during Huntington's senior academic awards ceremony in the high school auditorium.
Scholarship applicants are asked to submit a one-page essay detailing what obstacles they have overcome in high school, their future plans and why they believe they should be awarded the scholarship.
The newly minted Huntington High School alum is headed for Guttman Community College overlooking Bryant Park in Manhattan. Officially opened on August 20, 2012, it is City University of New York's first new community college in four decades. "The school uses the city as an outdoor, hands-on classroom," according to an online profile. "Instead of remedial classes, it requires first-year students to take a course called 'City Seminar,' which blends math, reading, and writing into lessons about sustainability and immigration in New York."
Ms. Nieves-Morales has created award winning pieces of art. One such piece was a wedding dress made with fabric and pieces of broken mirrored glass. The teenager worked on the project for four months. "Broken Dreams" was chosen for display at the Huntington Arts Council's High Arts Showcase XV and won a Best in Show Award.
Ms. Nieves-Morales studied art with Huntington High School teachers Kristin Singer, Ayallah Jeddah and Kim Valerio. "Despite being visually impaired, Jeraine is a very creative and talented artist," Ms. Valerio said. "She has been my fashion design student for the past three years. One of Jeraine's fashion illustrations was featured on the cover of this past year's high school fashion show program brochure."
Ms. Nieves-Morales simply loves art. She has taken 11 art classes over the past four years. She is especially creative and truly gifted and has worked closely with each of her teachers.
Mr. DeGelleke proudly posed for a commemorative photo on the high school stage with Ms. Nieves-Morales, who was smiling broadly and excited to win the scholarship award.