February 14, 2019
The Huntington Foundation's Reach for the Stars gala is set for Friday, March 8 at historic OHEKA Castle. Proceeds from the event will fund the organization's efforts to enhance education, the arts and athletics in the Huntington School District.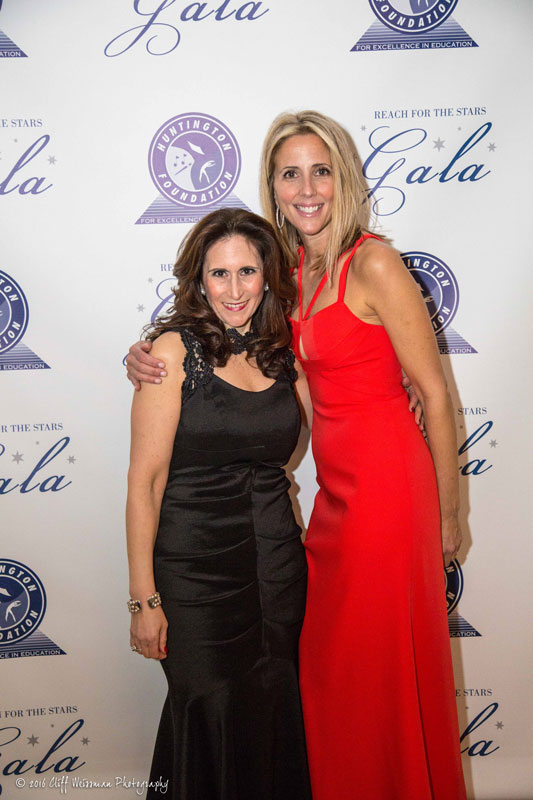 Huntington Foundation President Alice Marie Rorke and Gala Chairperson Kimberley Steinberg
Huntington Foundation President Alice Marie Rorke believes this year's gala will be a memorable evening. The affair will consist of sumptuous appetizers during the cocktail hour, a delicious hot meal, music, dancing and dozens of raffles. Since its inception, the Foundation has funded more than $1.2 million in educational grants in the district.
Seating for the gala is limited. Tickets are priced at $175 per person. Last winter's event was sold-out. Tickets can be purchased online by logging onto www.huntingtonfoundation.org. Contact Gala Chairperson Kimberley Steinberg at ksteinberg14@hotmail.com for more information.
An invitation to the gala, response card, sponsorship flyer and additional information can be found on the Huntington Foundation's web page at www.hufsd.edu (go to Main Navigation on the top left and then click on HFEE under the School Community section) or by visiting the Huntington Foundation's website at www.huntingtonfoundation.org.
Numerous levels of sponsorships for the gala are available and all come with tickets to the affair and other perks. Contact Amy Girimonti at AJG1015@optonline.com for more information.
Tickets can be purchased through the Huntington Foundation's website. Sponsorships and tickets to the grand prize car raffle can also be secured via the website at www.huntingtonfoundation.org.
Dr. Inna Gellerman
Named among to the list of the Top 50 Most Influential Women in Business by Long Island Business News, Dr. Gellerman is a longtime supporter of Huntington UFSD and its students and programs. She is a prominent financial backer of the high school robotics team that has repeatedly reached the world championships.
Recipient of the Best Practice Award for Customer Service from the New York Enterprise Report, Dr. Gellerman specializes in providing state-of-the-art orthodontic treatment on Long Island for children, teens and adults. Invisalign has recognized her as a Top 1% Provider, presented to the most highly regarded orthodontists across the country.
Outside of her professional practice, Dr. Gellerman has a long history of community involvement and philanthropy. A recipient of awards from the Town of Huntington and the Townwide Fund of Huntington, she has served on the board of directors of the Junior Welfare League of Huntington and KiDS NEED MoRE and on the committee of Pink Aid Long Island and financially supported Huntington Robotics, HFEE, the Cold Spring Harbor Whaling Museum and the CSH Educational Foundation.
Dr. Gellerman serves on the Heckscher Museum of Art's board of trustees. Whenever Huntington's students have asked for her support, she has been there.
Finley Principal John Amato
Slated to retire at the end of the current school year, a large crowd of Finley teachers past and present are expected to be on hand to honor Mr. Amato's years of service.
"John was genuine to the core from the moment I first met him many years ago," Huntington Foundation President Alice Marie Rorke said. "He has a natural ability to make others feel comfortable and valued. John does that with everyone he meets, works with, mentors or befriends especially his students and staff. He is a natural leader and a true HFEE supporter for as long as he's been in district! HFEE is thrilled to honor John Amato! He is very deserving of this honor and I am looking forward to celebrating with him, his family, Finley and the whole Huntington community."
The longtime educator has been Finley's principal since July 2006. "Mr. Amato has always been a big fan of kids in general, and has been a great fit with middle school students," Superintendent James W. Polansky said. "His authoritative, but personable demeanor has worked well with Finley students and staff alike. He has been a champion not only of Finley, but of the entire Huntington district through the years. He is a true team player. John is the type of person who is definitely much more comfortable in a pair of flip-flops than dress shoes. He looks pretty good in the referee garb as well. No matter the day or the situation, his sense of humor is always intact; an attribute that I have always appreciated and one that I will surely miss, among many, in the years to come."
Mr. Amato is looking to finish his career in Huntington on a high note. "I first met him in 2013 when my older daughter, Giulia, started at Finley," PTA President Michele Sabatino said. "I noticed his care for the students right away and the helpfulness he had towards the parents. In all events that PTA plans, the students are always his number one priority. He is always there to lend a helping hand with events. He's been the referee at March Madness for several years, takes part in pep rallies and Reindeer Games, and plans to play in a basketball game against the Harlem Wizards in April (which Finley will be hosting). I am glad he is being honored and look forward to celebrating him at the gala."
Spectacular Raffles
Raffles and live auction items at the gala are expected to be exciting, extravagant and even spectacular. This year's grand prize raffle is a two year lease for a 2019 Lexus UX 200, which has been generously sponsored by Atlantic Lexus of 110 or $5,000 in cash.
For more information about the grand prize or for general information about the Huntington Foundation, contact Mrs. Rorke at alicemarierorke@aol.com
Over the past 16 years the Huntington Foundation has presented its Spirit Award to Michelle Marino, Barbara Cutrone, John J. Finello, Doris Quintilian, Vicki Mingin, Beverly Wayne, Lou Giani, the district's nursing staff, Eunice Marchi, Joan Fretz, Christine Bene, Patricia Dillon, Cathy Cain, Christopher Mitchell, Andrew Fiorillo, Brian Reynolds, James Graber, Michael Brown, Jarrett Stein and Rich and Robert McKean.
The contributions of donors and local businesses and the support of individuals, combined with the tireless work of Huntington Foundation members continues to allow for groundbreaking educational initiatives in all eight school buildings in the district.
The Foundation is a not-for-profit organization. Its annual report may be obtained upon request from the Foundation (P.O. Box 552, Huntington, NY 11743) or from the Office of the Attorney General, Charities Bureau (120 Broadway, New York, NY 10271).