December 2, 2019
Huntington kids are the best. They really are. A group of two dozen Huntington High School students joined with other teenagers and local Rotary Club members to help restock the Community Food Council's shelves and replenish the St. Hugh's food banks stocks on non-perishable items just in time for Thanksgiving Day for hungry families.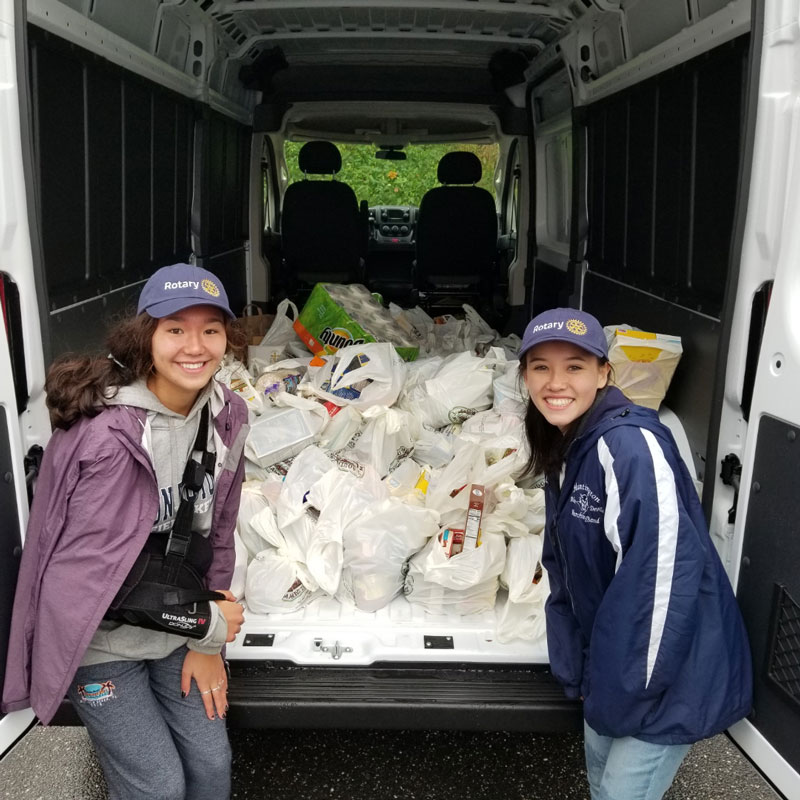 Huntington seniors Anna Wickey and Jennifer Low co-chaired the food drive project.
Huntington High School seniors Anna Wickey and Jennifer Low co-chaired the initiative, which included volunteers from a variety of high school clubs as well as a contingent from the St. John's youth group and the Rotary Club.
The group from Huntington High School included Aidan Franznick, Matthew Colavecchio, Mikah Schuler, Stephanie Wickey, Patrick Langton, Matthew Genarelli, Niurca Chalda Leon, Nate Deegan, Justin Stevens, Casey Coleman, Charlotte Maggio, Gigi Devoe, Isabella Algieri, Tess Stanley, Amanda Fitton, Ryan Fitton, Alex Frawley, Nathan Soric, Ryan Knowles, Ally Kustera, Sydney Cordeiro, Beanna Cumella, Raymond Cumella, Ryan Williams, Jennifer Low and Anna Wickey.
The volunteers spent hours outside of Southdown Market collecting donated non-perishable food items over the course of the weekend prior to Thanksgiving.
"Over the two days, the group cumulatively collected enough to fill two cars and a large van," Ms. Wickey said. "Many Huntington High School students participated and many were from clubs such as Interact, National Honor Society, Key Club and Robotics. Additionally, members of the St. John's youth group and the Rotary Club helped out."
With the help of the Rotarians, student co-chairs Ms. Low and Ms. Wickey organized an outstanding group of teenagers for the project. Despite the poor weather on one of the days, the volunteers were determined to make a difference for others in the community who are less fortunate.
"Overall, the donations collected by the group significantly helped the Community Food Council as their shelves were only half full before the drop off Sunday afternoon," Ms. Wickey said. "Saturday's bounty was delivered to St. Hugh's food bank in Huntington Station."
"Thanks to all the students who helped out and who made Thanksgiving better for many families around the community," Ms. Low said.