August 7, 2019
The Huntington High School English Honor Society chapter presented its annual $50 award to Class of 2019 salutatorian Ryan Hoffmann, who plans chemical engineering and mathematics at Northeastern University in Boston. He is an Advanced Placement Scholar with Distinction and a National Merit "Commended Student."
John F. Kellog Theatre Awards were presented to Isabella Cahill and Madeline Haughwout. The award carries a stipend of $50. Ms. Cahill plans to study psychology at the University of Massachusetts Amherst. Ms. Haughwout will be attending Temple University.
Joseph Samodi Theatre Arts Award were bestowed upon Danny Arias, Francesca Greco and Phoebe Walther. The award includes a stipend of $50. Mr. Arias is interested in studying either business or psychology at Colgate University. Ms. Greco intends to study psychology at Stony Brook University. Ms. Walther will be attending SUNY College at Geneseo where she plans to study for a career as an elementary school/special education teacher.
Huntington SEPTA Presents Awards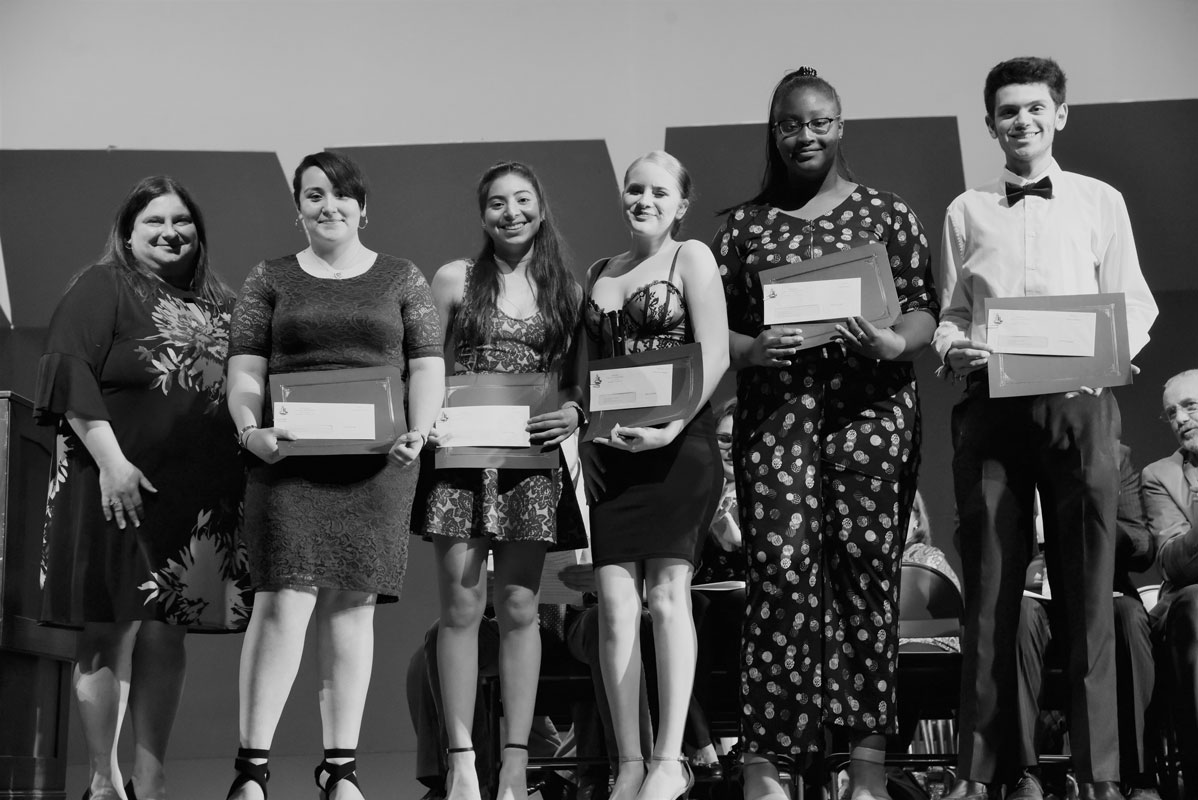 Diana Rich (left) with Jenny Benitez-Villatoro, Keily Rivas, Jeraine Nieves-Morales, Nephar Durand and Matt Rodriquez
Huntington UFSD's SEPTA chapter presented continuing education awards to Class of 2019 members Jenny Benitez-Villatoro, Nephar Durand, Jeraine Nieves-Morales, Keily Rivas and Matthew Rodriquez. Each of the awards includes a financial stipend of $500.
Ms. Benitez-Villatoro will be attending Suffolk Community College while Ms. Durand is headed to Farmingdale State College to study applied psychology/liberal arts. Ms. Nieves-Morales plans to study at CUNY-Guttman Community College in Manhattan. Ms. Rivas plans to pursue a chemistry degree at Hofstra University. Mr. Rodriquez intends to study business at Rochester Institute of Technology.
Huntington SEPTA also presented a $500 scholarship on behalf of the Ancient Order of Hibernians to Shawn Powell, who plans to study computer networking at Suffolk Community College's western campus in Brentwood.
The awards were presented by District Director of Special Education & Student Support Services Diana Rich at Huntington High School's senior academic awards ceremony in the auditorium.
HHS Class Advisors Appointed
The Huntington School Board has appointed Huntington High School class faculty advisors for the 2019/20 school year.
Kristin Fortunato and Paige Furman were named Class of 2020 advisors. Amelia Saggese and Jordan Schessler will be the Class of 2021 advisors. Patricia Avelli and Donna Nugent will be the Class of 2022 advisors. Cindy Espejo-McGivney and Alona Regan have been named the Class of 2023 advisors.
David Moriarty and Danielle Raguzin are returning as the student government faculty advisors.
Katie Burton Garners County Executive's Public Service Award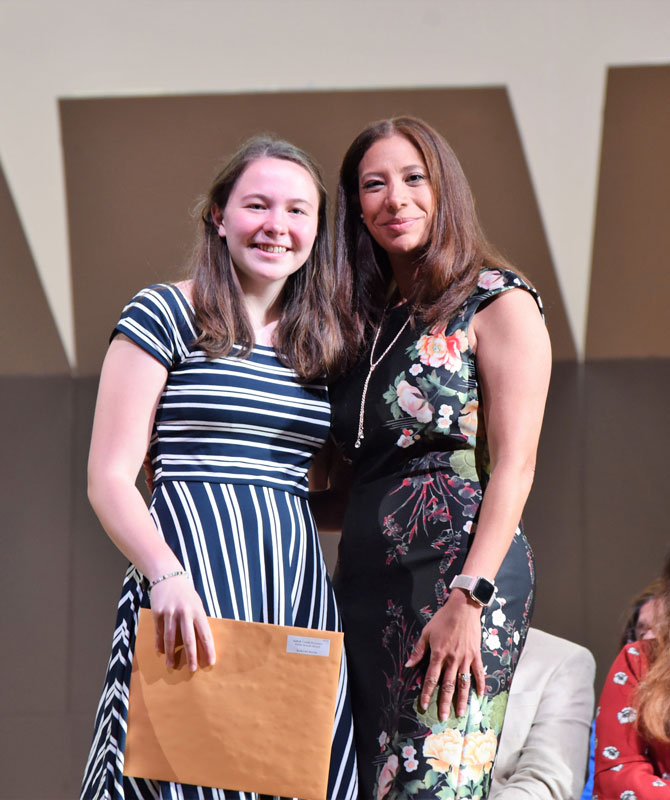 Suffolk County Executive Public Service Award recipient Katie Burton with guidance counselor Josephine Saladin
Huntington High School Class of 2019 member Katherine Burton captured the Suffolk County Executive's Public Service Award.
An Advanced Placement Scholar with Distinction, Ms. Burton is headed to Cornell University to study health sciences/biology. She was inducted into Huntington's National Honor Society, Art Honor Society, Latin Honor Society, Math Honor Society, Science Honor Society, Social Studies Honor Society and Tri-M Music Honor Society.
Ms. Burton performed with the Blue Devil marching band and the wind ensemble. A member of Huntington's science Ocean Bowl team, she also participated in Relay For Life.
The teenager said the key to her success has been to "never stop" pushing herself. Ms. Burton said she "enjoyed having many teachers who truly care about their students," which helped her excel academically.
Fall Marching Band Staff Set
The Huntington Blue Devil marching band's fall staff is set. Veteran district music teacher Brian Stellato will serve as the band's director with Patrick Neary acting as assistant director.
The staff also includes Derek Schmelter (battery instructor), Christopher Wink (brass instructor), Mallory Martilla (lead color guard instructor), Kelly Neary (color guard instructor), Frank Battista (miscellaneous instructor), Dan DeOliveira (miscellaneous instructor), Jason Giachetti (pep band director), Corina Antonucci (pit instructor), Jennifer Schmelter (visual instructor) and Katherine Adams (woodwind instructor).
Dominick Stanley Wins Carmela Santorsola Provenzano Scholarship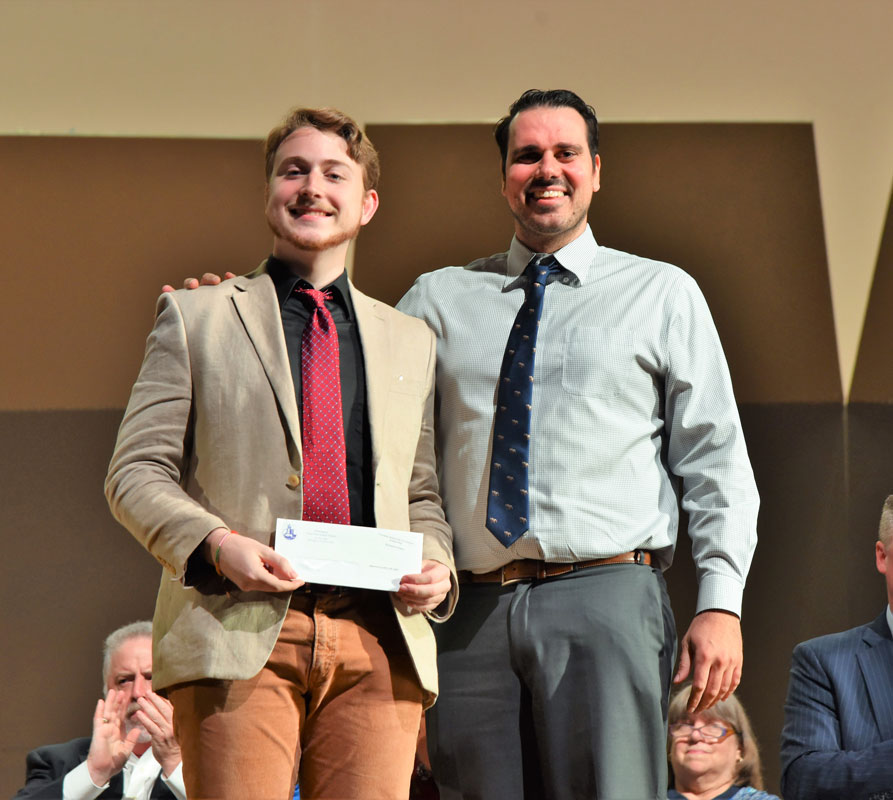 Carmela Santorsola Provenzano scholarship recipient Dominick Stanley with guidance counselor Steven Pereira
Huntington Class of 2019 member Dominick Stanley has captured the Carmela Santorsola Provenzano scholarship, which carries a stipend of $1,000. The scholarship is presented in honor and memory of a woman who because of the era she was raised in and the expectations during it, didn't have an opportunity to attend college.
An Advanced Placement Scholar, Mr. Stanley will be attending Lawrence University in Appleton, Wisconsin. "I've thought a lot about becoming a teacher of secondary education and social work/therapy," the new alum said this past spring. "I love working with people and I especially love working with kids. If I were a teacher, I could see myself teaching history, participation in government, psychology, law or really anything in the social science/humanities realm of academia. I have yet to decide. But all I know is that I want to be the fun teacher that jokes with the kids and that everyone likes."
Mr. Stanley served as Huntington High School's senior class president after earlier serving as the junior class vice president. He was a fencing team captain last winter during his fourth and final season with the Blue Devil squad.
Congressional Merit Award Presented to Edgar Rivas Lizama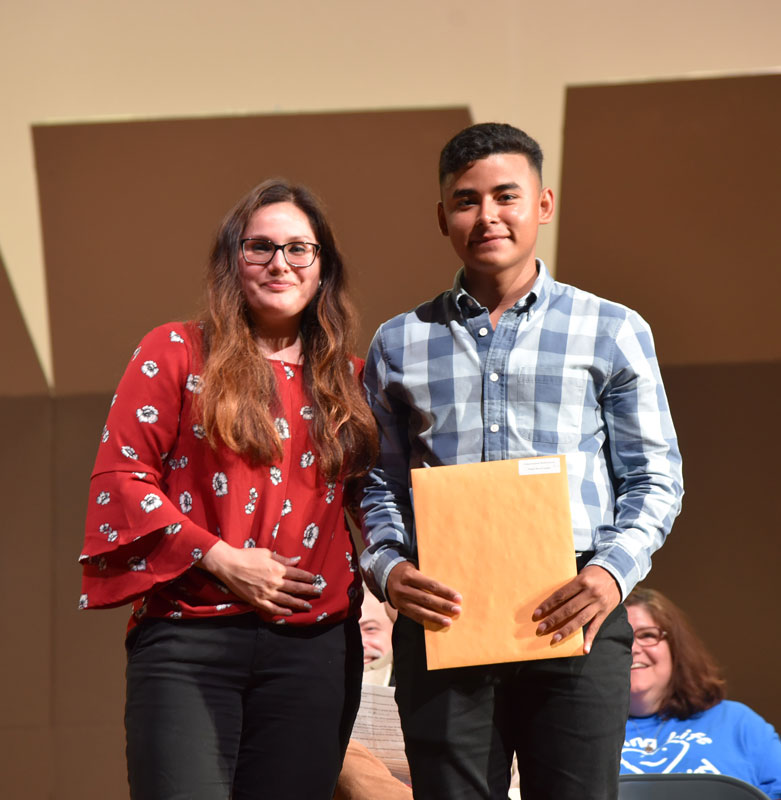 Congressional Merit Award recipient Edgar Rivas Lizama with high school guidance counselor Diana Bonilla.
US Representative Thomas Suozzi presented a Congressional Merit Award to Huntington High School Class of 2019 member Edgar Rivas Lizama.
A member of the Social Studies Honor Society and the Spanish Honor Society, Mr. Lizama plans to study liberal arts at Suffolk Community College.
"Simply put, Edgar is outstanding," said Bernadette Walsh, the high school's college counselor. "He is humorous, talented and energetic. Edgar is creative and open. In the classroom, he prods and challenges, seeking and finding alternative solutions. Nothing gets by him. He is a skillful roadblock remover. The faculty unanimously accords him the respect given a scholar and a fine human being."
Trustees Authorize Youth Court Participation
The Huntington School Board approved an agreement with the Town of Huntington relating to the town's youth court program. The district committed to the town and related agencies "access to school buildings for the purpose of meeting with students, obtaining student volunteers, training student volunteers and as otherwise reasonably necessary."
The district and its students have participated in the youth court program for many years. The program will run through August 2020.
"The parties to this agreement recognize that the youth court program is a community based intervention/prevention program that is designed to provide an alternative resource for the juvenile justice system for first-time non-violent misdemeanor juvenile offenders where community youth determine what, if any, sanction(s) should be imposed for the offense(s) of the defendant," states the agreement.
The Suffolk Probation Dept. evaluates potential youth court cases and sends its findings to the "designated assessment unit" for potential referral to the town's program.
The youth court is staffed by students, which fill the positions of judge, prosecutor, defense counsel, jury and bailiff and court clerk. Participants in the program are volunteers who undergo a six to ten week training program with actual attorneys, judges and social workers and/or probation officials.
The Town Board reviewed "all of the facts associated with the youth court program" and "determined it to be in the public interest" to continue its sponsorship "so as to provide educational services to the youth offenders and volunteers in an effort to promote long-term behavioral change that leads to enhanced public safety."
Huntington trustees voted without dissent to approve the agreement.
Jostens Leadership Scholarship Presented to Ilsi Martinez Euceda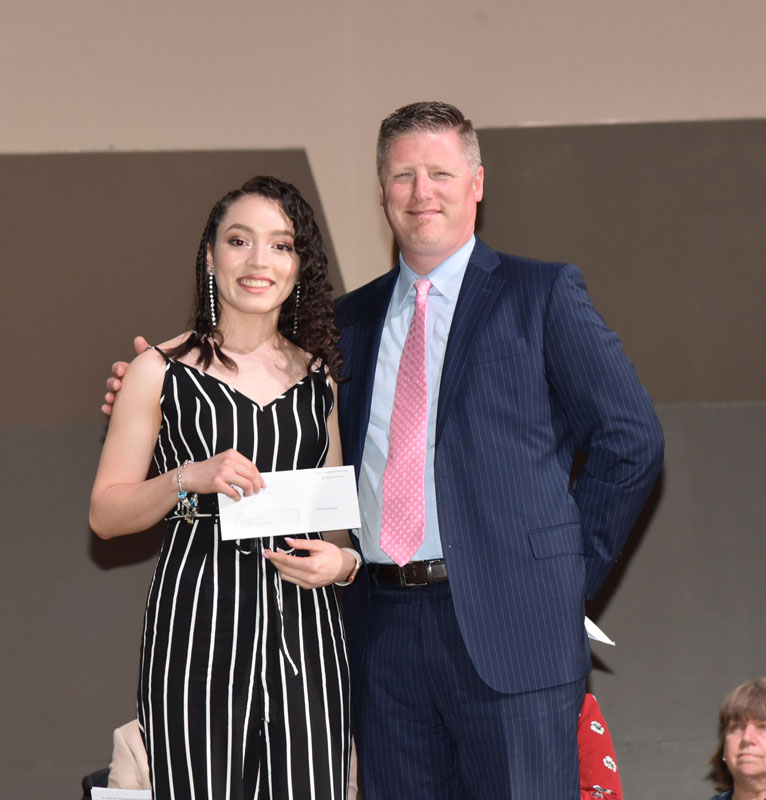 Huntington Principal Brenden Cusack with Jostens Leadership Scholarship Award recipient Ilsi Martinez Euceda
Huntington High School Class of 2019 member Ilsi Martinez Euceda has garnered this year's Jostens Leadership Scholarship Award, which carries a stipend of $200.
Jostens is Huntington's school ring company. Founded in 1897 and based in Minneapolis, Minnesota, the company's products also include yearbooks, publications, jewelry and consumer goods serving the K-12 educational community as well as colleges and professional sports organizations.
A member of Huntington's Spanish Honor Society chapter, Ms. Euceda was integrally involved in the high school's English language learners' scholar mentoring program, helping fellow students who are recent arrivals in the United States. She plans to study business management at Suffolk Community College.