September 20, 2018
A group of outstanding Huntington High School students summarized the National History Day projects that earned each of them high praise during the 2017/18 school year during the Huntington School Board meeting this past Monday night.
The students presenting at the meeting included:
Individual Documentary: Katie Riley
Topic - WASP: Winning Their War
Group Documentary: Julian Rentsch, Andrew and Ryan Knowles and Paul Katigbak
Topic - Diplomatic Relations on Trial: The First Spy Exchange of the Cold War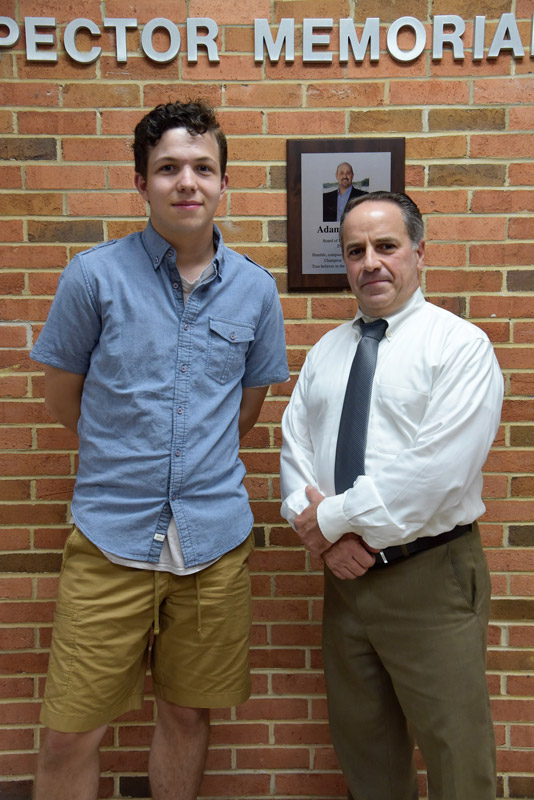 Harrison Kellogg McKenna with Chairman of Humanities Joseph Leavy
Individual Documentary: Harrison McKenna (who spent 2017/18 studying in Korea)
Topic - North and South Korea: Possible compromise?
Ms. Riley and Messrs. Rentsch, Katigbak and the Knowles brothers all captured first place in the New York State History Day finals in Cooperstown last spring in their respective category and later vied in the national championships at the University of Maryland College Park. The 2018 competition was "Conflict & Compromise in History."
Mr. McKenna spent his freshman year in South Korea. Nevertheless he, too, developed an award winning National History Day project, which placed third in all of South Korea. He also participated in the championships at the University of Maryland College Park.
Each of the presenters showed short clips of their work to trustees, district administrators and the crowd in the Adam Spector Memorial Auditorium at Jack Abrams STEM Magnet School.
The clips were meant to provide a "sense and taste of the type of contending entries that come from Huntington UFSD, which continues to earn high marks in the competition," said Joseph Leavy, district chairman of humanities, 7-12.
The 2019 National History Day theme is "Triumph and Tragedy in History." "Huntington students will enter in all categories," Mr. Leavy said. Teachers Lauren Desiderio, Camille Tedeschi, Kenneth Donovan, Jarrad Richter, Mr. Leavy and SEARCH teacher Jessica Risalvato will be working with students in grades 6-12 on this school year's research.
The National History Day initiative draws thousands of participants annually across the state and country. The students compete in six different categories, developing projects around a national theme. The work of such high quality that winning on any level is a major achievement and something that gets more and more difficult every year.