September 13, 2018
The Huntington varsity football team has put a season opening loss at Lindenhurst behind it as it prepares to take on Deer Park on Friday at 6 p.m.
The Blue Devils were upended by defending Rutgers Trophy champion Lindenhurst, 25-0. Huntington was unable to mount much of an offensive attack. A dropped pass that appeared likely to result in a touchdown was as close as Big Blue managed to get to the end zone.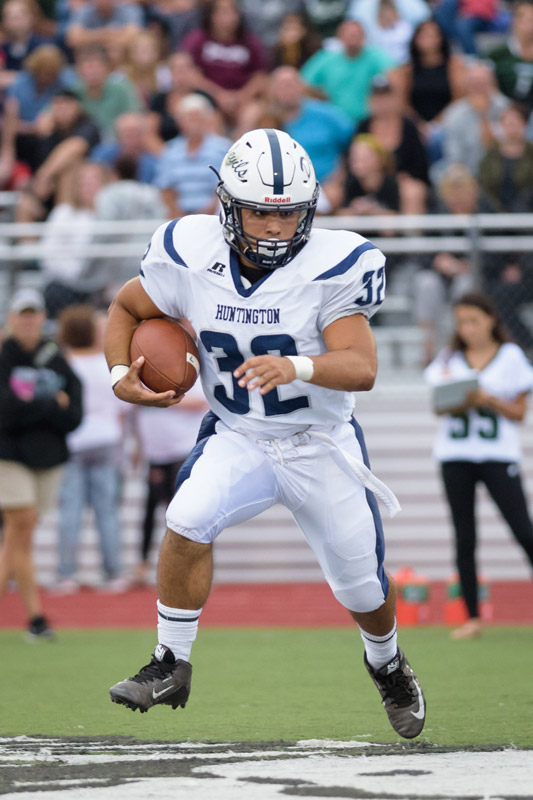 Sebastian Abreu has the ball last week
at Lindenhurst. (Darin Reed photo)
While there was no shame in losing to Suffolk and Long Island champion Lindenhurst, the Blue Devils will do whatever they can to come away with a victory on Friday night in Deer Park.
Huntington has won the last three meetings with the Falcons, including wins in 2017 (28-7), 2015 (26-6) and 2012 (41-3). Deer Park's last victories came in 2009 (17-6) and 2010 (21-20).
Smithtown West blanked Deer Park in their first game of the season, 14-0. "Deer Park is always well coached and they have tough players," Huntington head coach Steve Muller said. "We plan to play hard and give everything we have."
The Blue Devils watched game films and practiced hard this past week. "With all the heat alerts early in the season we lost practice time and weren't as ready as we would have liked to be for the first game," Muller said. "We have been trying to make up some great on offense and defense and with our special teams."
A big crowd is expected for the Friday night game. "We have a good rivalry with Deer Park," Muller said. "We respect each other."
Huntington is captained by seniors John Paul Paci IV, Pat Durand, Bryce Criscuola and Eric Sands. Todd Jamison and Kevin Graham are Muller's varsity assistants. James Byrnes Sr., James Byrnes Jr, Ron Wilson, Billy Harris, Kevin Thorbourne and Julian Watts are also on the program's staff. Andrew White volunteers with the varsity. Steve Henry handles filming. Kelly Hatzmann is the athletic trainer.