September 13, 2018
Colette Barron loves to run. But she has so much more going for her than just being one of Huntington High School's best cross country and track competitors. The teenager is a wonderful student with an impressive creative streak who is also a good friend and valued teammate to many.
Ms. Barron started her long trek through Huntington UFSD as a Flower Hill School first grader. All these years later she's an essential member of the Class of 2019.
The teenager's senior year academic schedule includes Advanced Placement Literature and Composition, AP 2D Design, Environmental Science, French V, Financial Algebra, African-American Politics and Economics.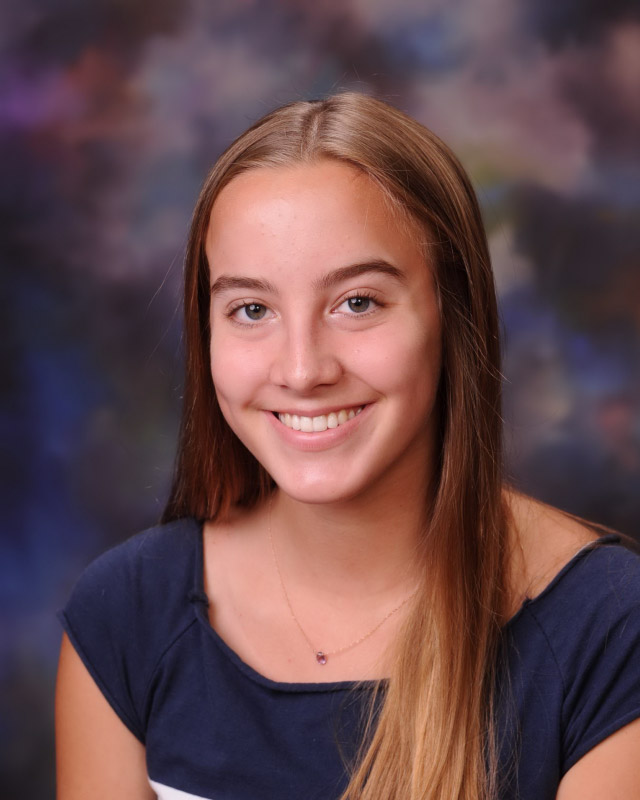 Huntington High School senior Colette Barron.
Ms. Barron has her faculty favorites, but truth be told, she has enjoyed very pleasant relationships with all of her teachers. They like the teenager and respect year.
"Colette is great," photography teacher Pamela Piffard said. "Colette is a student who takes true pride and care with her work. She always puts forth full effort and she has beautiful work to show for it. Colette is also always willing to help her classmates and has a great attitude."
Ms. Barron's closest friends are Bridgette Starr, Alliy McKenzie, Sara Frawley and Sophie Dellecave. Three of the four are runners, which comes as no surprise.
"Running all three seasons is one of my main focuses," Ms. Barron said. One of the most popular members of Huntington's girls' track program, the senior loves her teammates and works closely with her coaches. She's a Blue Devil through and through and she will miss the camaraderie when it comes to move on to college.
"I've known Colette Barron for many years and she has truly grown so much as a person since our childhood," said Ms. Frawley, a fellow member of Huntington's Class of 2019. "She has many talents, but above all, her kindness is what makes her a great person."
The teenager's track teammates past and present love her. "Colette is extremely friendly person and always has a burst of energy," said Ms. McKenzie, who is now running at Ithaca College. "She can light up a room at any given time. Her bold personality makes track and other activities much more fun and exciting. Colette is a smart talented person and I can't wait to see what she does in college."
Ms. Barron is interested in the University of Rhode Island, Roger Williams University, Towson University, Manhattan College, University of Tampa and the University of Scranton. The teenager is interested in pursuing a career in mass communications or marketing.
"Huntington is an amazing place to grow up in," Ms. Barron said. "The district is amazing and really takes into account everyone's interests and helps out any person no matter who they are."
The senior plans to make this her best year ever. "Huntington High School is such a unique school where so many different people come together," Ms. Barron said. "I never thought I would be where I am now. I have progressed a lot over my four years in high school and have learned many life lessons thanks to Huntington High School.
While Ms. Barron is a great student and runner, she's an even better person, teammate and friend. Her loyalty knows no bounds and it's reciprocated by those surrounding her.
"I have known Colette since sixth grade and she never fails to make me laugh or not give up when things appear hard," said Ms. Starr, who is now studying at Fashion Institute of Design & Merchandising in Los Angeles. "She is a loving, strong headed girl who goes after what she wants, not only in track and cross country, but in life. She pushes others to do their best and is always there when you need her. As she goes on and grows as a person, I know for a fact she will be successful!"