June 22, 2018
J. Taylor Finley Middle School's eighth grade class "moved up" to Huntington High School in style on Wednesday night during a ceremony that drew a crowd of about 1,400.
Finley's moving-up exercises celebrated 371 eighth graders who met the state requirements to advance to ninth grade and the high school program. The high school auditorium was crowded as students assumed their assigned seats for the beginning of the festivities.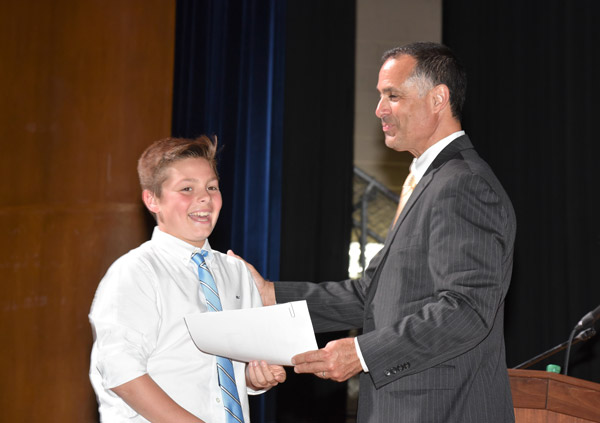 Finley Principal John Amato presented each eighth grader with a certificate.
Finley Principal John Amato reviewed some of the group's collective highlights and testified to the academic and co-curricular achievements of what will be Huntington's Class of 2022. Student Council President Joshua Youngquist was introduced to deafening applause before giving a short, well-received address to his classmates.
"It was a great night students, families and staff," Mr. Amato said. "This group of students is close and fun spirited. We wish them luck."
Dozens of department level and special awards were presented to the students as they marched onto the stage to receive a certificate and handshake from Mr. Amato.

"It was a beautiful evening for celebration of and reflection on all that our Finley eighth graders have accomplished during their middle school years," Huntington Superintendent James W. Polansky said. "Parents, family members, teachers and administrators collectively beamed with pride as students crossed the stage to receive their certificates and well wishes. We look forward to helping them transition to and meet with continued success at Huntington High School. This is surely an exciting time in their lives."
A reception was held in the main plaza outside the building following the ceremony. Families posed for an endless series of photos as the "graduates" showed off their certificates and special award citations.
The special awards presented included:
American Legion Citizenship
Strong School Community Spirit
Ethan Evans
Cianna Batts

American Legion Most Outstanding Musician
Lauren Holly
Hannah Roberts

Attorney General's Triple "C"
Character, Courage and Commitment
Charlotte Cheshire
Brian Pineda

Cissy Frost Friendship Award
Friendship, Tolerance, Spirit
Jacqueline Carrion

Daughters of the American Revolution
Citizenship, Patriotism, School Involvement
Theadora Carnesi

bELIeve Mollineaux Spirit Award
Angel Bonilla Cortes, Zoe Dumas, Jean-Marie Maleszewski, Giselle Velasquez-Tejada

Huntington FD Ex-Chief Louis Solomon Award
High Moral Character
Liam Lennon

Joseph Cane Memorial Band Award
Emma Brendel
Lauren Landolfi

Libutti Jewelers Music Service Award
Erin Ye
Charlotte Soljanich

Lions Club – Good Citizenship Award
Kevin Reyes
Flor Arias-Ramos

Lucy Sammis Award
Passion for Education
Dianna Harris

Courtney O'Bryan Spirit Award
Passion for School, Sports & Friends
Christina Drummings

New York State Comptroller Award
Jillian Loturco

PTA Good Character Award
Michael Araujo
Imani Archibald

Physical Education Suffolk Zone Award
Theadora Carnesi
Robert Smith
Maria Verfenstein

Principal's Award
Marques Gaskin

Suffolk County Executive Public Service Award
Caitlin Murtagh

Huntington Athletic Booster Award
Theologos Tiliakos
Kailey Rappel

Friendship Club Award
Ethan Evans
Sophie Silberstein