July 6, 2018
The J. Taylor Finley Middle School boys' track and field team turned in another outstanding season, compiling a 5-1 record and showcasing some superb athletes.
The squad was coached by physical education teachers Tim Madden and Christopher Taylor. The Falcons were led by eighth graders Tate Furman, Anthony Amitrano, Collin Garcia and Andrue Nunez Gomez.
"Tate is a very fast runner and a great leader," Madden said. "Anthony competed successfully in several running events. Collin worked very hard at his craft day after day, evening fighting through a nagging injury. Andreu finished in first place at multiple track meets."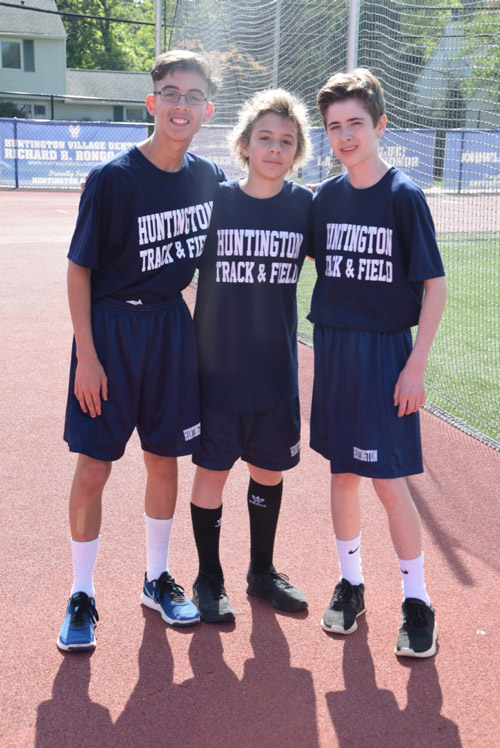 The Finley Middle School boys' track team featured some exceptional young athletes
Finley toppled East Northport, Kings Park, Elwood, Oldfield and Hauppauge. The Falcons' lone loss came at the hands of Northport.
"I was very impressed with this team's work ethic," Madden said. "I was happy with how each athlete improved from the first day until the last. I am proud to have coached a great group of athletes."
The roster also included seventh graders Jaden Argaman, Ryan Curran, Kender Edouazin, Brian Florvil, Kieran Husselbeck, Samuel James, Nikolai Seferian, Chares Siepel and Raul Vilorio-Fuentes, Jr. and eighth graders Quincy Chery, Finnbar Cocoman, Nicolas DiPietro, Erik Flores Reyes, Claudio Gomez, Skyler James, Arzel Lacorte, Jonathan Larice, Harris Levinson, Luke Palios, Christian Palios, Luke Rinaldi, Nicholas Seitz and Teddy Tiliakos.