September 12, 2017
Senior Tricia Arceri's pursuit of a state championship is off to a good start. The Huntington High School senior captured first place in the opening meet of the season at Lindenhurst and her score qualified her for the Suffolk finals.
The Blue Devils topped the Bulldogs in the team score, 52-47. The Huntington team also includes several athletes from Walt Whitman High School. The combined squad won its second meet in less than a week when it toppled host Stony Brook, 50-43.
Huntington will now prep for its league schedule. The Blue Devils are set to square off against Brentwood/Bay Shore, Smithtown, William Floyd, Connetquot/East Islip, Sachem East and Commack/Northport.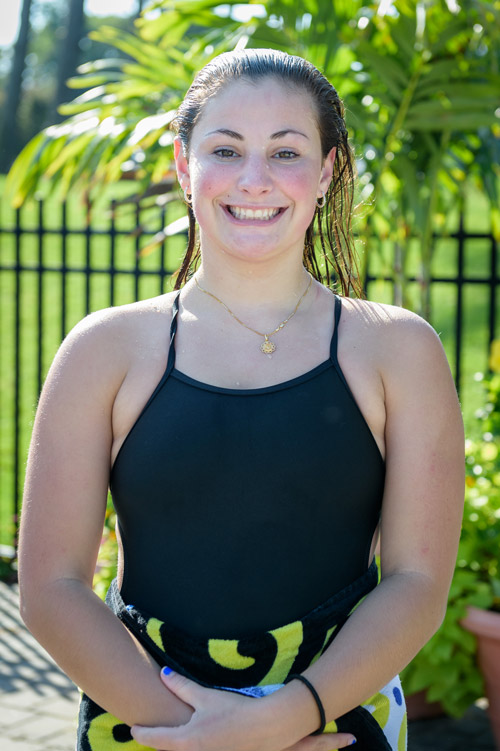 Huntington senior Tricia Arceri
is aiming for a state title. (Darin Reed photo.)
Combined teams are common in Suffolk and even across the state and the Huntington and Walt Whitman athletes work exceedingly well together. Chris Helmke and Meg McConnell are the Blue Devils' longtime coaches with Rufus Shepard serving as Whitman's coaching liaison.
Arceri is joined on the roster by Huntington teammates Hannah Bailin, Sigrid Cassell, Claire Conner, Gaia D'Anna, Sasha Koulakova, Francine Nastasi, Gretel Clayton and Sophia Knutson. Several swimmers from Walt Whitman round out the squad.
The Suffolk League I championships are set for October 24 at Sachem East. The Section XI diving finals are set for November 3 at Hauppauge with the county swimming finals on November 4 at Suffolk Community College in Brentwood. The state championships will be held on November 17-18 at Ithaca College.
An All-State diver as a junior, Arceri was pleased with her season opening performance, which earned a score of 257.32. "My first meet I dove pretty well," she said. "It's pretty good to come out with that score in the first meet and qualify for counties. It's still early in the season, so I'm hoping to top my last year's six dive county record." Diving wasn't contested in the second meet against Stony Brook.
After three weeks of practicing outdoors at the Bay Club, the Blue Devils will return this week to their home base at the Huntington YMCA.
"The team is looking strong," Arceri said. "Winning our first two meets is a great way to start our season."