October 12, 2017
A pair of first half goals by senior Emma Greenhill lifted the Huntington High School girls' soccer team over visiting Centereach, 2-0 and allowed the Blue Devils to inch closer to a post-season berth.
Greenhill scored off assists from Ainsley Lumpe and Alyssa Sorensen and Huntington's defense took control of the game from there. Lumpe was once again sensational in goal for the Blue Devils. The freshman recorded nine saves, including several spectacular stops.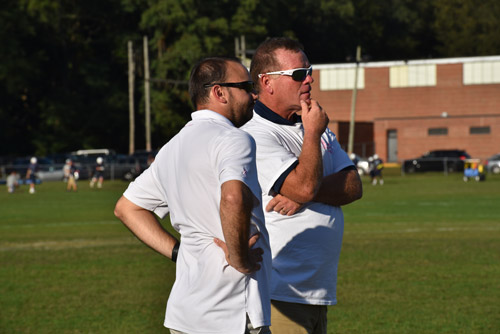 Huntington girls' soccer coaches
Vincent Tannazzo and John Walsh.
To qualify for the Suffolk Class AA playoffs, Huntington needs a combination of at least a win and a tie in its final two games at Copiague on Thursday and at Blue Devil Stadium next Monday (October 16) against Smithtown East.
Head coach John Walsh told the Blue Devils what was on the line against Centereach and his players responded. "Our game plan was to come out strong and we did," said sweeper Amber Stieve. "We have really connected as a team and that's what is going to help get us into the playoffs."
The bleachers were decorated with pink balloons and the Blue Devils wore special shirts and pink socks to signify their solidarity with those battling breast cancer. The Kicks for Cancer game raised money for the fight against the insidious disease.
With a big crowd filling the bleachers, Huntington's offense gave Centereach goalie Madisen Crawley everything she could handle and the teenager responded with a great performance, compiling 14 saves.
Greenhill scored the first goal off a punt by Lumpe a mere three minutes into the game. The teenager scored again in the 33rd minute and that was all Huntington needed.
"I don't think there is a key player on the field," Stieve said. "Everyone provides a certain talent to the team, which makes us as good as we are."
While many would say her philosophy closely resembles "take no prisoners," Stieve said she likes to remain "cool, calm and collected," but have a voice and "make sure everyone is marked and all of us are in a solid position to help out our defense." The teenager turned in another great effort against Centereach.
Midfield Nicole Abbondandelo was superb, too. "The key was treating the game like a playoff game," the senior said. "We came out flying from the start and didn't stop. Our goalie Ainsley Lumpe had an exceptional game with several huge saves. When Emma Greenhill scored in the first three minutes it gave confidence to the rest of the players on the field."
Greenhill is enjoying a wonderful senior season and the Blue Devils need every bit of her offensive firepower. "The whole team came out today looking for a win in our breast cancer awareness game," she said. "We planned our practices around Centereach's style of play to be fully prepared for the game. After finishing with a 1-1 tie the first time we played them, all of us came out with the intent to win; to further our chances of making playoffs. I'm excited to see what the next two games have in store for us. Hopefully they lead us to a playoff spot."
The solid victory over Centereach has Huntington players feeling more confident than ever. "I think the game today was a huge boost for us and hopefully it means we will continue on into the playoffs," Blue Devil stopper Grace Connell said.